Luciana Bianchi: rebel with a cause
Becoming a chef against all odds

Written by
Moniek de Jongh
on Wednesday 23 March 2022
Every once in a while you come across a story that is so extraordinary that it's hard to believe it's true. This goes for the life story of Luciana Bianchi, an Italian-Brazilian chef, a writer, a journalist, a food critic, a teacher, an entrepreneur and an advocate for a more sustainable food system. She has been working and living in different countries across the globe, but now has landed on the island of San Cristobal, Galapagos. Basically, her life has been completely dedicated to her love of food. A remarkable story about becoming a chef against all odds, discovering one's unique talents, and persevering despite adversity. 
We're doing the interview by phone. Luciana has placed herself at the entrance of her restaurant to have better wifi reception. Birds and sea lions are singing in the background. I was rather naive when I suggested organizing an online video call. "The internet connection is not stable here", she warns me. "But they are working on it. In a few months, super speedy broadband internet should be available on the island. That will be a revelation. Being able to start watching a movie on Netflix and finish it the same day will be amazing", she laughs. A few minutes into our conversation the connection times-out. "Don't worry, that's going to happen a few times." Luciana is clearly used to it. Every time the connection is re-established she continues right where she left her story. Cautious not to break the internet, I let her do the talking. And so she talks for over an hour, about her unusual life journey and her ambitions for Galapagos.
Understanding the concept of a chef
Luciana was born and raised in Brazil. Her mother being Brazilian, her father stemming from Italian roots. "Basically, I come from a family where everyone is a food lover. I consider myself lucky that from a very young age I was surrounded by people who value food, drinks and gastronomy." As she grows up Luciana develops a love for catering to people. "I like to throw dinner parties and invite people to my house. Even as a child, I was already inviting my friends for cake and tea." 
Around the age of 16, Luciana was – like many teens her age – 'a bit lost'. "Right when I needed to decide about what I wanted as a career. It was expected of me that I would become a lawyer, a doctor or an engineer." Luciana's family insisted she applied for university, to at least study something that could be useful later on. And so she studies business for a while and works in a government bank. "But I was very unhappy." 
"I decided to pursue a career in cooking and to become a chef, which was highly unusual at the time." A chef was something that was almost nonexistent in Brazil in the early 80's. There was Paul Bocuse and other French chefs around, but they came from a strict line of tradition. In Brazil, people in the middle and upper class would usually have people working in their house cooking for them. "Everyone had a cook, so why would you need a chef? They just couldn't understand the concept of a chef." Her family at first did not approve. "They simply told me to stop with this nonsense." But being a bit of a rebel, Luciana decided to do things her way,  starting cooking courses and visiting gastronomy schools. "I've always been a workaholic. So I decided to embrace every opportunity and to do whatever it took to become a chef." 
A life changing cookbook
"It was Luciana's 24th birthday, when a friend got her a book as a present. "This book completely changed my life." It was the book White Heat from Marco Pierre White. The book was groundbreaking when it first appeared in 1990. It really changed the way people looked at gastronomy. Photographer Bob Carlos Clarke did an incredible job of portraying Marco in his kitchen. "Suddenly the ceiling opened. The realization hit that to be a chef you don't need to be like this older generation of classic French chefs. Marco Pierre White showed a completely different picture, he was so sexy, he was a rebel just like me. In the pictures he was wearing an apron, just like an apprentice. Even though later he would earn three Michelin stars – his entire life he kept this open attitude towards learning. It was like a breath of fresh air. I already started working in restaurants, and I just knew this is what I wanted. From that day on, I couldn't sleep anymore without thinking about cooking. I really had no other interests in life. I became obsessed with my career."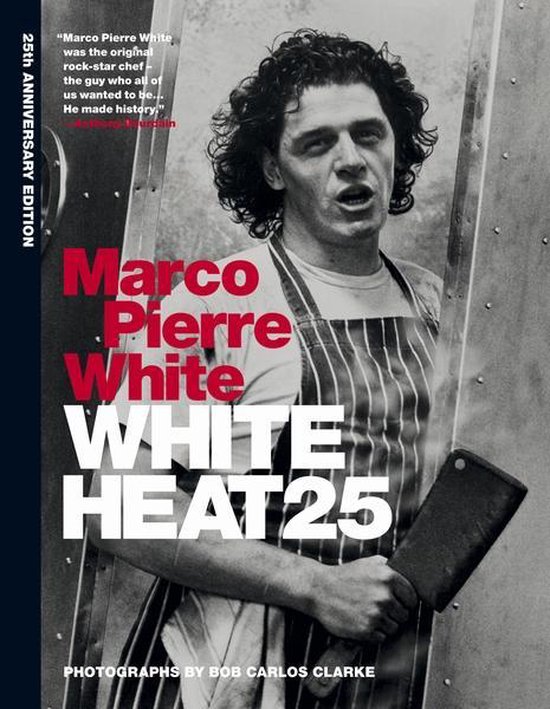 It's a man's world
Despite previous discouragements, Luciana was not quite prepared for how difficult the journey would be. "Being a chef was not supposed to be a career for a woman. So that was a problem. Gastronomy proved to be a boy's club, and they were not interested to let me in. Luckily, my father raised me to be a feminist. He taught me to never stop fighting for my space and my rights, just because someone tells you that you can not do it." And so Luciana started to fight her way into the kitchen. By then, she had moved to Italy to study International Business and work there. Europe promised to offer better opportunities for her. When her boyfriend decided to move to Germany for his studies, she followed him and continued to pursue her ambitions to become a chef in yet another country. "As soon as I arrived, I encountered new obstacles on my way. Not only was I a woman, I was now also a foreigner in a country where I couldn't understand the language. That was one of the hardest things I ever experienced. Germany was a very hostile country for a foreign woman trying to become a chef."
But it was not all bad. Luciana was lucky to meet some wonderful people along the way. "I became very close friends with some great chefs, and one of them introduced me to a famous chef in Germany. He told me to fight harder, because I was like him, the underdog: he was gay and his fight to get respected, was similar to my fight as woman. He became a role model to me." Looking for ways to improve her skills, Luciana offered to work for free at some of his events, just as a learning experience. "He gave me so many opportunities and – being a real gentleman – he told me: I cannot pay you, but you did incredibly well, so I'm going to give you my cookbook, and a recommendation letter." With this letter, he basically opened all the doors for her.
Becoming a food writer
Luciana comes from a family of talented writers. At a young age she was already participating in writing contests. While she was getting her foot on the ground in the professional kitchen, she coincidentally became a ghostwriter for cookbooks. One project led to another, and soon word spread among chefs that there was this woman that could help with writing your cookbook. "In about 12 years, I wrote more than 18 cookbooks. I liked it very much, until at some point one of the books became a bestseller. I felt frustrated because my contract didn't allow me to tell anyone, not even my family, that I was the writer. It's just the way it works. The publishers treated me well, and it paid good money, but there just came a moment that I wanted people to know that I could write these books. So I decided to stop ghostwriting for others."
After this decision new opportunities arrived. She started to write articles in magazines. Soon she was working for 12 different publications around the world at the same time. "People started referring to me as a chef journalist. I felt really embarrassed because I didn't graduate in journalism." So she pushed herself to fix that gap in her curriculum with appropriate courses, and became a member of the guild of food writers in the UK. 
"People sometimes raise their eyebrows if I tell them about all the different things I do. My story is similar to that of so many people who are restless. People who love many different things and sometimes feel that society forces them to choose just one thing. But I decided to practice gastronomy in 360 degree. So for me hospitality, cooking, science, and writing are all aspects of my profession. In the end, I could never be satisfied, only by cooking, or only by writing."
A talent for discovering talent
As she gained more experience, Luciana reached yet another turning point in her career. People started to invite her to do public talks about gastronomy. She was invited to become a lecturer in the Basque Culinary Center in Spain, and also at the University of Gastronomic Sciences in Italy. In Luciana's opinion, education is the ultimate way to empower people, a way to change the world for the better. So she decided that education needs to become a bigger part of her everyday life. "I just started several projects in which education played a dominant role. It made me realize that this is my one big talent: to discover talents and to motivate and mentor these talents. That was a crucial realization. To be able to say: I am a good cook, I am a good writer, but I am damn good at recognizing talents, and supporting them to achieve their full potential." 
"Knowing my way around in the world of press relations and publishing also gave me a great opportunity to support chefs in a new way. I started helping my chef friends to adjust their menus by giving my opinion, giving advice about their books, helping them to understand what is going wrong in their kitchens. Chefs easily put their trust in me, because I show so much love for their kitchens, so much respect for their work and zero interest in seeing them be publicly humiliated by some nasty food critics. Eventually I became the food critic that prepared them for the real criticism. Teaching them also how to 'read' criticism: making a distinction between 'objective' and 'subjective' commentaries. When a friend opened a new restaurant, my gift to them was to go there and give the very first constructive criticism."
By that time – 2002 –  the World's 50 Best Restaurants list first saw the light of day. The list started as something very organic, rather different to what it is now. It was supported because there was something missing in the world of gastronomy. Everyone was acknowledged for perfection, for excellence, for luxury. But if a restaurant was choosing a more daring, modern concept or if a restaurant owner couldn't afford crystals or a maitre, they couldn't be awarded for their efforts by the classic French lists. So the list of the 50 Best Restaurants arrived to acknowledge creativity, to acknowledge vision, and to acknowledge people who are influencing others in their work. 
"I completely embraced that mission. Together with another writer we were the main contributors to the World's 50 Best blog, for a few years. We did not get paid for it, and together with a group of frequent gastro-travelers we were the group of missionaries of gastronomy discovering the new talents around the world, and doing what we thought was needed to support this movement. These were exciting times. I was traveling a lot, over 200 days per year. Visiting chefs and restaurants all over the world. The things that happened in those early days really changed the landscape of gastronomy. Nowadays, the people on the list are celebrities. For me, they're just my old friends from times when they were not yet recognized."
Lost and found 
Fast forward to more recent times. "In 2017 I turned 50, and with that came the realization that I probably lived longer than I was going to live from that moment on. So I felt an urge to find a higher purpose in things I was doing." That's when Luciana decides she wants the component of education to become more prominent in her daily work. "I was still leading a life of just traveling, going to 50 best restaurants, writing articles and giving public talks. So I decided to travel less and to become more selective about my public talks. The same goes for my classes."
"I see teaching as a privilege. As a teacher I just need to be very generous in sharing my knowledge, and understand that you learn from your students as much as you teach them. My students bring very different views to the table. I like to provoke them, take them out of their comfort zone. I am not the kind of teacher that tells them exactly what to do. I make them feel very uncomfortable. Every school year I have some students – especially from Nordic countries – feeling totally under stress in my first class, complaining that I didn't send them any material as they want to be prepared for the class. But I don't want them to get prepared. I want them to arrive as empty vessels. Because in my class I teach about Latin American culture. I talk about human rights. I speak with them about food security. They have been bombarded their entire lives with news, with cliches, with prejudice. So at first, I want them to be very lost, leaving all of that behind, and thenI teach them about reality."
Luciana mentions a tattoo she carries on her arm. It's a Spanish poem by her favorite Uruguayan author Eduardo Galeano. It is about being lost, and finding yourself again. It is basically her life motto:
Our courage is born from our fears, 
and our certainties from our doubts,
dreams point to another possible reality, 
madness to another kind of reason. 
We discover things in places where we become lost, 
because it is necessary to get lost to find yourself again. 

Coming to the Galapagos
In 2016 Luciana was invited to be a speaker at a special chefs' event in Ecuador. She was asked to come and help to motivate a movement of modern Ecuadorian gastronomy, and bring two chefs with her that could support that mission with their own experience. "My goal was to help chefs to invest more in local cuisine and discover the potential of local produce. But more important – to be proud of their own culture. In Europe, that movement had already started about 15 years before, but in Ecuador they were just getting to that point. I invited Jefferson and Janaina Rueda to come. Him being the number one chef in Brazil, and both running popular contemporary restaurants in my country. I couldn't think of anyone better than them to help inspire these young Ecuadorian chefs." 
There was a problem with the dates of the event. "The organizer called me, and said it would be postponed for a month. For us that was very bad timing, so we told him we could not make it and would be happy to come next year. But the guy almost panicked, begging us to come. 'Is there anything I can do for you to change your mind?', he asked. And as a joke I told him that if he could arrange for us to visit Galapagos, we might reconsider. I was convinced this would never happen, Galapagos being the end of the world... But he just answered: 'Galapagos?! No problem! I will organize that the three of you can travel to Galapagos!'" 
My lost brother
"I told Jefferson and Janaina, and they just said, this is a once in a lifetime opportunity. Let's try to change our other appointments and let's do it." So the three of them went to Ecuador, did their work at the conference, and then – November 2016 – came to Galapagos for three days. "We stayed at the Golden Bay Hotel, the only five-star-hotel on the island that had just opened its doors. Upon arriving something truly amazing and unexpected happened. We met our host Pablo Mejia, and it felt like I had found my lost brother. It was like I knew him my entire life." 
Pablo was not familiar with gastronomy, and didn't know much about hospitality as well. His specialty was construction as they were a family of architects. After his father passed away, together with his siblings and mother, they decided to invest in a business unknown to them to stick together. "I felt really sorry for him. He was so nice, such a natural host. As I had helped so many chefs before, my two friends encouraged me to help Pablo. Time was on our side, and only two months later, in January 2017, I was able to return for two weeks. We basically treated it as a friendly consultancy project for adjusting a restaurant in ultra-speed. I returned to paradise but didn't have time to see anything outside. We were just at the table working together 12 hours a day, to be able to get everything done."
Partners in crime
Then at the end of the last day, Pablo looked at Luciana and asked her the question that would change everything. He insisted for her to be really honest. "He asked me: Just pretend this place to be yours, would you do exactly as you're advising me to do now? Or would you do things differently? I looked at him and told him the truth. Yes, I would do things differently because I have more experience. I am building a simplified model for you, because in a few hours time you will need to be able to run this concept without me. If I were in charge I would make different choices."
"He asked me how I would do it, and so I shared my dream vision of the place. I would like to do a farm-to-table restaurant. I would develop an educational program where people were going to be trained professionally. It will be like a school hotel. I don't remember the exact details, but it was a preview of what we have now. Next thing I know, he asks me to become his business partner to build this dream together with him." At first Luciana just couldn't believe her ears. "But it was such an extraordinary moment, and Pablo was very serious about it." So they both committed themselves to thoroughly explore the possibilities, to see if they could make it work. "I'm a very strict person in moral terms. But as I soon learned that we live by the same guiding principles, I decided to take a leap of faith and said yes to this new adventure." 
Preserving Galapagos
As plans unfolded, the two decided not to focus solely on the hotel and restaurant, but to create something bigger: to help introduce sustainable hospitality and sustainable gastronomy to Galapagos. "We developed the idea of turning our project into a tool for conservation. Simply because we love Galapagos so much, we want to keep it this way for future generations."
Luciana and Pablo filed an application to start a foundation, because even though the main activity in Galapagos is tourism, there was no ecological sustainable tourism in place at that time. The idea was to create a foundation that could link hospitality and gastronomy, with sustainability and conservation. "There were no professional training programs for hospitality or gastronomy on these islands. And I thought, I want to train women and young people, so that they can be more environmentally friendly in their own homes too. They could learn how to cook more sustainably, reduce waste, and restaurant, hotel and staff members could lower carbon emissions and care for nature to help save Galapagos through their jobs."
The two entrepreneurs thought it would take a few years to get the approval for their foundation. But only eight months later, they receive a message from the Ministry of the Environment, saying that this was one of the most important foundations to be opened on Galapagos. "I thought we would have plenty of time to learn how to run a foundation, but it was learning by doing". MUYU, our farm-, forest- and sea-to-table restaurant, was the first pilot project of our foundation."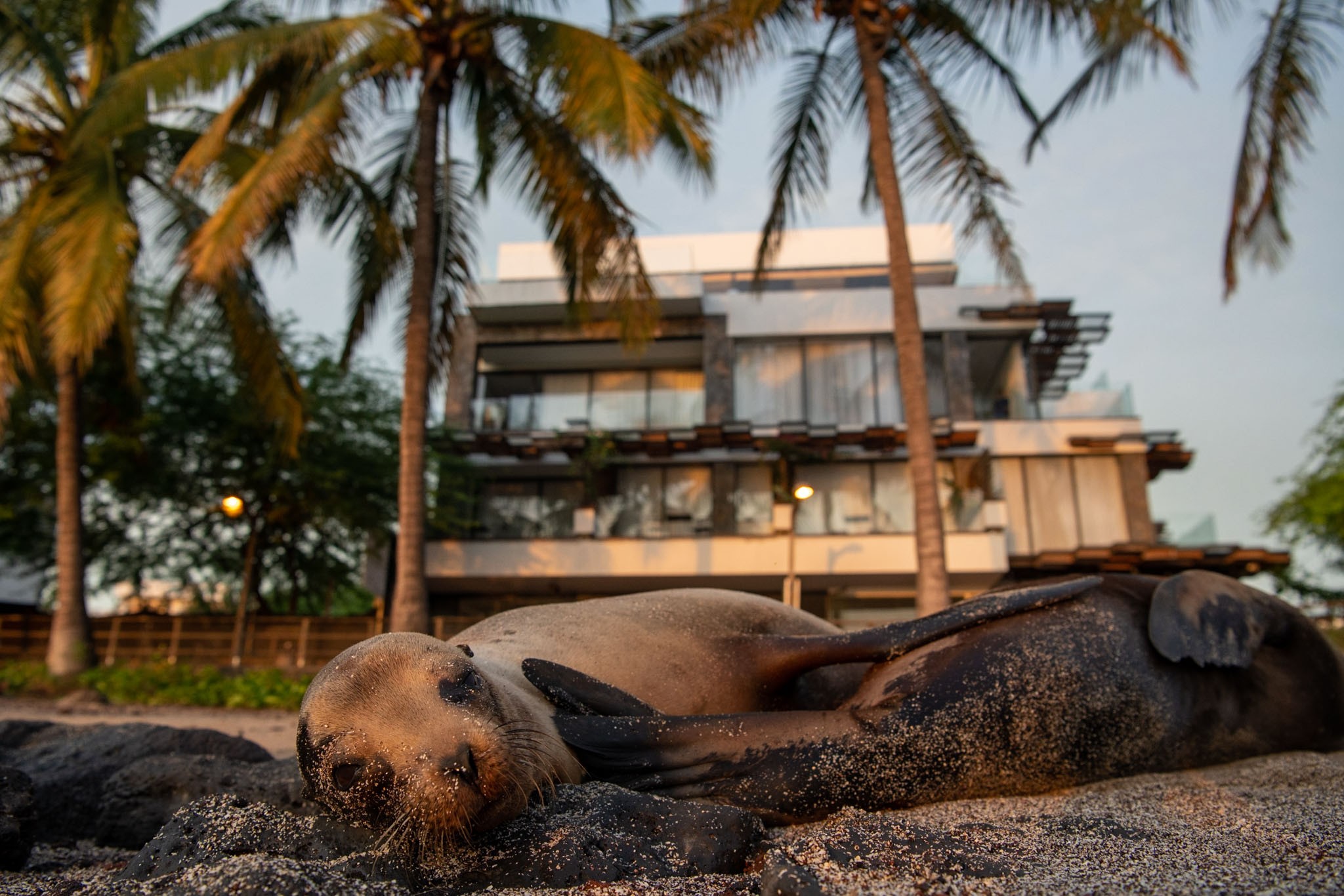 Sowing seeds
MUYU, meaning seeds in the local Kichwa language, opened in June 2017, just a few months after Luciana arrived on the island. Again, nothing went as planned right from the start. At first they try to build their concept together with the local community. But for the people of Galapagos Islands it's just not their habit to do things in collaboration. There are a lot of historical wounds, people are very protective. To change a dynamic that is already in place is very difficult, so we had to do it in a different way. We now see MUYU as a way to empower people from the community. We have made our project into an incubator. We help people to grow in our restaurant, as if they were seeds. And when time comes, we spread the seeds around. They come to us, they have the learning experience and they grow. Even if people don't manage to stay with us for long, they are helping fulfill the mission: because they will make the next place they work or live better. You can read all about Muyu here »
When shit hits the fan
From then on misfortune hit. In 2018, Luciana started to feel pain in her breast. Intuitively she knew something was seriously wrong. After visiting the best doctors in Europe and Brazil and after a long journey of false diagnoses, they discover it is breast cancer. "It was the worst diagnosis possible, with statistics of about 25% chances of survival. It was Galapagos that has basically saved my life. This mission that I had left unaccomplished, made me battle through it. I couldn't abandon the people of Galapagos after I had put so many dreams in their heads. So in return I'm now going to dedicate my entire life to preserve this place." 
Luciana fought for her life for nine months in a Brazilian hospital. "I had just finished my treatment and had returned to Galapagos when the pandemic hit. And the pandemic was very hard on us. People have no idea what we went through. As the airport closed down, there was no food entering the island, we had the scary feeling we would run out of food. After one and a half month in lockdown, we saw our provisions becoming critically low. We had to create food out of nothing. Working with farmers doing zero waste projects. We had to make magic happen. Making the best of any produce that would grow, any fish that was caught."
Hopes for the future
It was very hard psychologically, emotionally and financially. "We had 75 employees depending on us, and we didn't abandon them. Our decision of not closing the company and going to Quito, returning only when the situation would be better, broke us financially." Looking ahead, the road is still bumpy. "Everyday, we're nervous, because we are completely on the edge. If something else happens, we are not going to get through it. Basically, the next few years we will be working, just to pay our debts. My main mission is to keep the team motivated. I would love to be able to travel back in time, to the place where I was in March 2020. I hope that somehow the universe will give me strength for that. My hope for the future is that we will be able to carry on and turn things around. Hopefully in two years time we will talk again and I'll be able to say we made it!"
Opening up to fund raising
The first rule that Luciana and Pablo installed as they created their foundation was to refuse money from the government. "We don't want to get involved in politics. That still happens a lot in Latin America. So far, all investments were private, from us, friends or from our family. From this year on, we are opening up to international fundraising. Anyone who wants to support our foundation with little or big money can do that. We want our funders to know and decide how we spend their money. If you have a heart for books, you can put your money in a library. If you have a heart for scientific research, you can put your money in for lab equipment, and so on. That is my promise to investors that they can follow where we are putting their money." 
"Until now, we have managed to do things with very little money. So just imagine what we can do with real money. We hand-built a solar dehydrator from spare machine parts, because we didn't have the money in the beginning to buy a new one. We never stop researching, because we don't have money. And that's also what I teach others. It is my contribution to science: you cannot stop research, because of lack of funds. You have to find alternatives. Or create them yourself.
recommendedForYou
Food Inspiration magazine
Trending articles