How do we battle food insecurity?
These social entrepreneurs try to create equality through food

Written by
Lisa Appels
on Friday 15 April 2022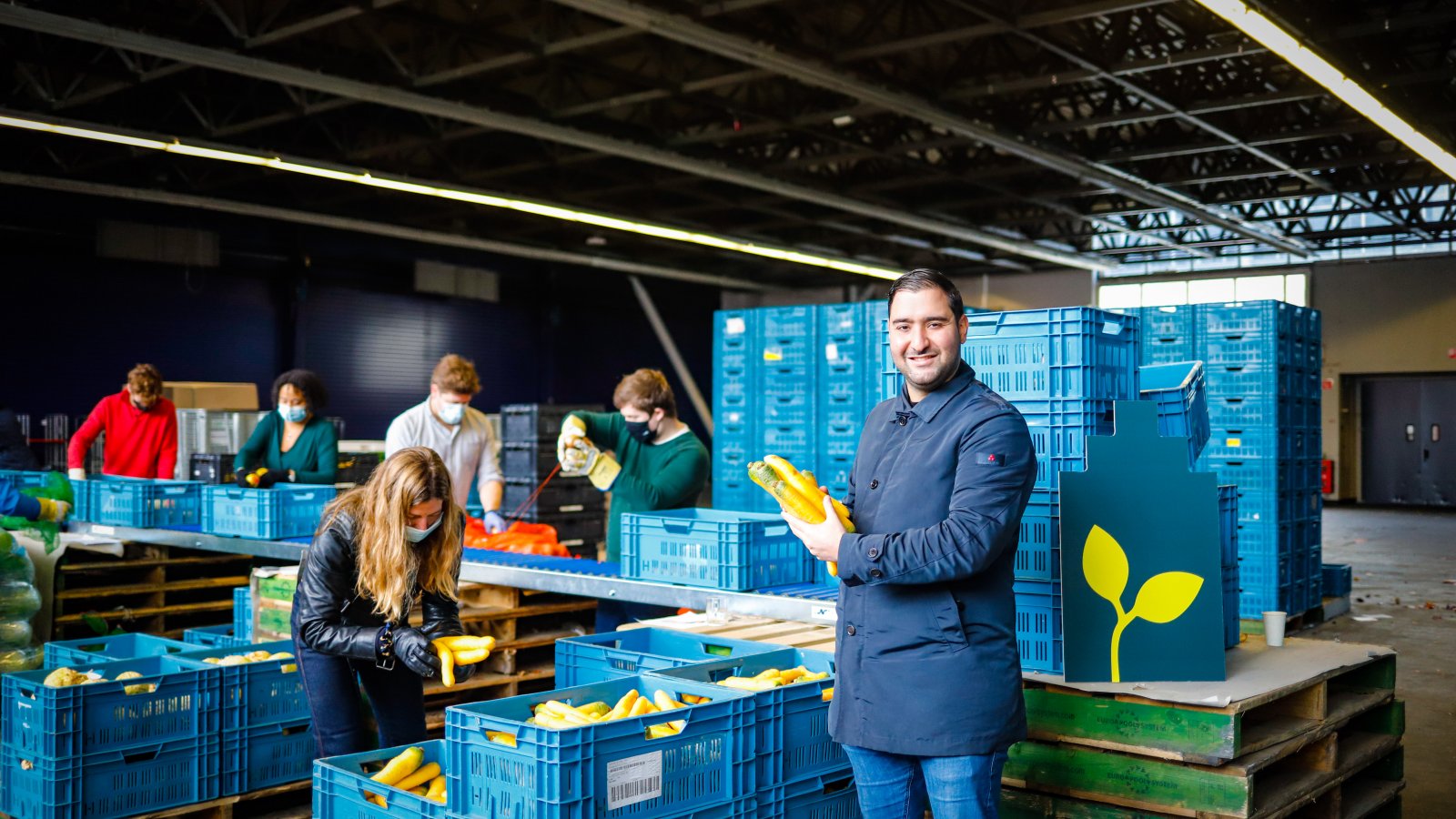 Although big cities may seem like places of abundance, don't let the neon signs fool you. Around the world many urban areas lack access to affordable healthy food, and the COVID-19 pandemic exacerbated food insecurity worldwide. Luckily there are people who want to make change.
"Good and healthy food stands at the start of a broader equality and inclusion" says Abdelhammid Idrissi. Idrissi is the founder of Boeren voor Buren – Farmers for Neighbors, a Dutch organization that he founded in 2020 during the COVID-19 pandemic. 
The basic needs for success
Boeren voor Buren offers fruit and vegetable boxes from farmers close to Amsterdam to families that are struggling financially. "We make sure that both farmers and families receive a fair price" says Idrissi, who is a successful social entrepreneur in Amsterdam. Back in 2010, he started a non-profit organization called Stichting Studiezalen, which means 'study halls'. With Stichting Studiezalen, he helps children from disadvantaged areas in Amsterdam to develop themselves by offering them physical spaces that offer room to study, which is often not available for them at home. The organization also connects the youngsters with a personal life coach, corporate sector mentoring, and a network to assist them with future guidance.
Holistic approach
"When I started Stichting Studiezalen, it was my mission to create a holistic approach to reach equality for all children and youth. Although we live in a very wealthy country, there are still a lot of families who live in poverty. When basic needs aren't met, and parents worry about money, or what food will be on the table, or having internet access so their children can't take part in online schoolwork, it creates a lot of stress in a household, and therefore in children's lives. Which then causes a snowball effect for children who are already at a disadvantage, to fall even further behind. I noticed that the bureaucracy of our social system is pretty Kafkaesque. For instance, if you have financial problems you go to this office, if your kid needs extra help at school you go to another, for mental health issues there's another organization. But a kid's mind and life doesn't work like that. I think to achieve true equality we need a holistic approach, which makes proper care easily accessible for children and parents. That's what I've set up with Stichting Studiezalen."
Farmers for the hood
So back to the start of Boeren voor Buren. Once the pandemic hit, Idrissi had to close down all of his locations. Parents had to work from home, while at the same time children also had to stay at home and attend online classes. "When the lockdown was announced in The Netherlands, I got really worried. A lot of the kids and youth that we coach live in very small houses with big families, sometimes in precarious situations. Therefore I started to reach out to them. Trying to keep up to date with their families; what did they need? At first people were afraid to open up. There's a lot of shame in poverty. But once I started to ask questions indirectly, like 'Do you know anyone in the neighborhood who needs help?' People started to talk. There were families that didn't have the supplies to homeschool their kids, people that didn't have laptops or access to the internet in their homes. But a lot of people were also worried about not being able to provide food for their families. It wasn't a complete surprise to me, but all my internal alarm bells started ringing. Food – and especially healthy food – is a fundamental necessity for people to be able to survive and then thrive. People shouldn't have to worry about healthy food, and all kids should have access to healthy food. It astonishes me that we live in one of the richest cities in the world, but kids are still going to bed hungry. And on top of that unhealthy fast food is often more affordable than fresh fruit and veggies." 
As the pandemic hit, Idrissi was trying to help families to meet all their basic needs. He got a phone call from someone in his network, telling him that a lot of farmers were forced to throw away huge amounts of fresh food which they weren't able to sell due to the pandemic. With people from his network, he started setting up hyper local supply chains – a truck driver he knew offered to help – to bring free fruit and vegetables directly from farmers around Amsterdam to inner city neighborhoods. At first, Idrissi offered about 400-600 families free food packages of fresh veggies and fruit, but the demand rapidly grew.
"That's when we started setting up a long term system with Boeren voor Buren. We created a lot of local pick-up points in neighborhoods where the need for healthy affordable food was high. It was important that these pick-up points were within walking distance for the families; taking the bus can be a substantial blow to their budget. We started selling food for affordable prices, which was possible because we cut out a lot of middle men."
Producing food at school
Around the same time as when Idrissi started his organization Stichting Studiezalen back in 2010, Steven Ritz started The Green Bronx Machine from the Bronx in New York which aims to create more (food) equality for children from underprivileged backgrounds. Ritz was a high school teacher in the South Bronx when he started The Green Bronx Machine in collaboration with his students as a response to the lack of healthy food options in the area. Ritz's Bronx classroom was the first organization that created an indoor edible classroom. With their school-based program, The Green Bronx Machine is using urban agriculture that is aligned with a classroom curriculum that taps into local food systems. Their goal is to help students develop academic skills while experiencing the joy of growing their own food. The organization's impact in schools also has a ripple effect on the surrounding neighborhoods, building inclusivity and increasing access to healthy foods. Ritz: "We are a whole school program that generates high performing schools, happy healthy children, and changes the social determinants of health."
According to the latest data from the USDA, 39 million people live in 'low income, low access' areas in the United States alone. With so many people losing their jobs during the pandemic, food insecurity has been exacerbated nationwide. For students without access to basic necessities, remote schooling has created a disruption in their education and development. So when COVID-19 hit, The Green Bronx Machine shifted gears in order to address growing food insecurity even further. They continued to teach classes virtually while providing fresh local produce to students and families at their homes across the Bronx.
To do so, Ritz developed new supply chains which allowed his organization to deliver food to local communities and feed 2,300 people daily. Besides continuing to grow food in their classrooms, Ritz and his team had to develop new relationships with local farmers and producers to rescue food destined for landfills and feed even more families.
Food as an opportunity
Although both Idrissi and Ritz started their organizations to create more equality, at the beginning Idrissi wasn't aware of how a better diet, a fair food system and knowledge around food could contribute to equality. Since setting up Boeren voor Buren during the pandemic, his eyes have opened. "A lot of families and children in Amsterdam are unfamiliar with the world of food and agriculture. Now that we're setting up Boeren voor Buren as a platform, where people can start their own distribution point, using our network and IT-facilities, I want to focus more on education around food for children, youth and their parents. We're organizing courses and field trips for our students from the Studiezalen (study halls)."
Idrissi wants to achieve more than food justice and better education for everyone. "Of course, I hope that our new program will inspire people to live more consciously and healthier. I think it would be great if families learn more about the world of agriculture and food innovation and that young people discover that there are also careers in food. That they can develop their talents, passion and start doing business in the world of food."
More from Interview

Food Inspiration magazine
Trending articles