We are outsiders creating the first movement of local cuisine on Galapagos
MUYU is serving the best from Galapagos' farmlands, forests and sea

Written by
Moniek de Jongh
on Wednesday 23 March 2022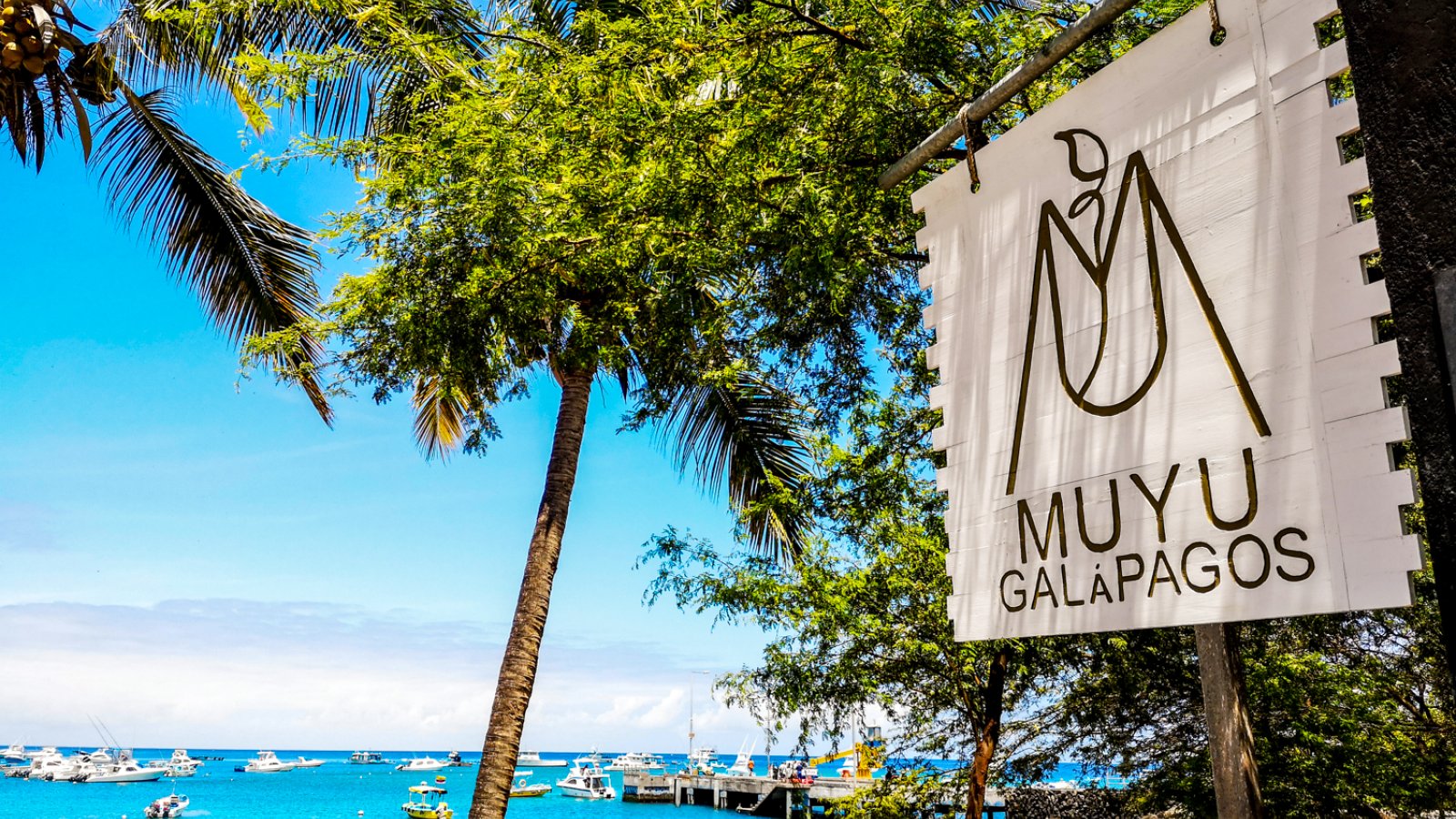 MUYU Restaurant and MUYU Bar on the Galapagos Islands are a dream gastronomic destination. MUYU is a farm-, forest-, sea-to-table restaurant that celebrates the natural and cultural diversity of Galapagos. Food Inspiration interviewed chef-owner, Luciana Bianchi, about her challenge. "Galapagos doesn't have a native indigenous community. And so it doesn't have a native cuisine, just a collection of introduced cuisines from different regions of Ecuador. We are outsiders creating the first movement of local Galapagos cuisine here." 
Luciana Bianchi and Pablo Mejia welcome their guests to MUYU to experience the unique beauty and taste of Galapagos. Besides the restaurant and bar, they also run a five-star eco-boutique hotel, manage the Galapagos Foundation, are developing an organic farm, two urban gardens, a bakery, and a research lab. "We are committed to local organic produce, creating dishes combining the best we can find in our island from farms, forests and sea, and the history of the archipelago."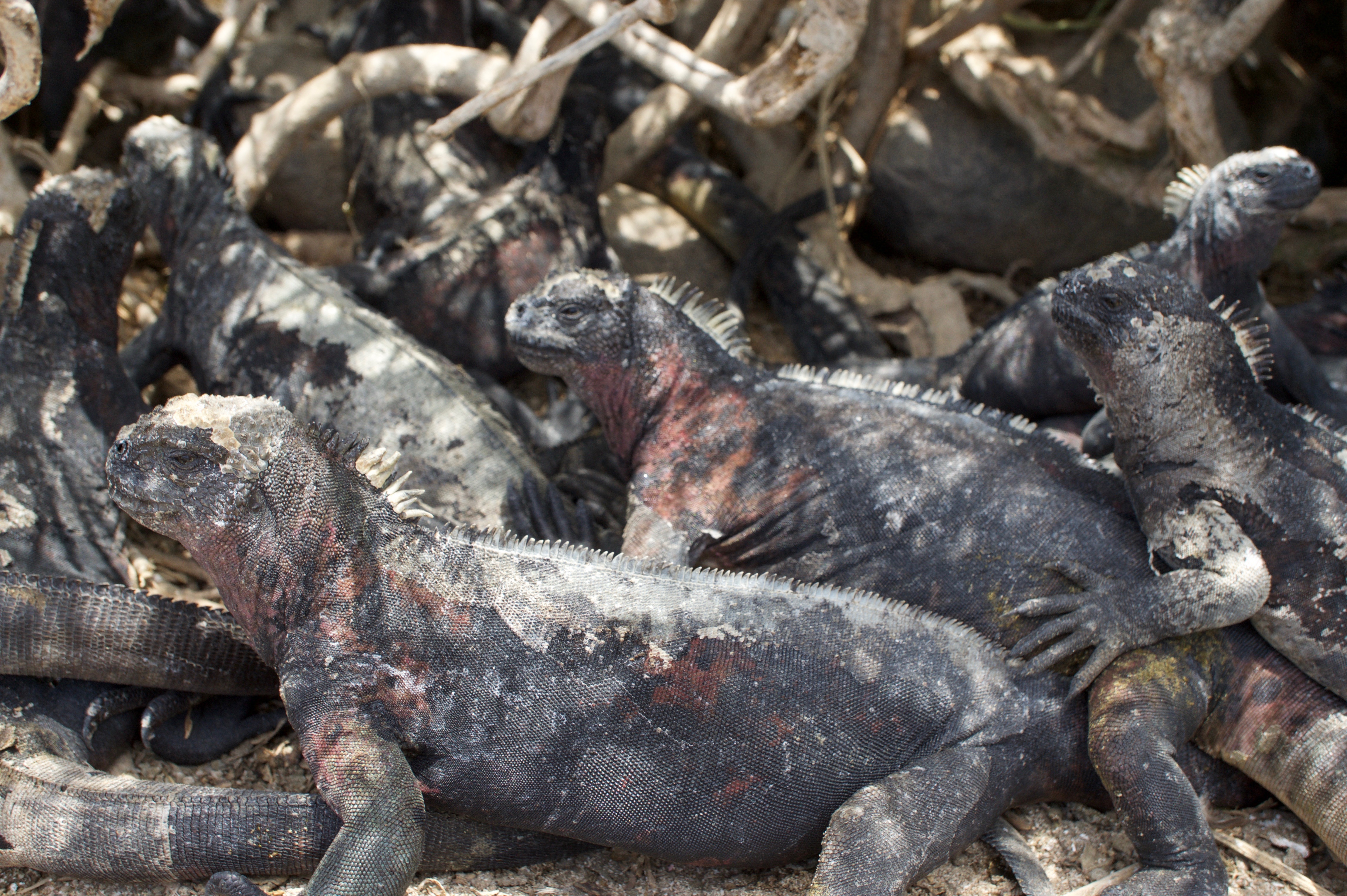 "Galapagos has something unique to offer that you can't find in any other place in the world. Of course, there are the rare animal species like marine iguana and the giant tortoise," Luciana explains. "But the unique experience you will have in Galapagos is that wild animals are not afraid of you. Sea lions play with you in the water, like dogs. Sharks don't attack you. You get the feeling that these animals trust you, and treat you as equals, as a natural part of their environment. A unique experience that we need to preserve for future generations. This is one of the last paradises on Earth."
Localism and empowerment
MUYU means 'seeds' in the Kichwa language of Ecuador. "The meaning of our name encompasses all we stand for. We believe in the transforming power of education as 'a good seed for the future'. We also plant big varieties of seeds at our own Munay farm and urban gardens, and support farmers who are dedicated to organic farming. That way our guests can enjoy delicious meals that are produced on our island, and are part of an important conservation project. Our chefs source the best organic vegetables, fruits, foraged herbs and flowers, and the freshest seafood available. We avoid unnecessary orders from the mainland to reduce carbon emissions, and to best support local farmers, artisans and fishermen. The MUYU project is about localism and empowerment."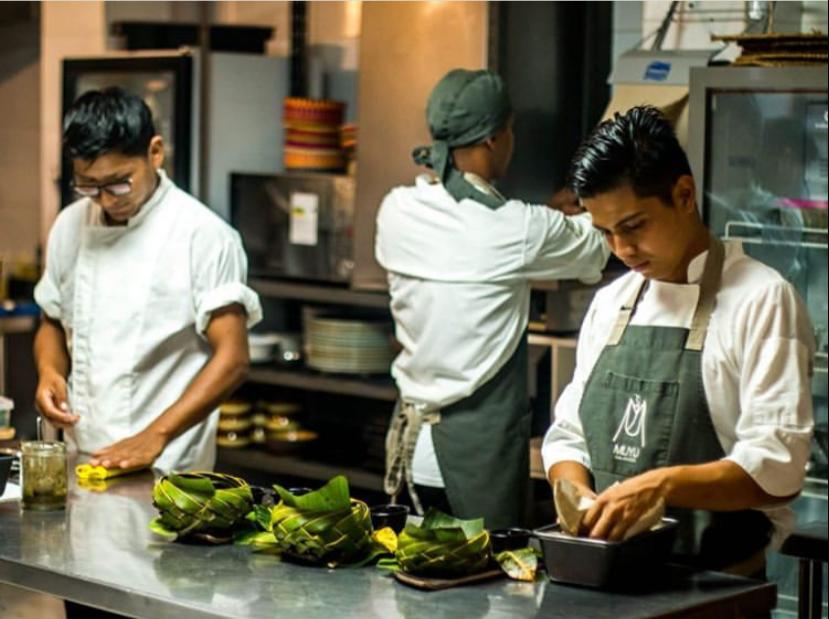 The journey of MUYU started in 2017 when the restaurant opened as a pilot project of Galapagos Foundation. The nonprofit organization founded by Luciana and Pablo promotes responsible tourism practices and uses hospitality and gastronomy as tools to preserve wildlife and nature. They manage this through zero waste projects, research, knowledge sharing and education. The Galapagos Foundation partners with MUYU's various projects to support local organic producers and artisans, empower women of all ages, and help Galapagos' young professionals to become the first eco-hospitality and eco-gastronomy professionals in Ecuador.
"We are pioneers in everything."
"I am involved in everything we do at MUYU," Luciana explains. "I mentor everyone in the crew. We have two categories of people working with us. On the one hand there are the ones who are already very good at their jobs, but who want to get to the next step in their careers. Chefs who have been working in top restaurants around the world and might have the ambition to become Michelin Star chefs themselves. With us they get the opportunity to become head chef for the first time in a restaurant that is the most awarded restaurant in Galapagos, and very well known in Ecuador. I teach them leadership. I let them coach their own team, improve their skills and inspire them to become even better chefs. After two years – I ask them to stay a minimum of two years – they are ready for their next challenge, and I will help them to open new doors if I can. Then we have a second category of people. The ones who have ambition, but didn't have opportunities so far. They are mostly locals. They want to learn a profession or improve their skills. For them we serve as a talent development program, a school that pays them for their learning experience. But they have to work hard as well. MUYU is more than a restaurant – it is an accelerator."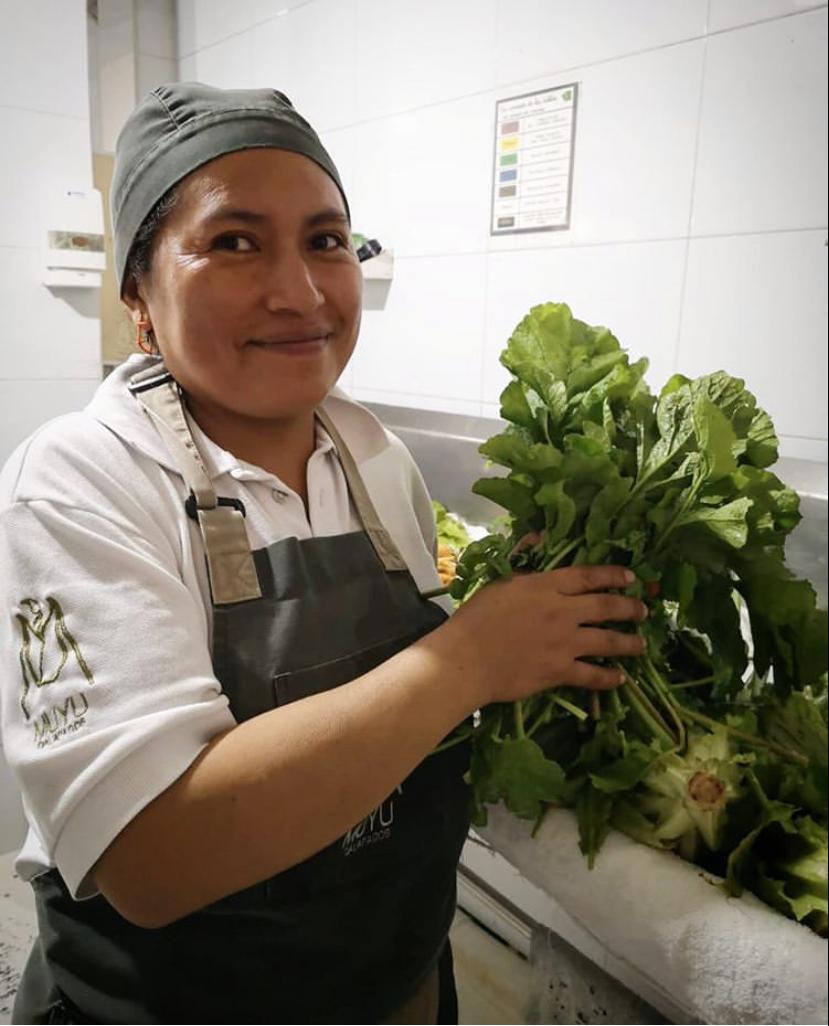 Paella à la Galapagos
Luciana is the brain behind the MUYU concept. "It's my cuisine in collaboration with my team. I allow my chefs to have their kicks, be creative within my concept. Our current head chef, Alex, is from Spain. He is a specialist in rice and he puts paella on the menu. But not a Spanish paella," Luciana explains. "He is working with some of the wild things that grow here, in order to make a special Galapagos paella. All MUYU chefs must also become accomplished bakers and pastry chefs. We have a small popular bakery. Chefs don't need to become pastry chefs, but need to learn the basics of pastry. They must learn how to bake bread and understand the foundation of natural fermentation and sourdough." MUYU also has its own research laboratory. "It is still very primitive, because until now we didn't have the money to buy real equipment. However, that never stopped us from doing our research projects. There is a lot of research behind our fairly innocent menu. We have our own development chef, Marco, who is in charge of development, foraging and all wild matters, and we have an R&D group uniting chefs and bartenders working on zero waste projects," Luciana said. 
Getting fresh cucumbers by taxi
"We are the first restaurant in Galapagos to invest in local producers. We are pioneers here, doing a farm-to-table concept, and more important: we are the largest buyer of agriculture products on the island. Any comparison of what we do to any other place in the world sounds ridiculous. We are small, but here we move a lot."
"I didn't expect it would be so difficult to create a farm-to-table concept. In Europe it is so normal, but when I started the idea of MUYU, my business partner said, 'I don't think it's possible'. And my answer was: 'of course it is, in any place in the world you can find local produce'. So we started to visit the farms around the island. By this point I just couldn't understand why this task would be of any problem. Well, to start: everything is cultivated in the highlands. To get there you need a car. The government issues permits for vehicles, and believe it or not, we are probably the only five star hotel in the world that doesn't have a permit to own a car."
"So to be able to carry on with my farm-to-table concept, we needed to become inventive here. To get our fresh produce, we had to go by taxi to our farmers. Every Friday we were paying $50 to get into the mountains to collect our boxes with fresh produce: one box of tomatoes, one box of cucumbers… Going farm to farm. For most restaurant owners that was insane, but that was our reality, and the only way to make our MUYU project possible."
"When people talk about how difficult it is to start a restaurant concept, I laugh my head off. You have no idea!"
Paying in advance
"Next, we wanted farmers to increase their production, but they were not at all willing to do that. We asked them if they could produce organic crops, but most of them were not interested. At the end, the local farmers just proved to be very good at saying no. Even if we asked them something as simple as to plant yellow and red peppers, they said no because they liked green peppers only. To turn things around we decided to pay a few of them in advance, to encourage them to plant different products. So, that is how we got things started: with a crazy dream and lots of enthusiasm – ignorance is a bliss. So now, when people complain about how difficult it is to start a restaurant concept, I laugh my head off. You have no idea what's difficult."
Looking for alternative proteins
"I had the brilliant idea to have a catch of the day on the menu, and one day we had guests waiting at the restaurant to order the fresh fish, but the fisherman did not arrive. I called him asking about it: 'I'm on my way, I've caught a tuna'. So I run into the kitchen, the production table was ready, waiting, but the tuna never arrived... I called him again. 'Where are you?' 'Oh, I met a friend on the way, he wanted to buy it, and in that way I didn't have to go all the way to you'."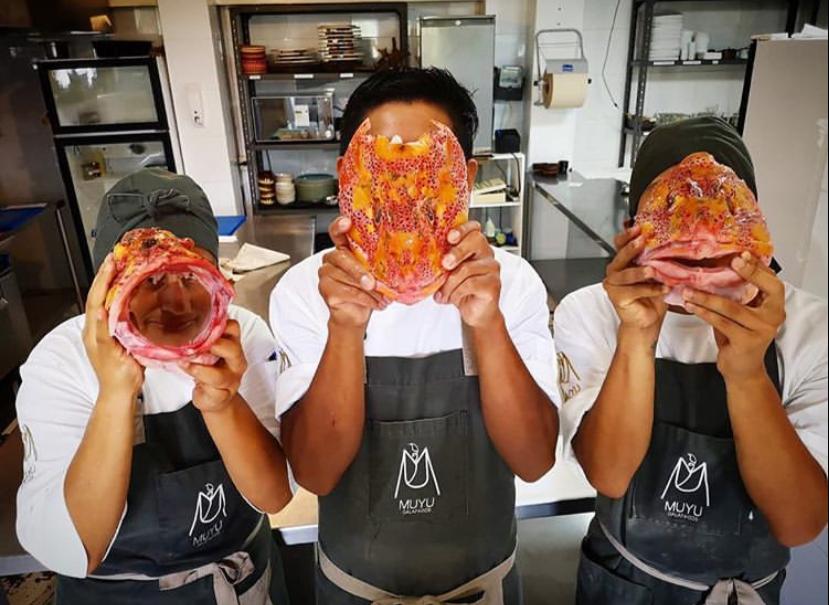 "Working with the artisan fishermen proved to be a challenge "These kinds of things happened – and still happen – many times. It is the reason why we started to invest in the development of alternative proteins. We are now considered the number one vegan restaurant in Ecuador. So we are a farm-, forest- and sea-to-table restaurant, we want to work with 'catch of the day', but parallel to that, according to our guests, we are the best vegan restaurant in Ecuador. To be honest I don't want to be in a situation like that anymore. If the fish doesn't arise, we are able to serve alternative proteins, and who knows, maybe one day go 100% vegetarian."
"We are a fish restaurant but also considered the number one vegan restaurant in Ecuador."
Starting up our own farm
"Now we are just extending the MUYU concept by going rural.  Every day we discover new and unusual things our volcanic island can provide to us." The COVID-19 pandemic unintendedly was a catalyst for farming and garden projects, as we urgently needed to develop new ways to produce our own food to be able to survive. "We have developed a lab farm to help our farmers with a cassava project. Munay farm is beautiful, but very difficult to do farm work conventionally, with lots of volcanic stones all over the place. But there's permaculture for that: adopting traditional and more natural agricultural practices, following seasons and accepting the harsh terroir. We plant various crops, and try to do things more organically." 

"The farm is still very much at the beginning. We have orchards. Citrus fruits grow amazingly there. Everything else we grow only in small quantities. Now we are doing some experiments with coffee, cocoa and guayusa, a tea leaf typical from Ecuador. We also have an urban garden, on the rooftop of our hotel, in front of the sea. As well as lots of edible flowers that are central to MUYU's cuisine in a second urban garden in our backyard. Part of the rooftop urban garden was financed by World's 50 Best Restaurants. They did a campaign called 50 Best Recovery, supporting 50 restaurants around the world that 'they couldn't allow to close the doors'. We were lucky and grateful to be one of them. The money – $5,000 – helped us to build our garden, and to feed our team during the pandemic. We will never forget that."
Discover more about the amazing life journey of Luciana Bianchi. Read it here »
recommendedForYou
Food Inspiration magazine
Trending articles