The success story of an iconic Swiss vegetarian restaurant chain
Tibits founder Daniel Frei wants to make vegetarian food accessible for all

Written by Fascal Hukker on Friday 20 January 2023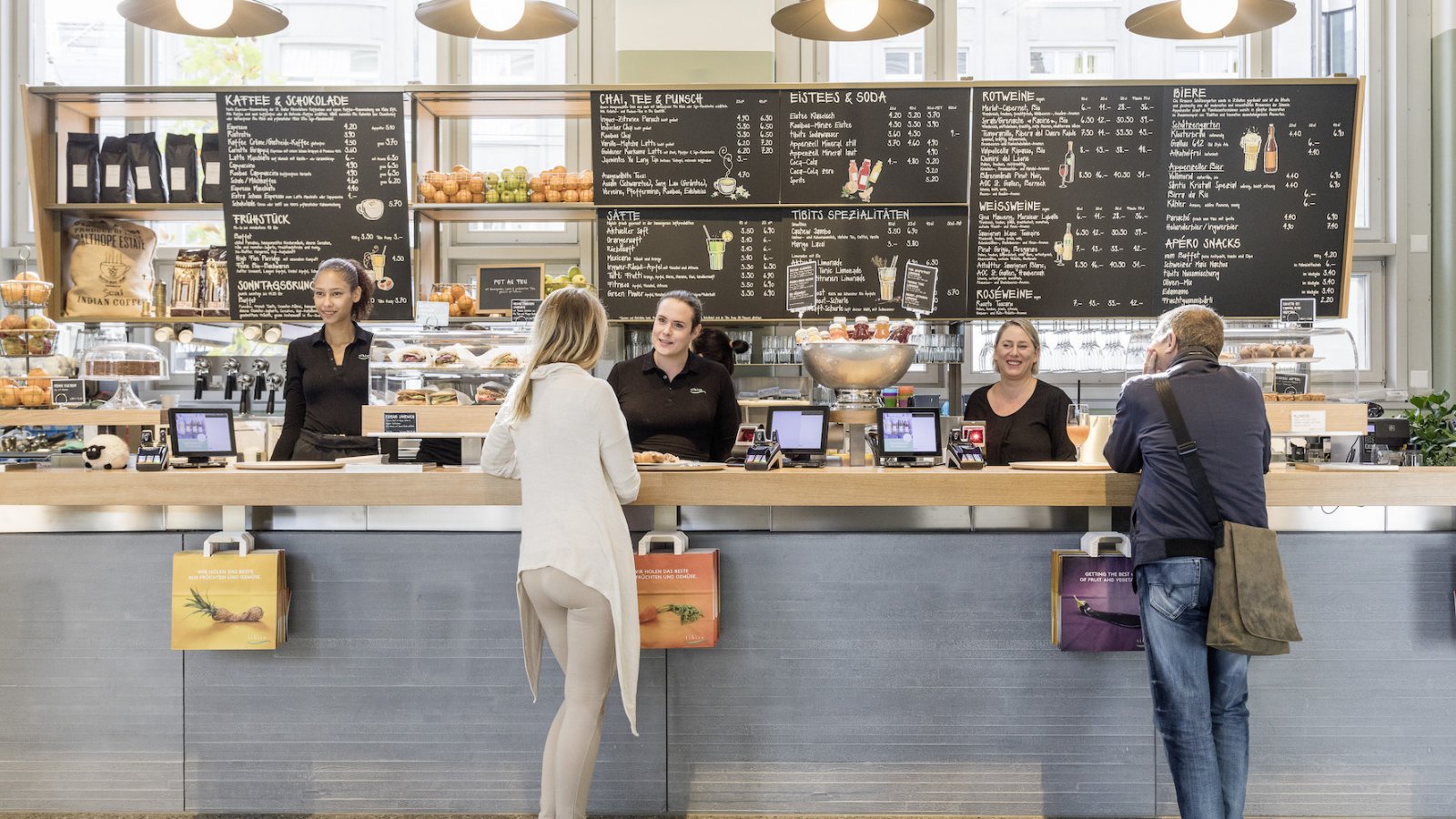 Restaurant Tibits is an icon of Swiss foodservice. Strictly vegetarian, it's created for everyone. With a low-key vibe, a simple interior design, and great food, Tibits has been  supported by the local community for more than twenty years. To learn more about this vegetarian gem, Food Inspiration interviewed Co-founder and CEO Daniel Frei.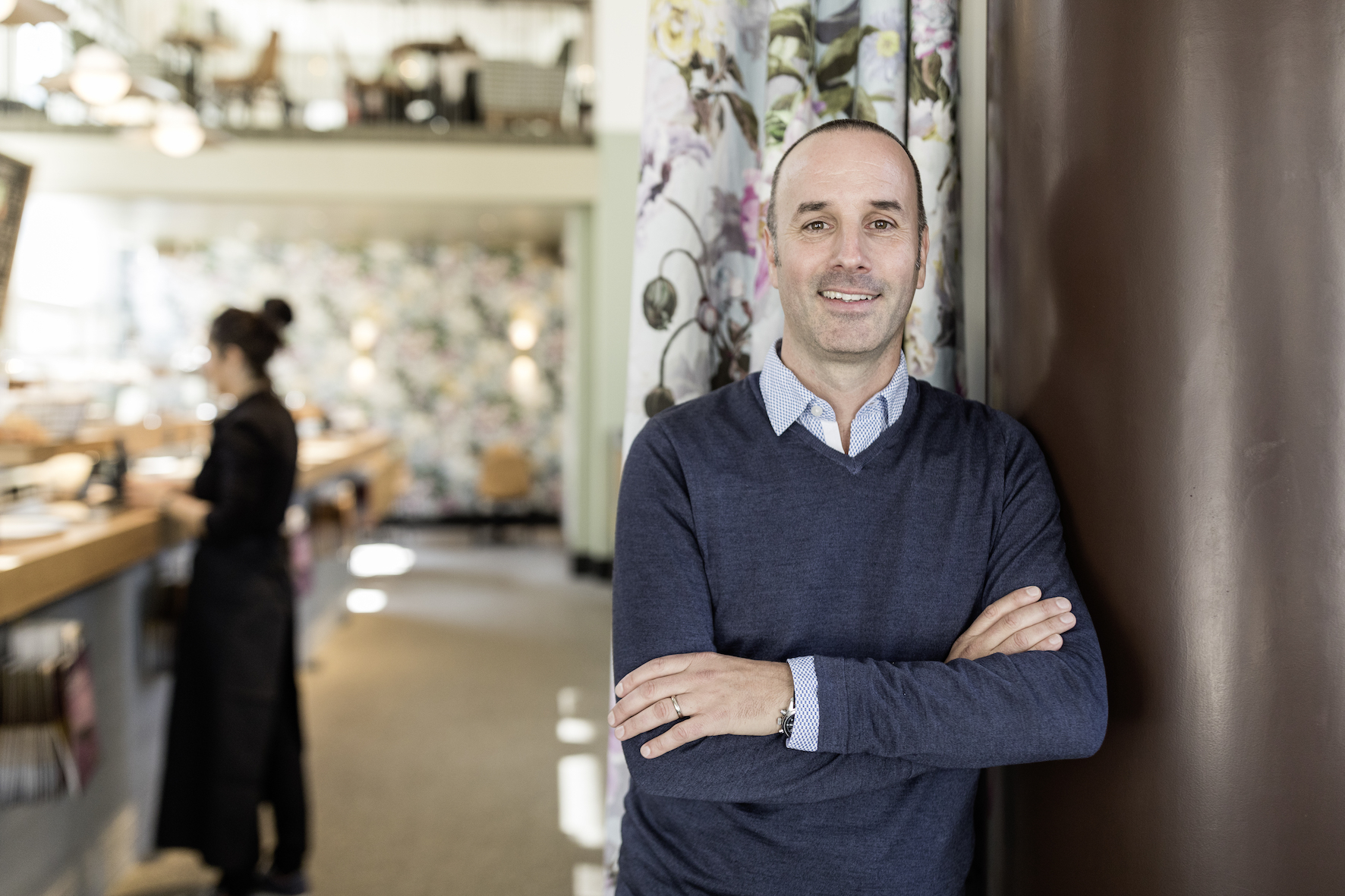 "We never communicated that we were vegetarian, if you offer great food, you don't need to"
About Tibits
In 2000 Daniel Frei founded the buffet-centered vegetarian hotspot with his brothers Christian and Reto. The inspiration? A recurring monthly fight over their mothers' home roasted chicken wings led the brothers to turn to vegetarianism. But being vegetarians at that time – in the nineties – proved to be quite challenging as it was close to impossible for the brothers to find an enjoyable meal out of home. Out of that frustration, they decided to participate in a local business competition sponsored by McKinsey and Zurich's ETH University. The brothers decided to pitch a vegetarian fast casual restaurant concept that would also contribute to a healthier planet. Local media quickly picked up on their idea, and it was met with so much enthusiasm that they decided to quit their jobs and look for a partner that shared similar values and had the gastronomic knowhow they lacked. 
Rolf Hiltl, whose family founded the oldest vegetarian restaurant in Europe, joined the Frei brothers and helped them to co-found their enterprise. The first location in Zurich opened on the 6th of December in 2000. Today, they run eleven restaurants throughout Switzerland, and one in Darmstadt, Germany, on the campus of Alnatura, a whole foods company. Their two locations in London closed down during the Covid-19 pandemic. Currently, the enterprise employs 80 people, with a 95% plant based menu. Throughout the more than 20 years of running their business, the buffet has been the central aspect of the concept. On average, the restaurant offers approximately 40 different seasonal dishes.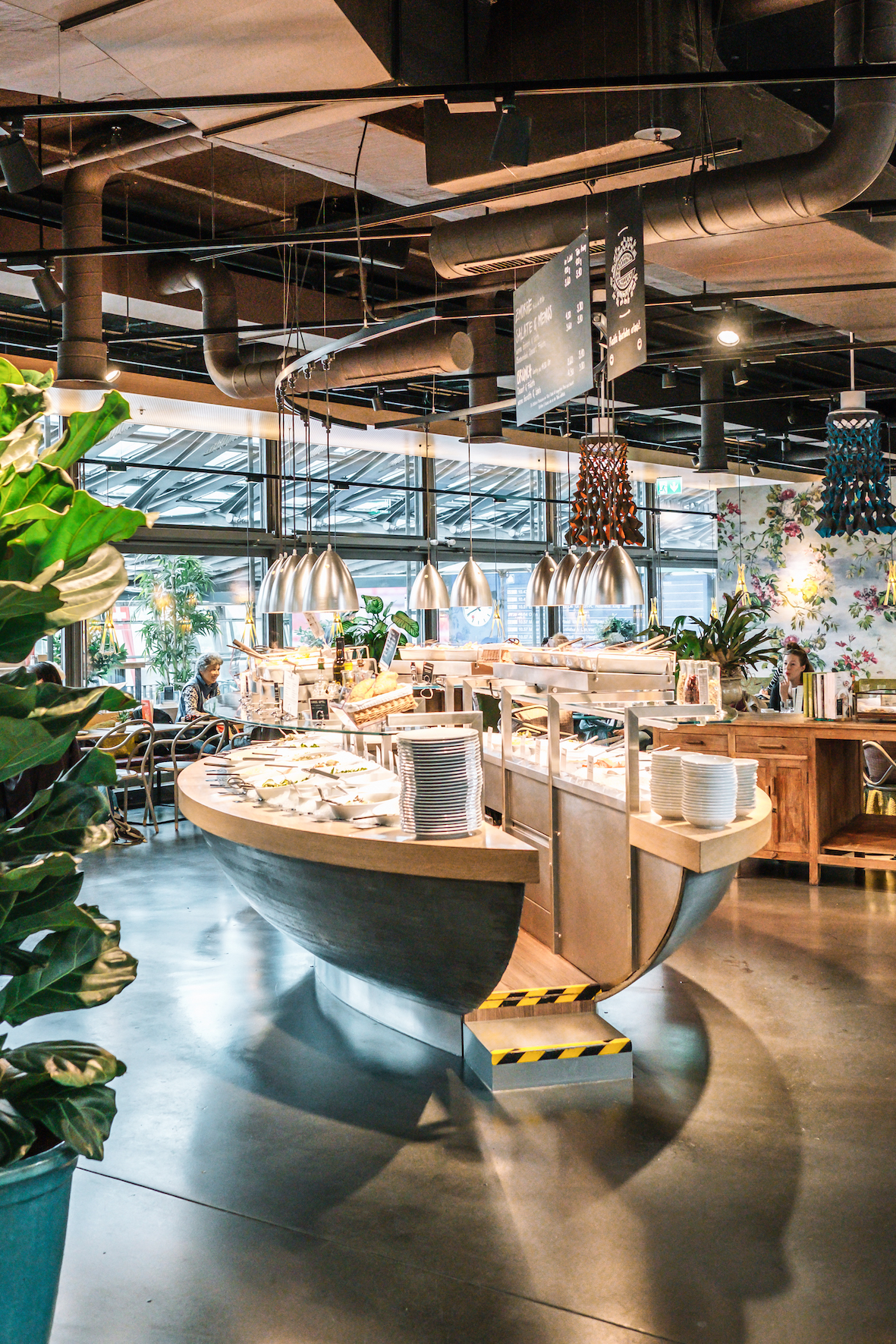 Can you tell us how a family with all boys decided to become vegetarian?
"My Italian mom is a great cook, and once a month she would roast a chicken. But with four boys we always had to fight for the wings. My younger brother would never win this fight so he decided to stop eating meat, so as not to be disappointed again. After that, my mom started to give us liver to compensate for the lack of nutrients she thought we would miss, but that didn't help. My older brother at the time was into saving animals; at night he'd go out to free pigs from their pens, and really fought against intensive animal farming. It was inevitable that he became a vegetarian. So with two brothers down, I followed suit. That was about 35 years ago now. With  vegetarian offerings in restaurants simply being nonexistent at the time, this meant we were no longer able to eat out together in an enjoyable way. This led to the start of our first restaurant in 2000, and Tibits was born."
Why did you choose to do a buffet concept?
"Our concept is designed like this because we want our guests to be the chief of their own time and their own choice. So with us, you don't have to rely on a waiter to get your food. The concept has never been about table service, nor did we communicate about being vegetarian. Nevertheless, we were very successful from the start. Our philosophy is that when you serve good food, you don't need meat or fish. We were one of the first fast casual concepts in Switzerland, and I am pretty sure that the buffet was a key factor of our success as it is such an uncomplicated way of food service. The company name was also a representative for this; Tibits is derived from titbits, meaning a small tasty bite of food. So you can have a little bite of a lot of dishes all day round."
Tibits vision | four pillars
The goal of Tibits was to create a business that could do good for the environment. The four pillars they built their business on include:
Time is the most valuable possession humans have

Innovation means to keep improving and developing

Safety first; you need to be able to trust what you get served 

Express joy of life; in food and in atmosphere.
Tibits currently has 12 locations; do you plan to expand further?
"Growth is not a hard goal, it's more organic as we launch new restaurants. Actually, it's our community that decides. They write us emails and letters and say, we need a Tibits in Lucerne. Our guests are extremely attached to our restaurants, and when they move to another city they suggest new locations or even specific buildings that we should consider. We started in Zurich and opened locations in the German speaking part of the country first. There was also demand in the French speaking part. We didn't know if we could pull that off, as it's such a different market, like operating in a different country. This may sound like an exaggeration but in fact the Rostigraben* is an imaginary border that every Swiss inhabitant is familiar with. When we opened in Lausanne people were indeed skeptical, but because we came in with modesty and humility we managed to turn public opinion around. At the moment, we are looking into opening in Geneva, and we consult our Facebook groups to hear about interesting spots. We want to have a fanbase in a city before we even think about opening."
"Regarding opening locations through a franchise model, it's a debate that my brothers and I have regularly. We receive multiple demands every week. But we are so involved with our guests and hold our core values so close to heart that we feel it's difficult to keep them in a franchise model. We really put our hearts and souls in it, and when we had to close our London restaurants we were so sad. We actually might go back some day and start over. It just feels we are not ready yet to let the Tibits concept go into unknown hands."
* The Rostigraben is the imaginary border between French and German speaking Switzerland. Urban legend has it that the national dish rosti originally came from the German speaking side. So the division of the country into people that traditionally do and do not eat rosti marks a line of differences in (food)culture and politics..
"You have to enter a new market with modesty and humility"

Do you differentiate the food between different locations?
"You have to act with modesty and respect the local customs. Even as we did, they weren't really happy with us when we came to open in Lausanne. We decided we wanted to serve a vegetarian version of the local dish Papet Vaudois – a dish of leeks, potatoes and sausage – but were rewarded with some negative media coverage in the newspaper, as it claimed "Le Papet Vaudois is dead and they are stealing our traditions!" Luckily we did prove them wrong and now they love us in Lausanne. So we have local hero dishes at specific locations, but - of course - the main part of the food and drinks are served in all our locations. Our heroes are the vegan tartar, dorrbeans, fried jalapeños and vegan cheesecake."
"When we opened two restaurants in London, it was another cup of tea. It made us realize that British people cared much more about low sugar and salt contents than Swiss people and that they were already into seaweed and algae but at the same time behind on organic and vegetarian. We really needed to adapt both our processes and offering and this clearly led to a more differentiated menu."
"Our hero dish in all locations is the vegan tartar"
Next to the menu, what are other success factors of the Tibits concept?
"An important part of the success is the interior design. We have always worked with British designer Tricia Guild, who's known for her bright, colorful wallpapers and textiles. She represents our values and especially our joy of life. To us, it's important that you feel welcome, cozy and at ease in a well designed ambiance that equals the quality of our food. Organic shapes are important as all of our buffets are free flow. Choosing buildings with a soul is essential in making the local connection. In Lausanne, we opened in the historic train station: Le buffet de la gare. To open a vegetarian restaurant in a traditional building that everyone knows proved to be a challenge. We received a lot of pushback, but with a good design we respected the soul of the building and food won over the community, even though it's vegetarian in a traditional market. It's a very popular location nowadays."
As a veggie resto, how do you look at plant based meat or fish substitutes? Do they have a place in your menu?
"We started using alternative proteins more than ten years ago. But we did it more or less as a joke. So we replaced iconic foods like the Sankt Galler weisswurst with a vegan bratwurst. Actually we don't need the plant based meat products that are now so popular on the market. Honestly, a lot of the products that are vegan are not healthy options. I think some companies are taking advantage of this market growth, but it's not for the good."
"We do experiments with new plant based cheeses from our Swiss partners. For example, we have teamed up with New Roots, a vegan dairy factory to develop the products we really miss, together with different start-ups. From an alt protein perspective, we are more focused on cooking with algae and mushrooms. We recently prepared a seven course plant based seafood dinner for the people of the Sea Shepard and it was great. Food has to be tasteful; what's left out is not as important, even if it's seafood on a seafood menu."
How do you address food waste?
"It's a very important subject. We recently organized a meeting with suppliers, farmers and Swiss agri professor Urs Niggli, who is the president of the Institute of Sustainable Food and Farming Systems in Switzerland. He told us that in 2050, 56% of the calories in the food are missing for the world population. One solution is to have a 50% plant based diet, and reduce the food waste with 50%, so we try to address three things. First of all, we use every part of the vegetable and develop dishes around the whole product. Secondly, our guests pay per weight so they consume only what they need at that moment. This creates a lot less waste. Lastly, we sell the leftovers via services like `Too good to go'."
Where do you see Tibits in 10 years?
"Our biggest challenge today is to put the processes back in place after two years of multiple openings, where we somewhat lost our systemizations and routines in our way of working. In addition, because of a chronic shortage in staff, we needed to redesign all of our processes again, while also taking into account the recent increase of costs. Luckily the pandemic also taught people at home how important it is to have local and fresh food. That's very positive for us."
"Ten years from now, I hope our guests will still love us, and I trust we will still be there, doing something positive for the planet. As a family business, we would like to further develop our approach to 'holistic sustainability'. This means that we want to make a positive contribution both to the outside world – society and the environment – and to the inside for our Tibits team and our suppliers and partners. In the end, we just like to make the world a little bit better."
Food Inspiration magazine
Trending articles