The future of mobility is fully-electric, according to Shell and UNStudio
Could mobility hubs replace cars and trucks in cities?

Written by
Maaike de Reuver
on Tuesday 19 April 2022
Cities are becoming overcrowded. Parking is consistently challenging, along with loading and unloading vehicles. One possible solution is organizing mobility through hubs where cars and deliveries leave the city, and where residents and electric delivery vehicles take orders into town. This futuristic scenario is actually closer than it seems. 
Marleen Smits is a Convenience Retail Manager for Shell Benelux and France. Worldwide, Shell is one of the largest players in the field of mobility. Lars van Hoften works as an architect for UNStudio, an architectural firm renowned for the design of Benchlands in Canada, Raffles City Hangzhou in China and Doha's metro system. Both Smits and Van Hoften spend a lot of time contemplating how people will live, reside and work in the future, and how they will move around. Mobility, they believe, will be organized very differently than it is today, and will happen in the near future.
The mobility problem
Smits: "Cities are becoming overcrowded. You can't park your car anywhere anymore. And for suppliers it is also a disaster to get in and out of the city and to find a place to load and unload. It's not surprising when you consider how many suppliers drive in and out of a city every day. Amsterdam, for example, has 5,100 catering establishments, which are supplied by 4,300 suppliers daily. On average, a supplier makes two stops and then leaves the city with an empty truck. That's not really efficient, of course and not sustainable either."
Loading and unloading through hubs
This process can be approached differently by bundling mobility and loading trucks sustainably. This would allow mileage to be combined, resulting in smaller traffic flows in and out of the city. According to Smits and Van Hoften, the future of mobility lies in creating hubs: logistic warehouses on the edge of cities where suppliers deliver their orders. In robotized warehouses, the orders are then transferred to smart, electric trolleys that can deliver orders to various locations. The other way round, waste streams and other products that need to be taken out of the city, goes through the hub as well. By organizing this way, every mile is utilized. A mobility hub may sound futuristic, but private mail companies have been working this way for years. They bundle various deliveries from many different parties in hubs (called mailboxes in the postal world), and then deliver them to the recipients. In the future it won't just be a postcard, but also include daily orders from hotel and catering business.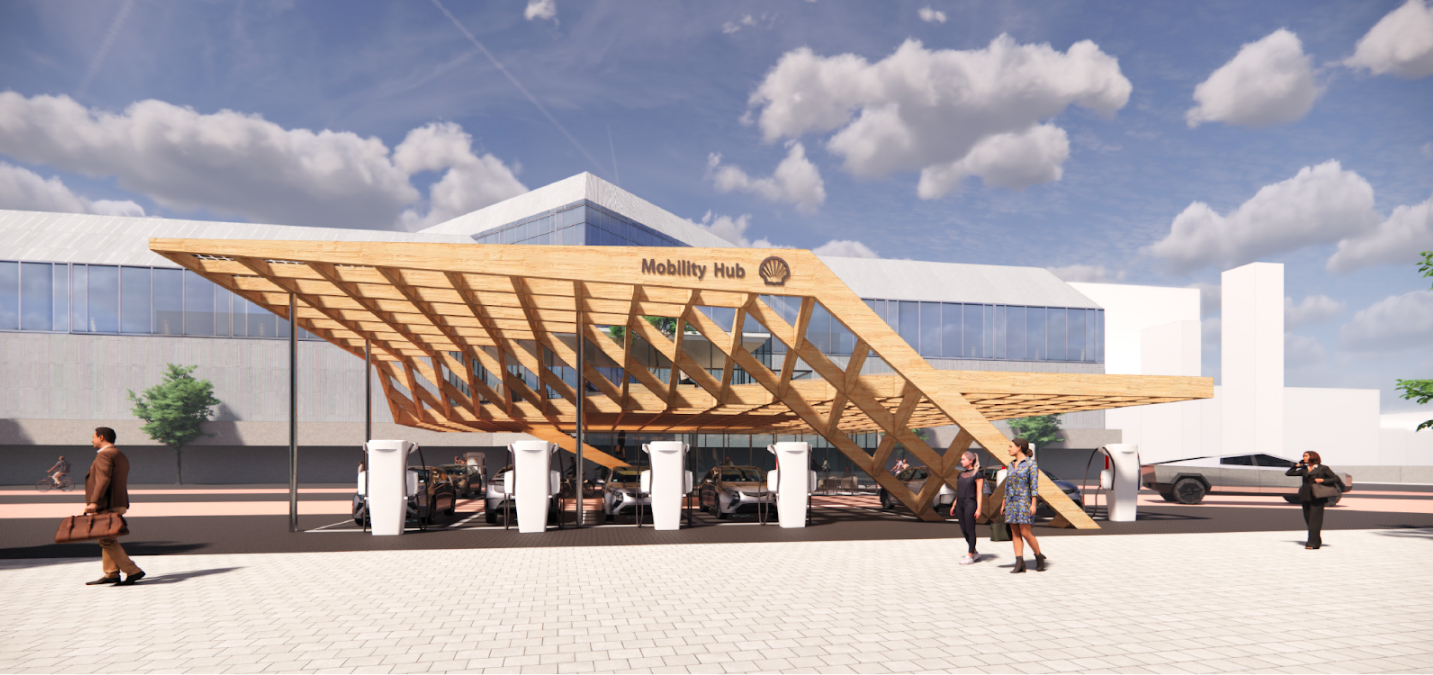 HACCP
How does this work in terms of HACCP, when every supplier has its own (cooling) requirements and delivery conditions, but will have to work with external delivery parties? These future visionaries have an answer to that too. Smits: "We expect to work with modular units. Similar to the container system we work with in seaports, where sea containers are loaded from a ship onto a truck and vice versa. Similarly, in cities in the future, we will work with compartments that are loaded from large trucks onto small city cars. Each supplier fills his own compartment and can regulate temperature and load himself."
Private transport with shared cars 
In the future, it will not only be business mileage that will be combined more intelligently and efficiently; private mileage will be too. Shell and UNStudio expect that the private market will use hubs, or collective areas where mobility comes together. Parking garages, for example, at the edges of cities where people who want to leave the city can take a (shared) car to where public transport, shared scooters and shared bicycles are easily accessible to travel quickly into the city center. Because these hubs will be places where many people pass through daily, hubs will also be a place where people can meet. There will be food & beverage offering, to-go options, and a supermarket where people who park their car when coming from out of town can quickly purchase groceries before cycling home.
A multifunctional mobility hub where food and drink play a major role isn't as crazy as one might think. Train stations are a good example of this, with many providing meeting and shopping areas as well.
The future is electric
Smits and Van Hoften expect that the future mobility hub and all its assets like city vans, trucks, shared cars and scooters will be fully electric. Smits: "It is the cleanest and most silent form of transport." For the first mile delivery from the factory to hubs on the edges of cities, Smits sees another energy solution: hydrogen. The first hydrogen-powered trucks are already being tested on a large scale, partly due to hydrogen's advantage over electricity by allowing for longer distances to be covered at once. 
recommendedForYou
Food Inspiration magazine
Trending articles