Nine promising food tech trends and innovations
Annual FoodHack Summit focuses on sustainable climate solutions

Written by Fascal Hukker on Saturday 20 May 2023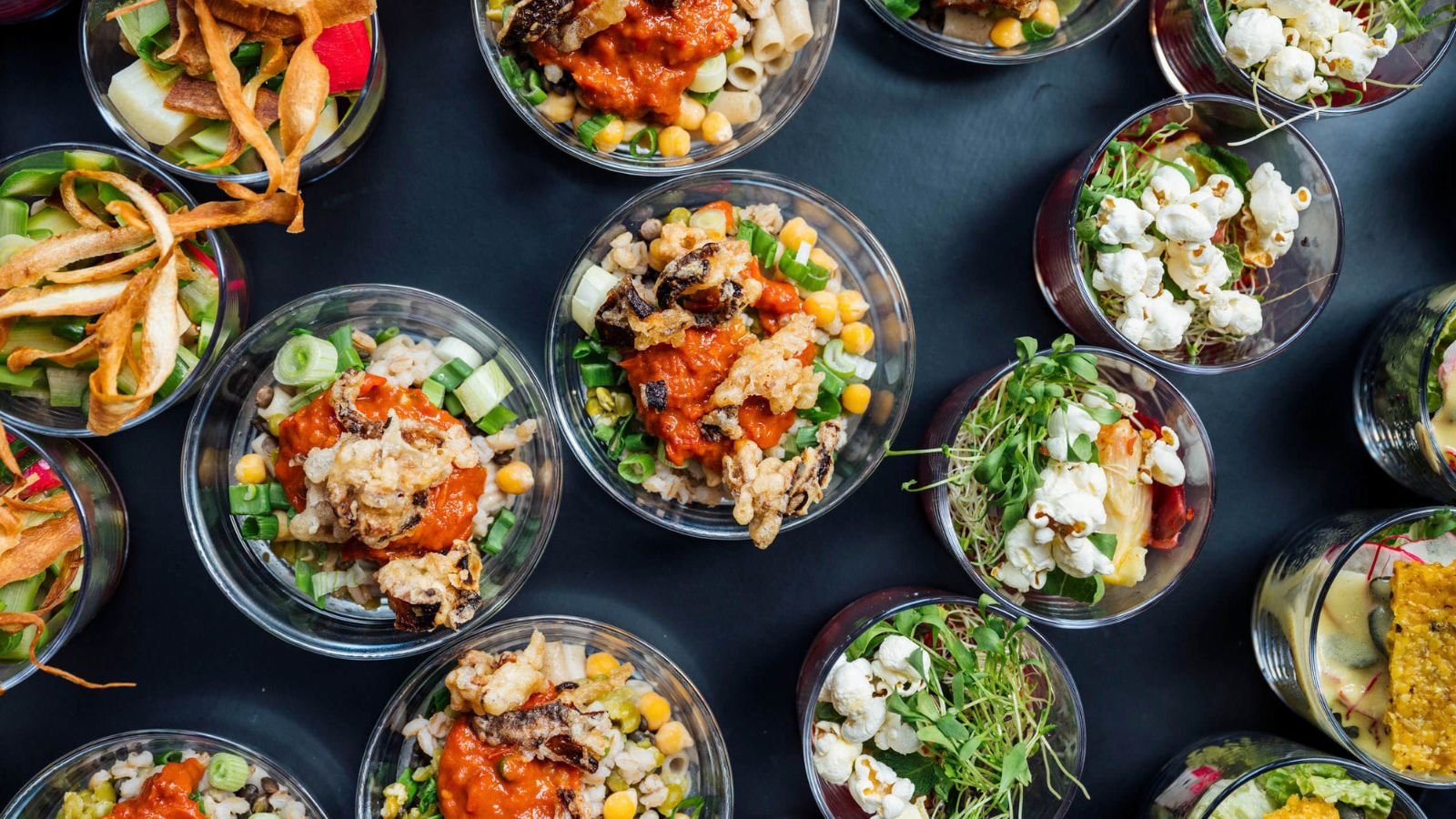 The second edition of the global HackSummit took place May 10-11 in Lausanne, Switzerland. Believe it or not, this mountainous country is a hotbed for emerging climate-friendly start-ups, incubators and accelerators. Over the course of two days, entrepreneurs, investors and corporate professionals gathered around the theme of food and climate innovation. 
With a green backdrop of 6,000 reusable fruit crates, the stage, tables, sponsor booths, and partitions for the event were all created out of iconic green boxes. The aesthetic inspired a relaxed and festival-like atmosphere where 90 start-ups and 100 speakers from around the world came together. Foodservice expert Fascal Hukker worked behind the scenes at the event this year, and selected the nine most eye-catching food tech trends and innovations for Food Inspiration.
BBQ-time with meatless ribs
American Tilen Travnik staged a true product reveal by grilling his company's first meatless ribs on stage. The company, Juicy Marbles, currently offers plant based filet mignon, tenderloin, and now, ribs. The products were incredibly popular with the audience, with some even climbing on stage to taste and see it for themselves. With a robust flavor, impressive texture and excellent cuisson. A well roasted exterior, a soft meaty texture and even some meat juices on the plate. The tastiest whole cut product I have tasted so far.
Whole cut seafood is booming
A number of global start-ups are now venturing into whole cut plant-based seafoods. Salmon from Israel's Plantish, Canada's New School Foods and Italy's Revo Foods are a few examples. As per their own admission, these entrepreneurs are not competitors but colleagues, as they share a mission to save the oceans.
With its first-ever ceviche, Canada's New School Foods proves it is on the right track. According to several testers, this could pass for "the real thing," because of its adherence to a truly fishy taste. Mouthfeel, on the other hand, needs some finesse. Founder and CEO Chris Bryson says his salmon looks, feels, cooks and tastes like actual salmon. Food Inspiration has seen and tasted the oven preparation, and it looks promising; this is a company to keep an eye on.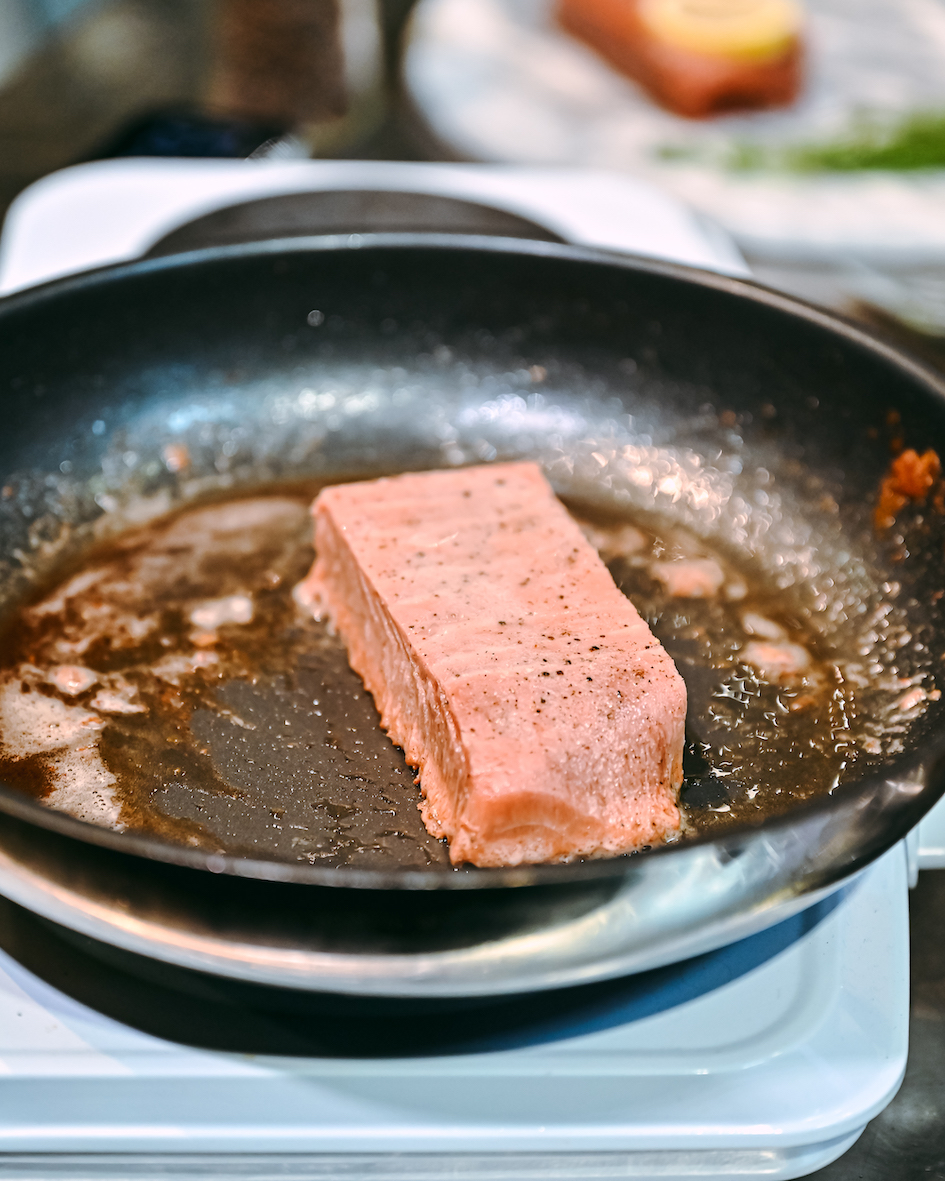 Cocoa-free chocolate
"Yes, there is plenty of vegan chocolate on the market," says founder Ahrum Pak of UK-based WNWN Foodlabs. "But those chocolate products use cocoa, a crop that is often grown unethically, is prone to climate change and causes deforestation." This is exactly why the start-up produces vegan chocolate without the use of cocoa beans. And it turned out amazingly well. The flavor is layered, with a subtle hazelnut note that mimics actual chocolate. The alt-choc is also vegan, palm oil-free and slave-free, with a lower sugar content than most chocolate bars. Ahrum shared that WNWN will soon be available in continental Europe; once the entrepreneurs have improved the chocolate supply chain, they will start working on vanilla.    
Processed cheese, butter and bechamel
The holy grail of plant-based is clearly no longer plant-based milk alternatives, as evidenced by the sheer number of them on the market. Other dairy alternatives, such as processed cheese, appear to be the next focus. Israeli start-ups like Brevel and Alfred's Food Tech offer ingredients that promise the ultimate components for processed cheese. Cultivated Bio, a Swiss start-up, focuses on making cream based on natural yeasts, promising a golden future for plant-based béchamel sauce. And then there is the Dutch company Willicroft, which won over Summit attendees with their cream-free butter. Even the daughter of a Swiss cheesemonger who tasted this product was impressed by its rich flavor and texture; a promising product, according to many attendees.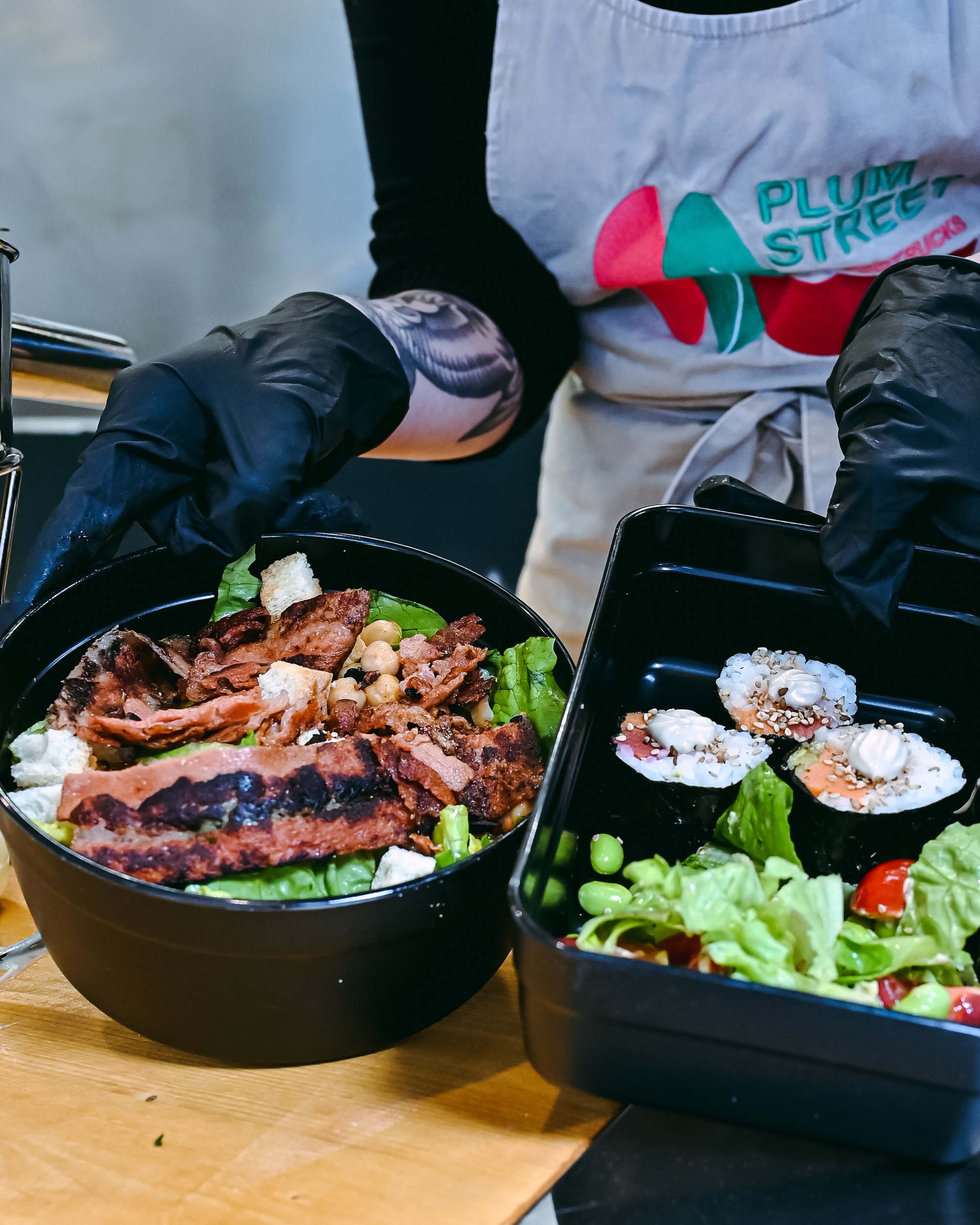 Fish-free sushi
Italy's Current Foods produces fish-free tuna and salmon that have demonstrated a strong fit for use in sushi dishes. The products are made from peas colored with tomatoes, and absorb the flavors of dressing with a texture similar to that of real sashimi. Bamboo and potato also provide the right texture, with algae adding flavor and omega-3. Several vegetarians we spoke to expressed excitement when they described the feeling of finally having a plant-based sushi alternative with this product from Current Foods. Even the maki served for lunch at the HackSummit were highly in demand.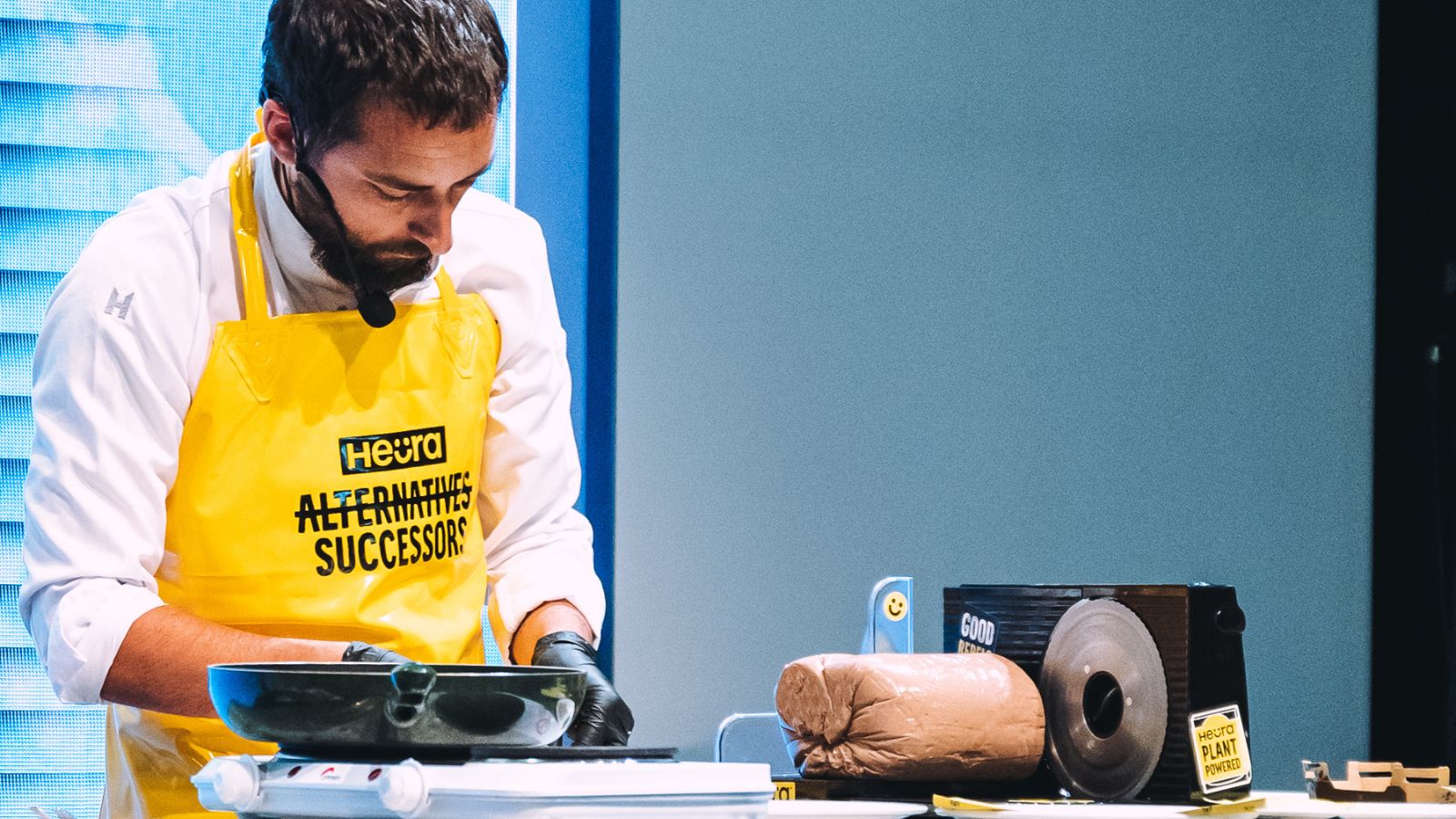 Plant-based cold cuts
The Spanish company Heura Foods, specializes in plant-based cold cuts. Armed with a cutting machine, Chef Alex Pirla experimented live on stage. The chunk of plant-based 'ham', which somewhat resembled a tree trunk, was made from ground vegetable flour. The color deserves some improvement, but the taste is promising. This proves that plant-based cold cuts no longer need to be hidden, but deserve an A-status.   
A cultivated chicken breast in ten days
Start-up Bosque Foods, based in Berlin, Germany, was also welcomed to the summit. Bosque Foods uses waste streams from the agri-food industry to make mycelium, which founder Isabella Iglesias-Musachio prepared on stage for the company's version of chicken breast. The overall production process for creating this 'chicken breast' takes only 10 days, and can be completed in an indoor vertical farm which saves on substantial space and resources. While its appearance may leave something to be desired, its overall potential is clearly there.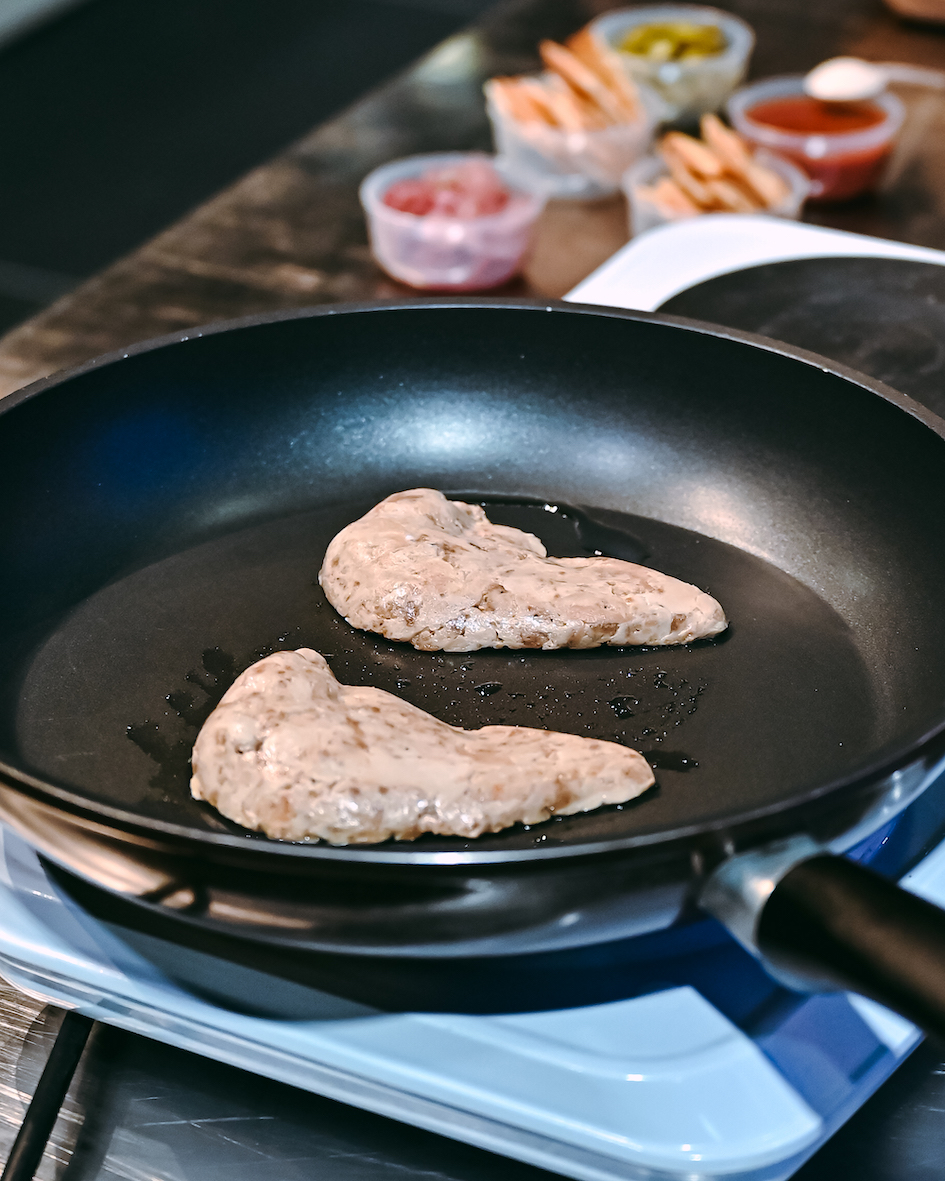 Bitterballs made of methanol-eating insects
Farmless is a Dutch start-up that's one year old. Founded by Adnan Oner, the company is creating the world's first food based on methanol-eating insects. And while that may sound like science fiction, the stuffed bitterbal* Oner served at the HackSummit was top notch in terms of texture and taste. Definitely a start-up to keep an eye on.
* a bitterbal is a classic Dutch deep-fried snack: typically a small round version of a meat croquette.
Front cooking: food tech style
The Taste Lab at the Summit provided start-ups a chance to serve dishes or products that are still work in progress, while inviting guests to provide feedback. Berlin start-up Nosh Bio created a new version of the term front cooking by removing microcultures from vases and harvesting them on the spot to prepare multiple dishes. Grilled, baked and ground into a salad, Nosh Bio's Chef Magnus Naess harvested and cooked his heart out, and while feedback showed there is still work to be done, the process is considered promising. It's clear that this new way of "growing" meat is done within an incredibly short supply chain.
About FoodHack
Hack was founded by three entrepreneurs who wanted to accelerate the transition to a sustainable future through food tech, investment and collaboration. Hack is the community and financial infrastructure for the impact economy. The ambition? To become the world's largest Food Tech and Climate Tech community and unlock billions in new capital towards companies working on meaningful solutions for people and planet. Today they are active in 40 cities across the world with its brands ClimateHack and FoodHack, driven by a group of 100 passionate Hack ambassadors from Melbourne to New York, and Wageningen to Mexico City.
Food Inspiration magazine
Trending articles