Mountain cooking as a philosophy for sustainable fine dining
An interview with Chef Norbert Niederkofler, a pioneer in the Italian Dolomites

Written by
Lisa Appels
on Friday 24 March 2023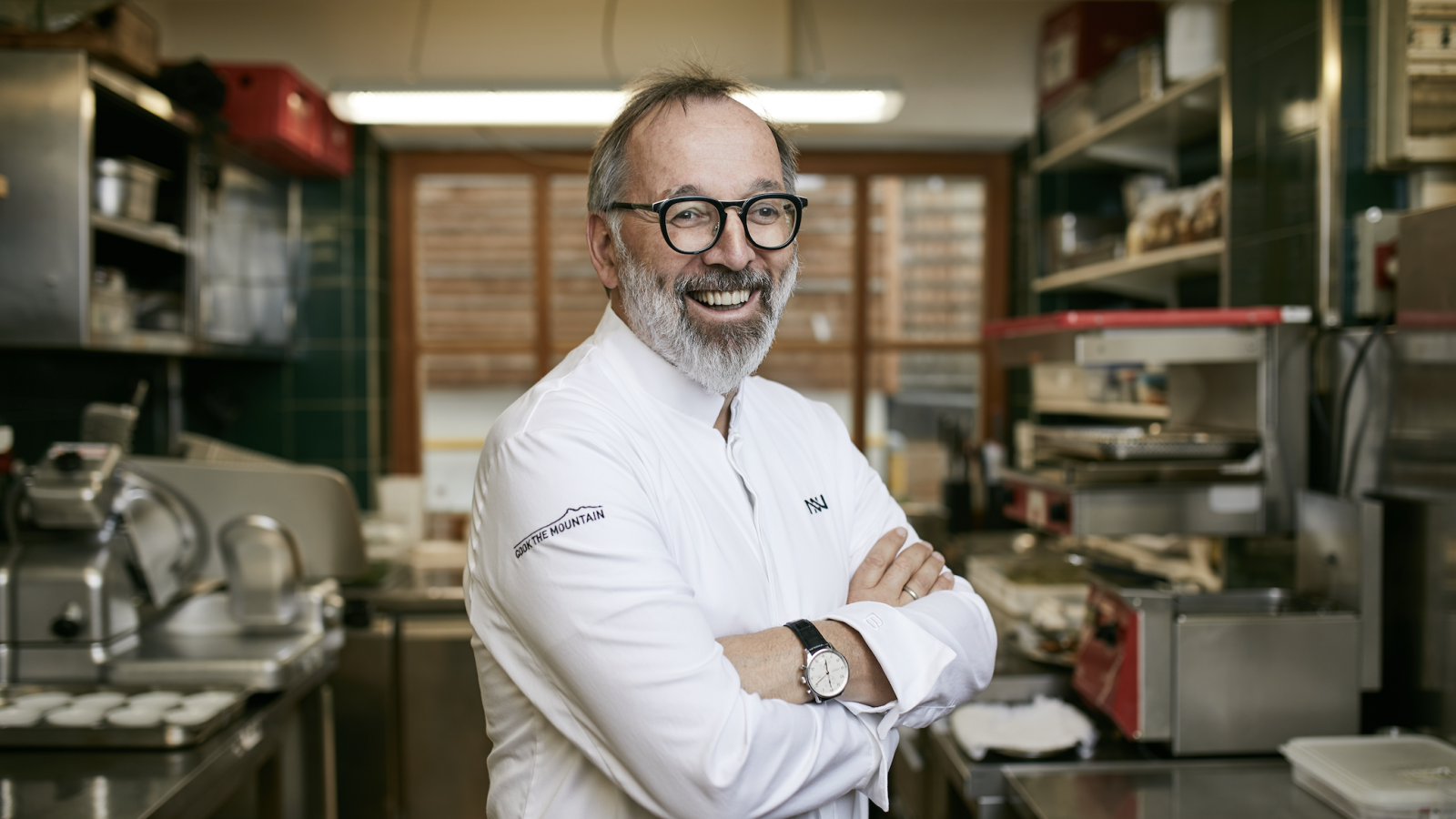 When we think of sustainable gastronomy, we immediately think of seasonal and local dishes. Nordic Cuisine, as an example, champions this philosophy. Believe it or not, mid-European Alpine Mountain Cuisine was there first; though there are no firsts and seconds when it comes to cooking sustainably, when it comes to translating traditional food culture and local cuisine to high end gastronomy, before Redzepi, there was Niederkofler. 
Norbert Niederkofler is the executive chef at the three-star Michelin restaurant St. Hubertus at Hotel Rosa Alpina, and owner of AlpiNN Food Space and Restaurant, both located in South Tyrol in the Italian Dolomites. What characterizes Niederkofler and his work as a chef is his dedication to South Tyrol's culture and cuisine. He utilizes gastronomy as the medium to inspire others around sustainability. Every year, he organizes the Care's Ethical Chef Days in his native area, bringing together chefs, producers and journalists to talk about futureproof gastronomy, food systems and a sustainable way of living. Last February, Food Inspiration attended the fifth iteration of this event, and spoke to Chef Niederkofler.
Curriculum of a pioneer in sustainable gastronomy
Norbert Niederkofler was born in 1961 in Lutago, a small town in the heart of the Italian Dolomites. His parents owned a hotel that was frequented by skiers during the winter, and mountain climbers in the summer. As a child, he was constantly exploring the outdoors. 
Niederkofler attended a culinary college in Germany and then worked in London, Zurich and Milan before arriving in Munich to collaborate with Eckart Witzigmann, from restaurant Aubergine***. Witzigmann was Niederkofler's greatest mentor, teachingt him the importance of respecting nature, and its produce, to achieve culinary perfection. 
After seven years in Munich, Niederkofler traveled to New York to work under restaurateur David Bouley. It was here that Niederkofler began to develop his own style. 
In 1993, Norbert returned back to South Tyrol to work at the Castel Colz in La Villa. After only one year, he was offered the chance to run the kitchen at Rosa Alpina Hotel & Spa in San Cassiano, at the base of the Dolomite mountains, where currently his restaurant St. Hubertus*** is located.
St. Hubertus received its first Michelin star in 2000, a second star in 2007 and the third more than a decade later, in 2018.

From pizzeria to local fine dining
Back when Norbert began at the restaurant in Hotel Alpina Rosa in the early 1990s, the restaurant was a pizzeria. Norbert promptly set about turning it into a fine dining establishment, using the flavors of Austria and Italy as inspiration. "When I started, someone told me I would never be able to gain a Michelin star, so I decided I wanted three!" 
Eventually, Niederkofler made the decision to dedicate a small part of the restaurant to exclusively serve a menu with local mountain products, refusing to use any ingredients that were produced outside of the Dolomites. At the time, this was a pioneering move, in an era of exotic, luxury products and molecular gastronomy. No small feat, considering the fact that the mountains are one of the most difficult terrains to produce quality products consistently, all year round.
"It was in 2008 when we set the basis for our Cook the Mountain-philosophy, but even before that, we were already making changes in the way we were working. When we started creating a more sustainable menu, we focussed on the term 'respect'. To me, this is at the core of sustainability and ethics. In 2010, my first son was born, and everything became much clearer to me. We had – and still have – the duty to be respectful towards nature not only for ourselves, but also for the following generations."
The first step for Niederkofler was to build a network of experts, producers, farmers, and friends local to the area. His overall goal was to shorten the supply chain and influence what farmers were growing in the area. "It took me and my team about five years to fully understand how to follow the rhythm of nature. The hardest part was learning how to plan everything a year ahead. To begin cooking as locally as possible, I had to build a local network that I could rely on and turn to for help. We needed to revitalize the local economy by creating stability and income security for producers. We also wanted to gain farmers' trust by guaranteeing we would buy their produce season after season. Being a sustainable chef starts with respect for your team and suppliers."
St. Hubertus was rewarded with its first Michelin star in 2000, and a second in 2007. Ten years later, the restaurant received its third Michelin star in 2018.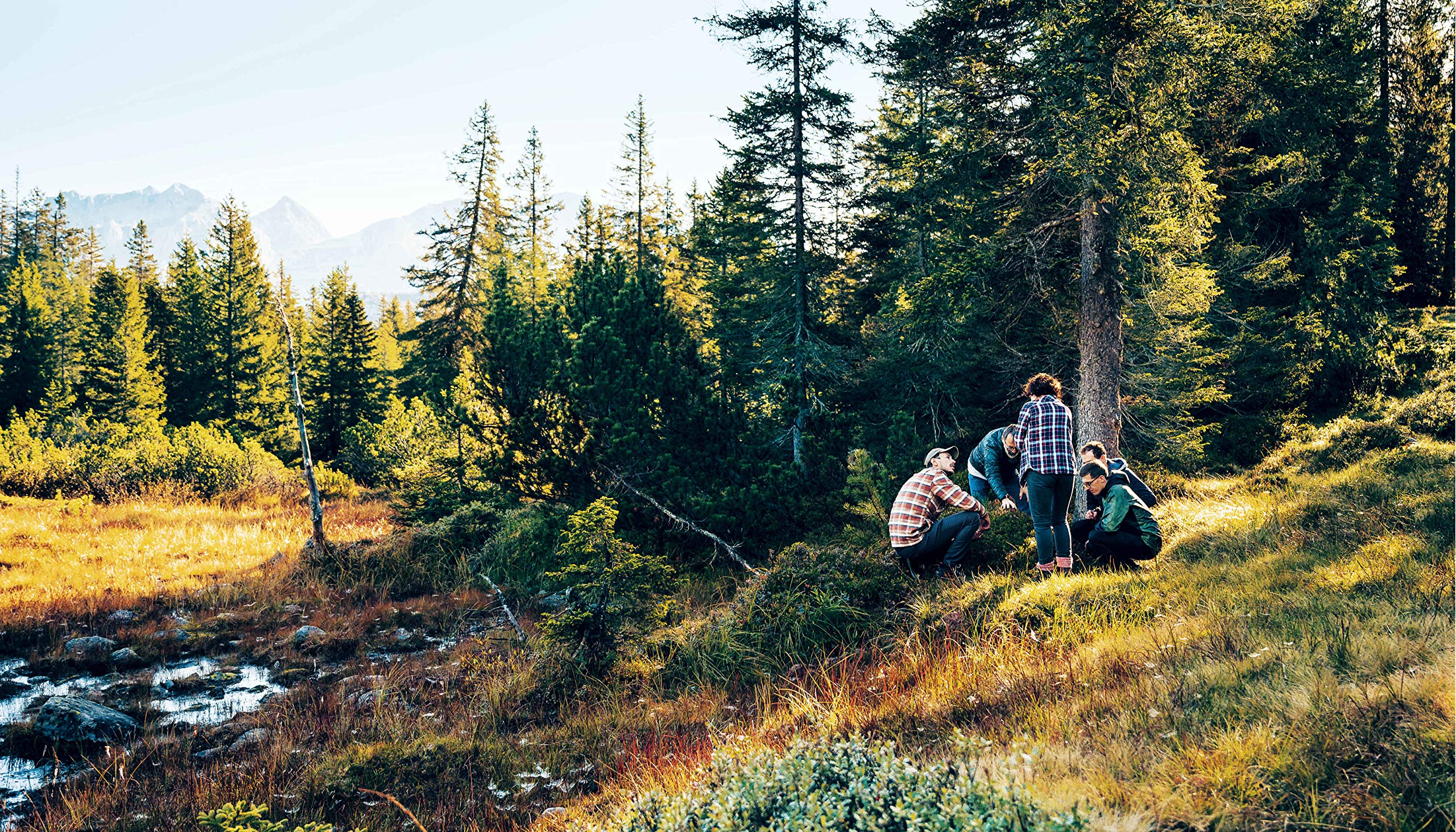 Cook the mountain and the Care's Ethical Chef Days
Over the years, Niederkoflers Cook the Mountain-philosophy has led to a more broad-based gastronomic research project, in which he searches for the social and cultural factors that connect people in the mountains. For the project, Niederkofler collaborates with numerous local producers, growers and artisans, and helps them create thriving businesses in the area. Today, Cook the Mountain is also the collective name for the network of sustainable makers in the Dolomites. 
And it doesn't end there. Although the name – Cook the Mountain – is clearly bound to a specific region, the concept and philosophy can be applied everywhere. This is also one of the main reasons that Niederkofler organizes the Care's Ethical Chef Days; to speak with fellow chefs and producers about the food system challengesthey face locally, and also to talk about best practices from other areas. The first events were hosted at Niederkoflers homebase – set in the jaw droppingly beautiful mountains of South Tyrol. Since 2022, the event has been hosted in other areas in Italy. The highlight of these events are the dinners prepared by teams of renowned chefs, who, for one evening, leave their own kitchen and set out to create a memorable sustainable dining experience together. 
During this year's event in February 2023, a surprising partnership was announced with NEOM, a new innovation hub in north-western Saudi Arabia. NEOM'sgoal is to develop a new model of food production and local supply chain in the challengingconditions of the Saudi Arabian desert. Eventually, this model could potentially serve as a best practice in other parts of the world. One of the speakers was Dr. Juan Carlos Motamayor, NEOM's Executive Director of Food, who emphasized that the collaboration with the Cook the Mountain network offers an opportunity to spread innovative food practices that preserve the planet.
The next generation
In June 2022, the Financial Times published a revealing article about the grueling working conditions and culture of fear within the fine dining scene in the Danish capital, specifically at Noma***. A few months later, Chef René Redzepi – one of the most influential sustainable chefs of all times – announced that Noma will close its doors by the end of 2024, because "fine dining is no longer a viable business model as the working conditions are deemed no longer sustainable."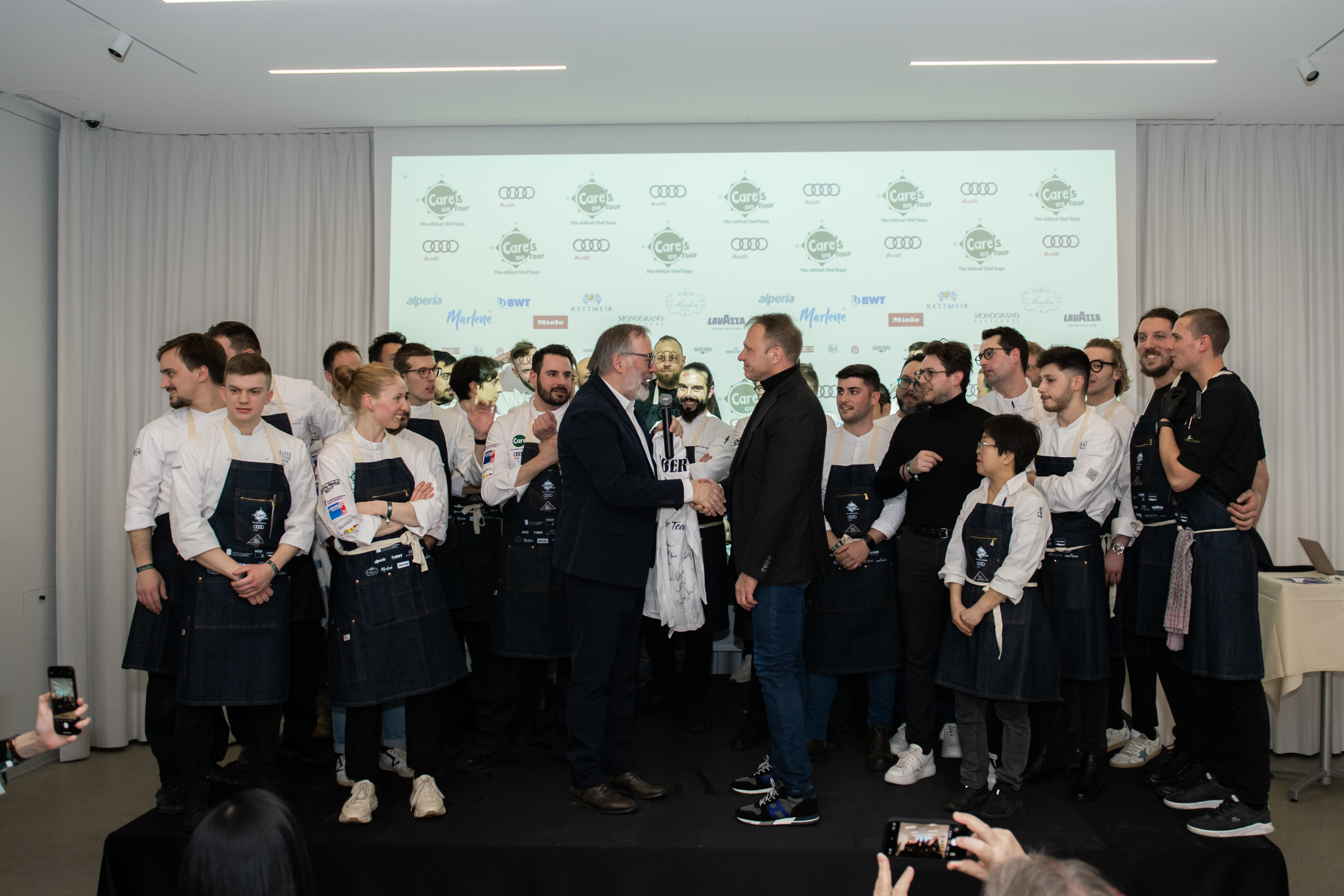 Niederkofler agrees that the fine dining industry needs to rethink a lot of their ways of working. Particularly working hours, work-life-balance and compensation. An important part of Niederkoflers ongoing energy and inspiration derives from maintaining contact with the next generation. "It's important to be open minded and curious. I love to let my team take the stage more, so that I can be a mentor behind the scenes. I will always keep pushing them to spread our philosophy, but I think it's important to give them a podium to shine on." 
Recently, Niederkofler dedicated the second night of this year's Care's Ethical Chef Days to all his former chefs who started out in his kitchen or spent a good amount of time there, and now spread the word of his Cook the Mountain philosophy around the world. Before serving a '44-handed dinner,' the 22 participating chefs were invited to the stage by their mentor, Niederkofler, who provided each one of them a short personal speech thanking them for what they've meant to him. It's exactly this mindset and this kind of behavior that makes Niederkofler a sustainable chef; not just for the planet, but also for its people.
Food Inspiration magazine
Trending articles