Local Tide: A casual dining restaurant serving fish with a vibe
Victor Steinbrueck on his signature restaurant, atmosphere and menu

Written by
Hans Steenbergen
on Wednesday 28 December 2022
Fish restaurants usually come in two forms: fine dining or fast food. Local Tide in Seattle settles right in the middle. An elevated casual dining seafood restaurant from a young chef-owner that combines local fish with a contemporary vibe. 
Seattle's hip Fremont neighborhood - city of Microsoft, Amazon, Starbucks and Boeing - has been home to seafood restaurant Local Tide since 2020. Its founder is Chef Victor Steinbrueck, born and raised in this prosperous city in America's Northwest.
Steinbrueck is the grandson of legendary architect Victor Steinbrueck Sr., who fifty years ago led the resistance against a proposed demolition of Pike Place Market. The project, which was slated to create high-rise buildings, thankfully did not come to pass, and the area has since become the beating heart of a city that includes Starbucks' original store. The Steinbruecks also own two retail shops in the market, and Steinbrueck the grandson even launched a pop-up at Pike's Place that would eventually evolve into Local Tide.
"Local Tide has become a better concept than I had envisioned beforehand"
Originally, Steinbrueck wanted to open a fine dining restaurant focused on seafood, but Covid-19 called for a pivot. "We opened on August 6, but then the virus came. Dining in was impossible, so we had to change our plans; that's why you see so many bowls and sandwiches on our menu, as they work well for take away. My ego actually wanted an upscale restaurant, but I'm glad it turned out this way. Local Tide evolved into a better concept than I envisioned beforehand."
The restaurant fills the gap between caviar and fish 'n chips. This genre is referred to as elevated casual dining. Steinbrueck and his team serve the quality of a fine dining restaurant, but the atmosphere and menu, vibe and pricing make the place approachable and accessible. Quality sourcing is ensured by working closely with suppliers he's familiar with as a native Seattler, and by adhering to strict quality standards. Steinbrueck: "Because I grew up here, I have always been surrounded by a great selection of fish. I like quality on the plate, but also an informal and accessible atmosphere. I like hip-hop, R&B, and nice music that you can actually hear. Those are elements you will find at Local Tide."

Menu
During our visit, Steinbrueck prepared some of his dishes for us. The fish is combined with fresh, creamy and spicy flavors that are Asian-inspired; not surprising since Seattle is home to a large Asian community. The first dish was the Bristol Bay Sockeye salmon on a bed of red rice, cabbage with a ginger vinaigrette, pickled ginger and cucumber, creating a simple and delicious experience. 
This was followed by a redfish bánh mì with homemade mayonnaise, dill, mint, red and green cabbage and pickled pepper. "A lot of Vietnamese live in Seattle so for the local community this is a recognizable dish," Steinbrueck explains. The bánh mì is delicious and provides an interesting combination of spicy, creamy and fresh flavors.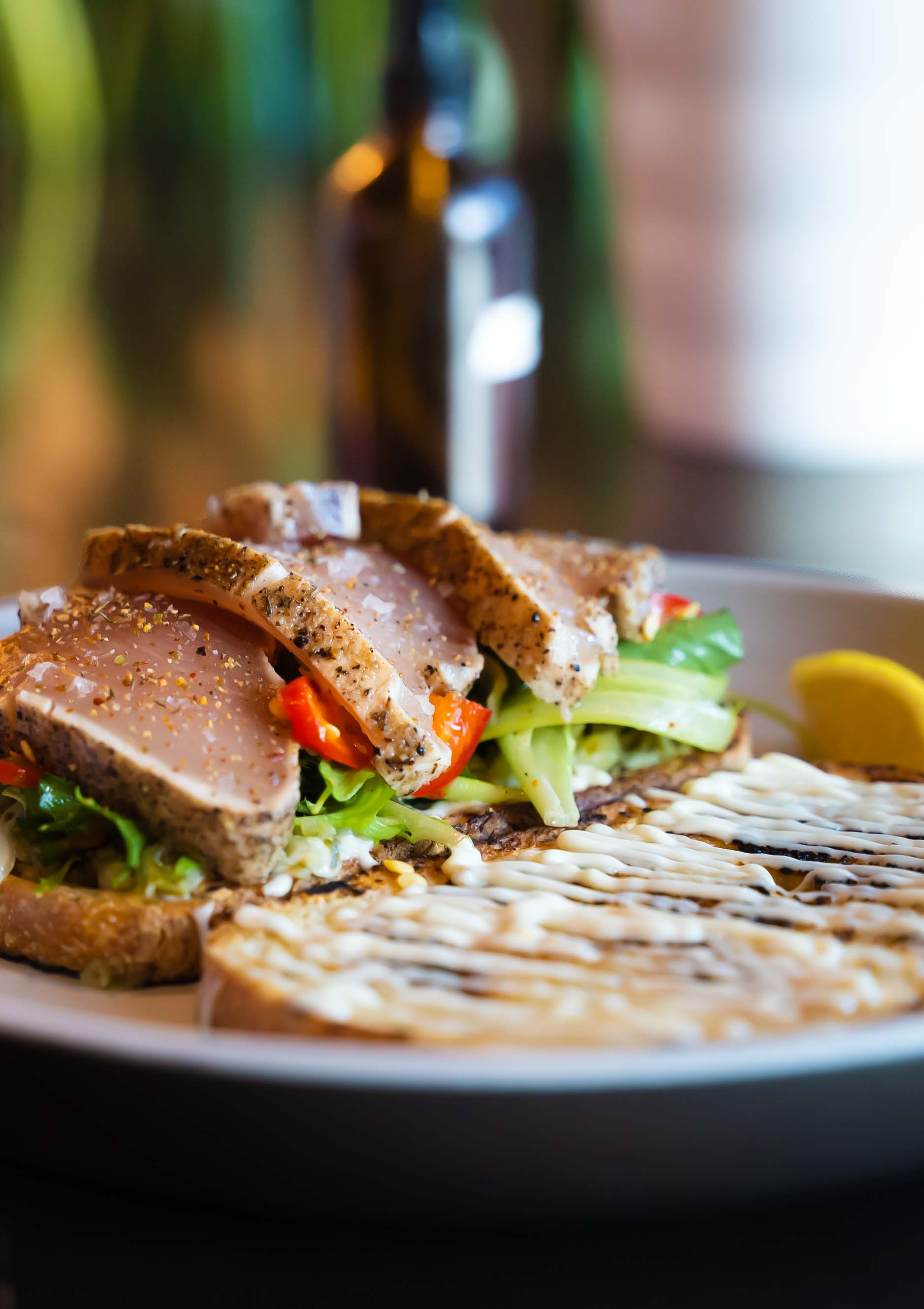 The third dish was a white tuna sandwich with frisée, celery, peppers and homemade mayonnaise. "This is my personal favorite, a better tuna sandwich by American standards," Steinbrueck says. The fourth dish consisted of fried oysters with a salted crust with parsley, onion and aioli of lime and garlic; yet again a great combination of spicy, creamy and fresh.
The final dish was a crab roll with Dungeness crab, a crab that lives in waters from Alaska to California and is popular for its soft, tender meat. Its name is derived from the port town of Dungeness just west of Seattle. Each week Local Tide receives 50 pounds of crab that they cook and crack themselves. This artisanal approach is exceptional because the process is very labor intensive. From Friday to Sunday, they serve about 30 portions each day. "We prepare and serve this crab the way my grandmother did," Steinbrueck says.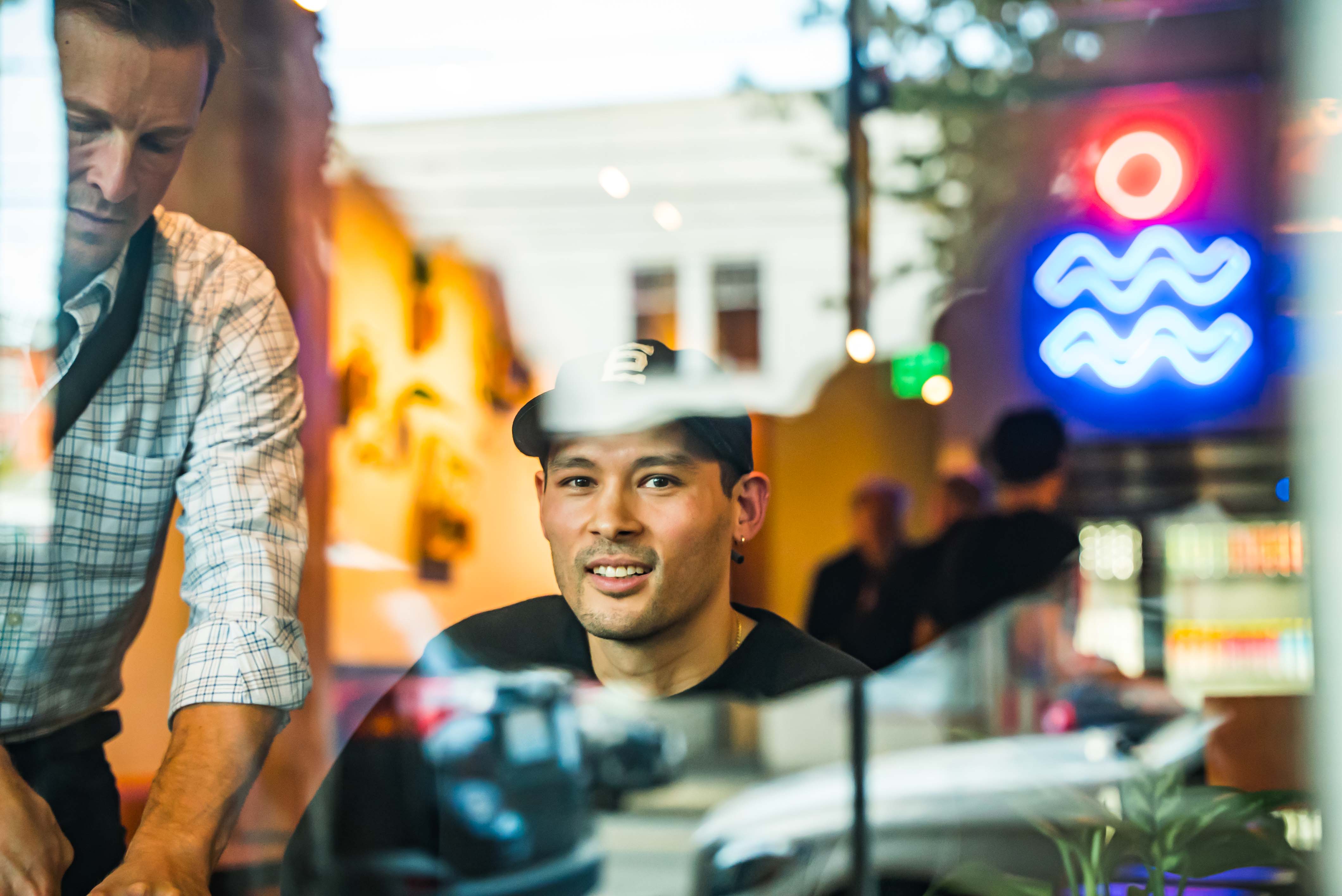 "I like quality on the plate and I like hip-hop"
Future
Steinbrueck's dream is not one of ultimate growth. He thinks eventually there could be up to three branches of Local Tide. "Fish is a finite food source. We want to offer our guests the best, but we also don't want to take too much of what nature has to offer us. We want to be in balance with the ocean. There is also something beautiful about having one store and working with one team. It means that you can really be a part of and play a role in your local community. The bigger you grow, the more you lose that."
Steinbrueck belongs to a new generation of entrepreneurs that have emerged in the last decade. Conscious, committed and with a broad vision of entrepreneurship, this cohort strives for profit but also thinks about people and the planet. A great example of this phenomenon is illustrated in the collaboration with the brewery next door to the restaurant. A door connects the two businesses, and the beer served by Local Tide comes directly from its neighbor. "I don't consider myself an entrepreneur. I started the restaurant because I was attracted to it. It was either start Local Tide or regret never doing it. At one point during the start-up phase I felt quite anxious. But that's also why the restaurant has become so genuine and authentic; it contains a lot of myself, my family, friends and the team."
Food Inspiration magazine
Trending articles