Food as a catalyst to rebuild a community
Ecuador's Project Iche houses a culinary school, restaurant and food lab that aims for social good

Written by
Moniek de Jongh
on Friday 21 April 2023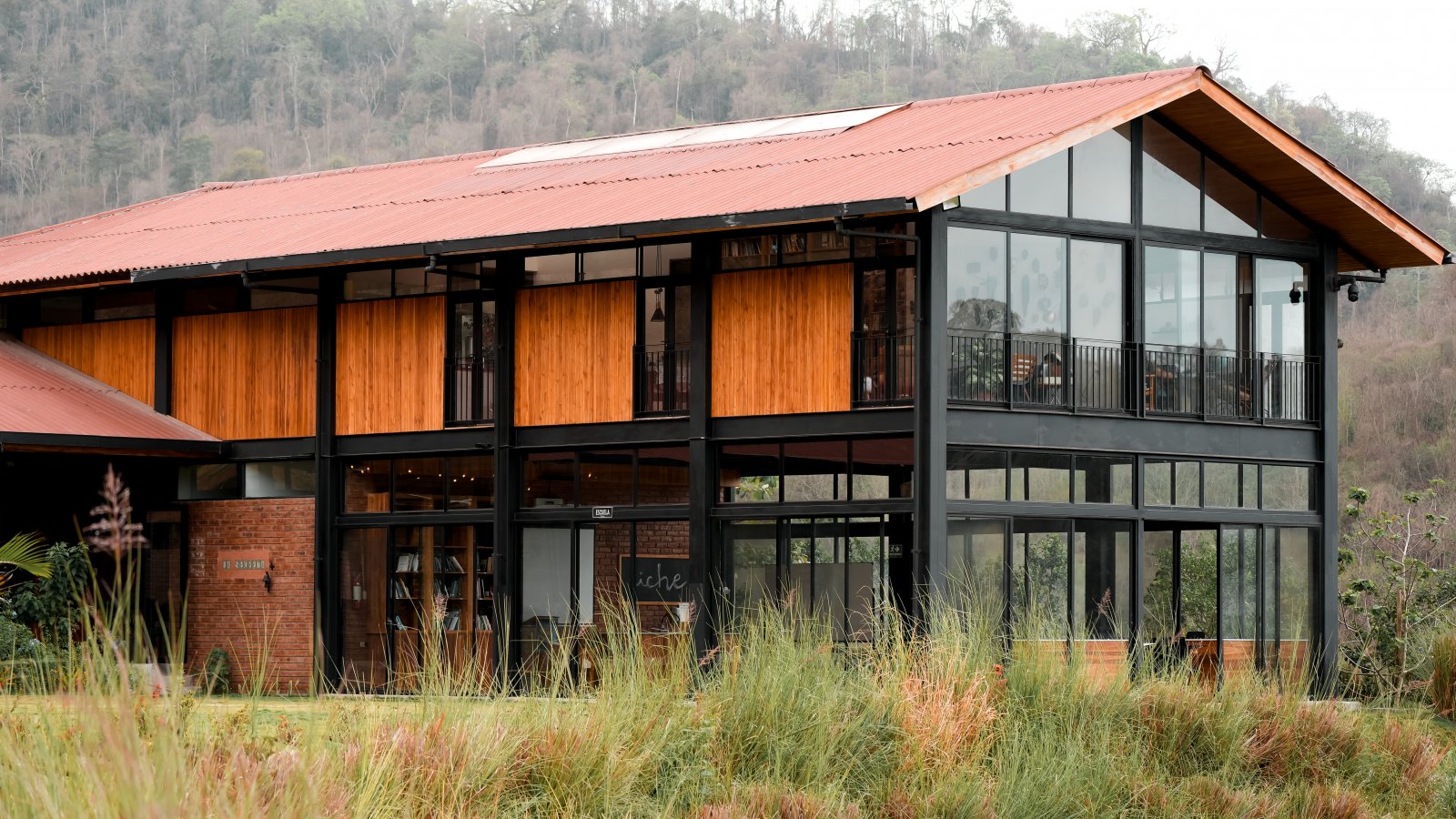 In the Manabí province on Ecuador's Pacific coast, Project Iche brings together a culinary school, restaurant and food lab under one roof. The initiative aims to impart ancient culinary traditions to a new generation of Ecuadorian chefs and curious diners, while also empowering the local community and creating a stronger economy. During a recent food tour through Ecuador, Food Inspiration journalist Kees van Duinhoven and editor Moniek de Jongh, toured the project.
Ask any Ecuadorian about their country's favorite local cuisine, and the answer is almost always the same without exception: Manabí, a coastal area known for its traditional cuisine. In 2016 the Manabí region was devastated by an earthquake measuring 7.8 on the Richter scale. More than 650 people were killed, over 16,000 injured and more than 35,000 homes were leveled.
Project Iche began as a response to rebuild Manabí by using food as a catalyst for growth. If there is one thing that brings together the Manabitan people, it's food. And at Iche, they are bringing together tradition and innovation. The project touches on food in a myriad of ways: from growing vegetables and fresh herbs in the garden, to serving dishes in the restaurant. From product development in the laboratory, to teaching young chefs new skills and ancient cooking techniques, the project captures ancestral knowledge and recipes that until now, have primarily been conveyed by oral tradition. At Iche, students are taught the fundamentals of sustainable food production, and how to acknowledge their responsibility in upholding patrimonial food traditions. Lessons focus on how food provides a means to develop a strong economy that is built around ecotourism and gastronomy.
Iche was founded in 2021 by Orazio Bellettini, a Manabí native. Bellettini was the executive director of Quito-based Grupo FARO, a think tank conducting research on how to build a more inclusive society. When the 2016 earthquake struck "the local economy was completely destroyed, and people were left without homes or hope. I felt a strong responsibility to help" Bellettini explains in an interview for National Geographic. He invested heavily into Project Iche, a one-stop-shop for developing and preserving Manabí cuisine. 
"Food can be a powerful tool to reactivate the economy, increase people's self-esteem and unleash hope and creativity."
Manabí cuisine
The modern building where Iche is housed, is constructed from wood and glass to resemble a modern take on a traditional Manabí home. It is located on top of a hill in a remote area with views ranging all the way to the sea. As we walk up the path to the entrance, we are greeted by Chef de Cuisine, Valentina Álvarez. Alvarez is a force, a small whirlwind who takes us on a tour through her project with indomitable enthusiasm. We walk through the classroom, the restaurant and kitchen, through the herb garden, and end at her pride and joy: a typical Manabí outdoor kitchen.
Valentina: "Manabí cuisine is food full of tradition, ancestrality, and with a lot of piques of flavor. In Manabita cuisine, sweetness, acidity, spiciness and some other flavors are captured in liquids, all in one bite. We have four main ingredients that you will find in many of our recipes: peanuts, creole corn, sea salt and achiote. Manabí provides a wide array of produce. We have a rich biodiversity; that's why our cuisine is so delicious and colorful."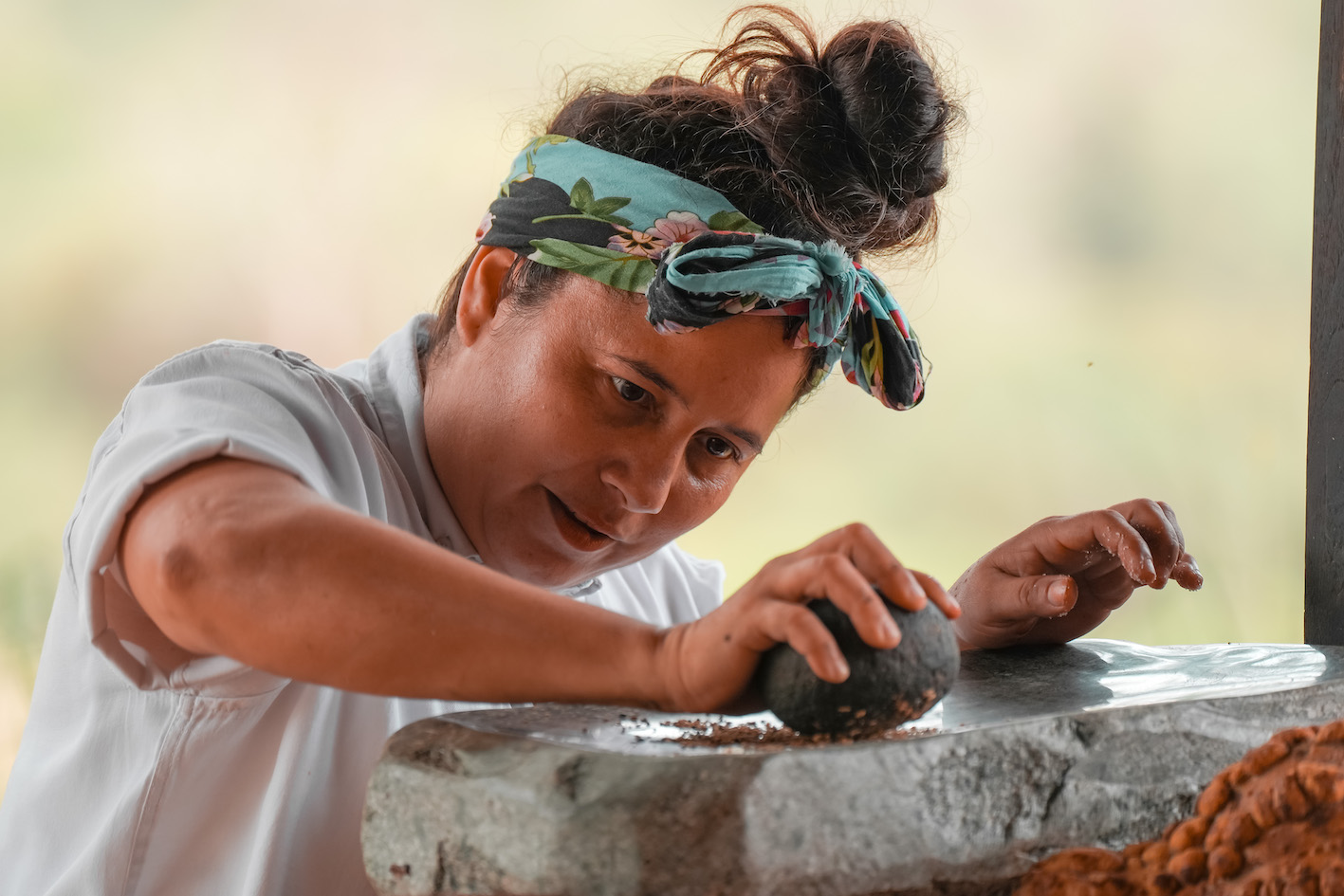 Iche's Four Pillars
1 > Culinary school for food & hospitality
The Iche School of Food and Hospitality bases its teaching method on a learning-by-doing philosophy. Students spend half of their time in theoretic training, and the other half in hands-on practice that allows them to apply their newly acquired knowledge. In the morning, they study; in the afternoon they work in Iche's restaurant and bar. Iche serves as a restaurant-school where students complement their training under the supervision of the chef de cuisine and kitchen staff.
The school can take on twenty students per academic year, which lasts seven months. Students typically come from one of the four cantons in the northern area of Manabí. Valentina: "We select only people who are highly motivated. Iche provides training and education that aim to provide opportunities to the local community. It offers high-quality training, prioritizing young people and women from vulnerable populations in order to empower them to become the managers and entrepreneurs of the new Manabita cuisine."
Each month, students receive 40 hours of expert teaching. Depending on their personal circumstances, accommodation and food are included for students who live far from the premises. A trio of chefs - Valentina, Angel de Sousa and Executive Chef Felipe Salas - teach Manabí cuisine to the students; individuals from Manabí receive grants, funded by fees paid by students from other parts of the country. To release students from the financial burden that often forces them to prioritize earning a living before study and personal development, Iche also reimburses their internship.
Valentina proudly shows us her classroom. "The school is a means to create sustainable development in the territory, using food as the connector. As Manabita's food is famous for its tradition and ancestrality, everything starts with knowledge." Now, the classroom is empty, but the day before our visit, 19 students graduated, all young women that came from remote rural places; at Iche, they had their first opportunity to develop new skills. "Here, we teach them not only about food. We also cover gastronomy, hospitality, sustainability, patrimony, business and leadership. We want them to be more than good cooks. We need leaders. We need conscious people."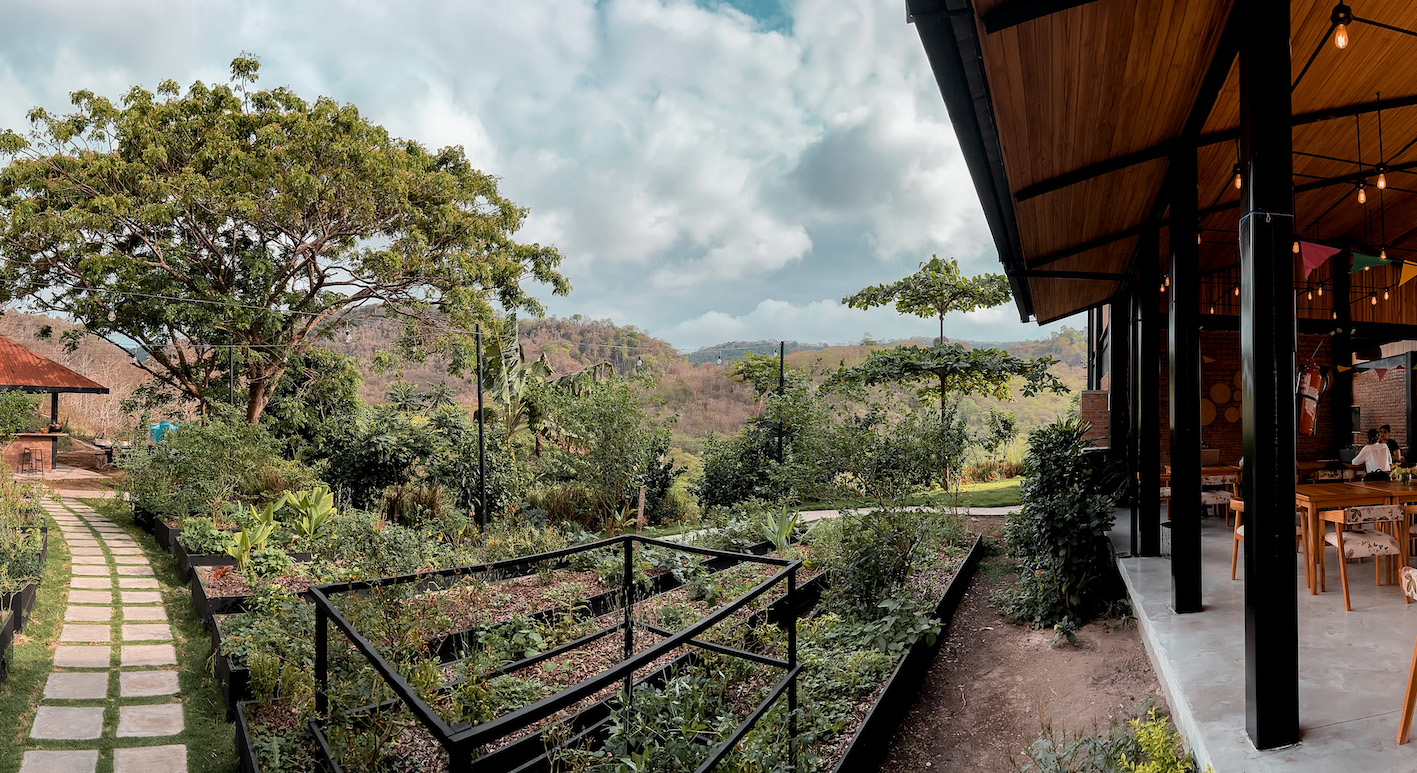 Garden & outdoor oven
As we walk towards the outdoor kitchen, we cross the teaching garden. "This is not like the typical garden, you don't see any straight lines. We all mix it because we believe in agricology. One plant helps another plant in some way." That's why they're all mixed. As we walk across the paths, hushing away intrusive mosquitos, Valentina points out various highlights, picking leaves and flower buds as she goes and encouraging us to smell and taste. It takes us 15 minutes to cross just a few meters. 
We walk over to the outdoor kitchen. Valentina: "For me the best place in any house is the Manabita oven, a hemispherical clay pit topped by a removable grill. The oven can serve as a tandoor, a stove or a grill. It can be used for various cooking techniques, like smoking, slow-cooking, dehydrating and fermenting. This traditional oven is not only for cooking, it's the place to share the secrets, the traditions, the techniques, because up until now there are no books that can teach you." The use of this ancestral type of oven from Manabí province is just one of many culinary traditions that Iche aims to both preserve and build on, teaching students of its age-old culinary techniques while redefining what's possible with homegrown food. 
We are put to work as Valentina starts a fire. The corn and peanuts need to be grinded – at least four times for the best result. We are making sal prieta - a condiment, typical for Manabitan cuisine - and cassava bread, stuffed with cheese.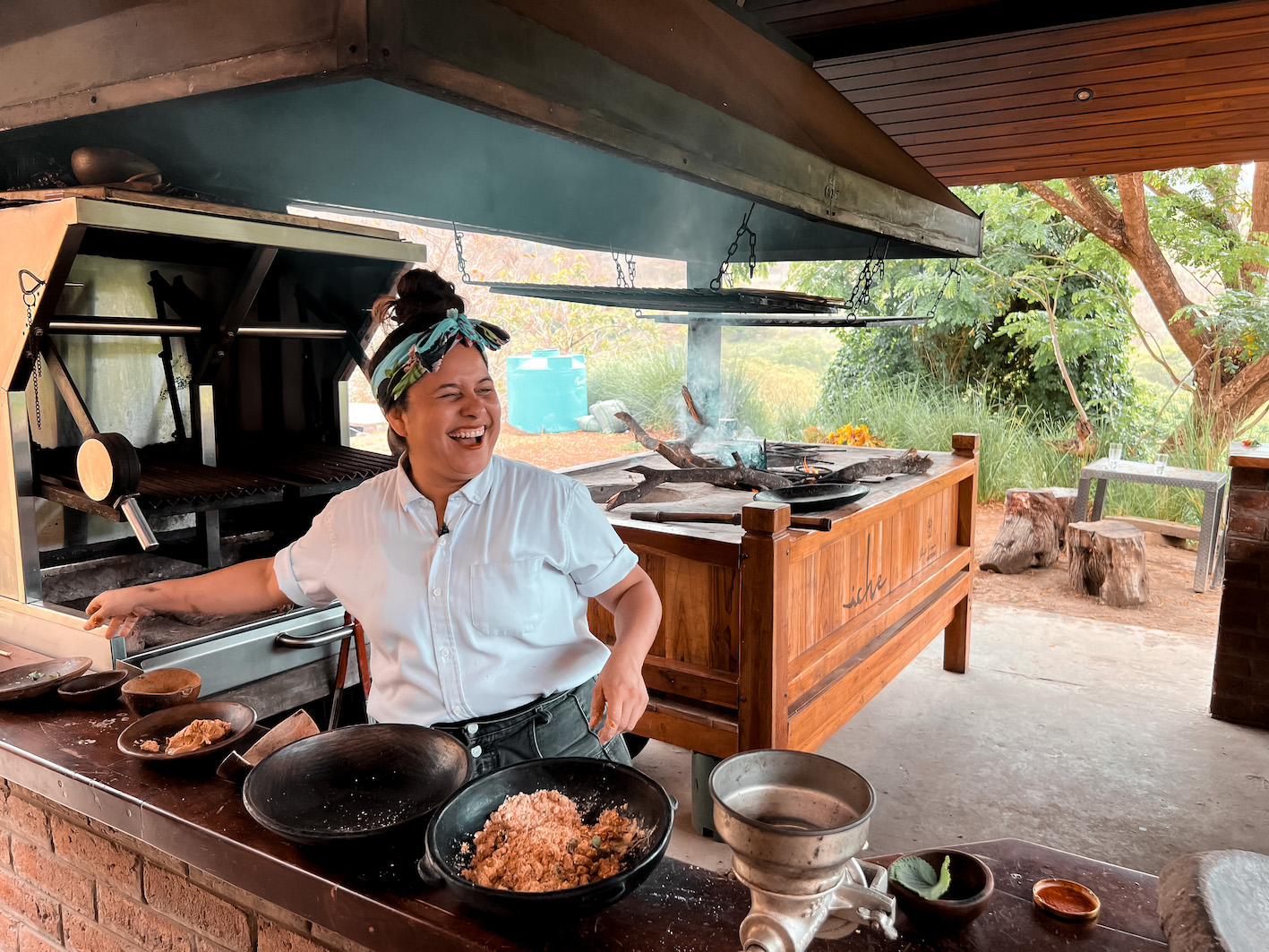 2 > Restaurant
The restaurant's menu is meant to attract foodies and locals alike that value both traditional and modern cuisine. For the menu, local traditions are combined with European and Southeast Asian influences, the latter being a region with which Manabí shares many product and flavor profiles. The restaurant is open to guests from Wednesday to Sunday, with dinner served Thursday through Saturday; a six-course tasting menu costs US$40.
We meet Angel de Sousa, head chef at Iche. Previously, De Sousa worked at renowned Michelin starred restaurants around the globe, establishing him as a gastronomic heavyweight. It strikes us that he's not somebody one might expect to find in this remote corner of the globe, in a hyperlocal culinary project. "During Covid-19 the opportunity arose to come work for this amazing project and I just thought, why not?"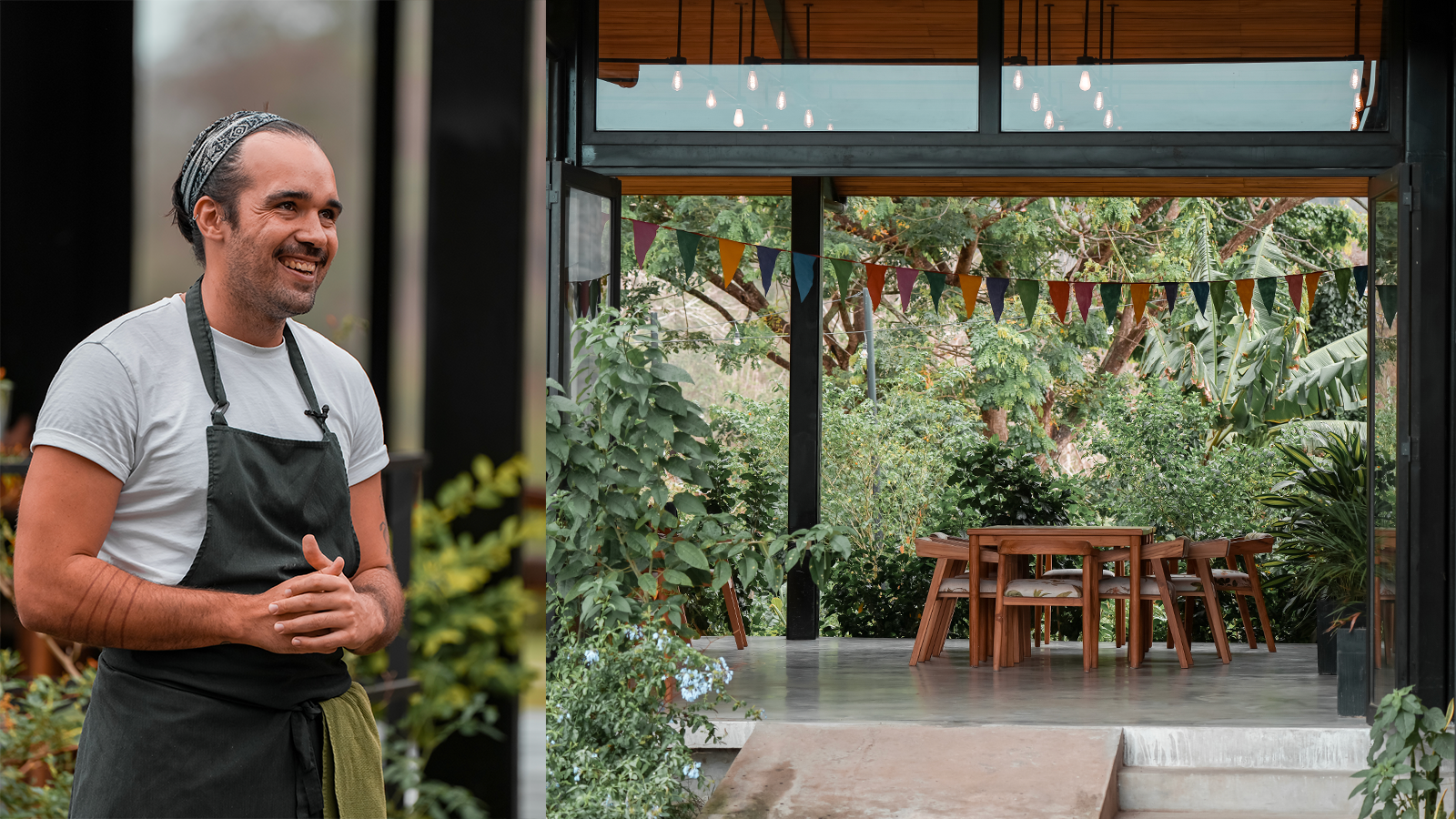 "When the students are here I work as a teacher, but I also work closely together with the people from our laboratory, helping them with product development and kitchen innovation. One of the most important tasks at hand is to capture the cooking traditions and ancestral knowledge from Manabí, and translating these into guidelines so they can be taught, understood and replicated, in order to move from this oral tradition to documenting it in writing. So it is safeguarded for centuries and generations to come."
3 > Food Development Lab
In the Iche laboratory, we meet up with Ana Lobato, who runs the food lab at Iche. "At the Iche laboratory we develop product prototypes, created with local ingredients and by local artisans, in such a way that the generated value – money, jobs, prosperity – remains in the region. We also work to generate knowledge that can later be transformed into projects to be carried out with students or in collaboration with other research entities and, of course, we can also do research work, with guidance focused on product development based on the pillars of sustainability, healthy eating and local gastronomy."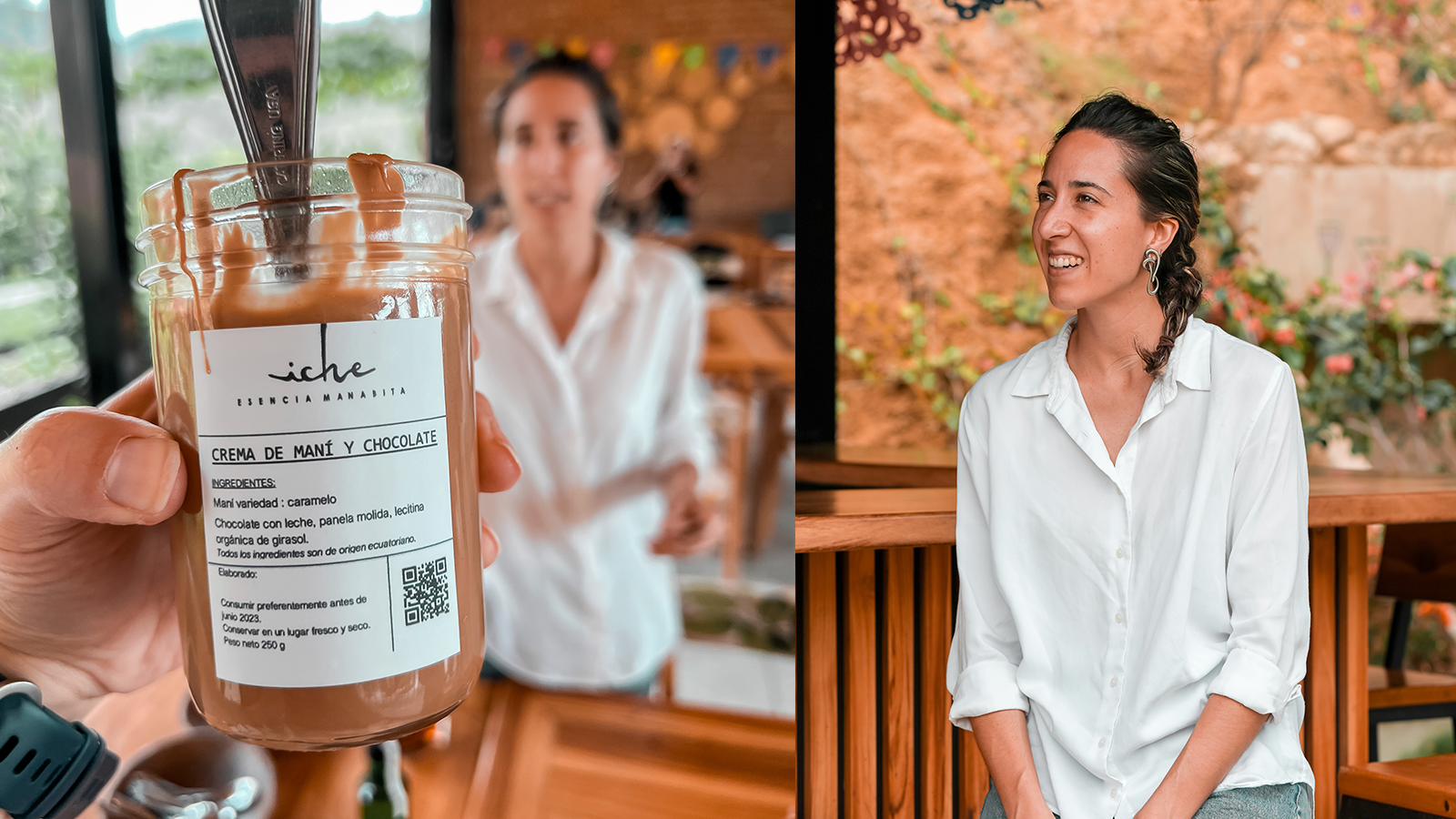 "Our lab is part of Colab Culinaria, the culinary innovation network in Ecuador, whose aim is to create an open innovation ecosystem around gastronomy. I am coordinating this network, and it is currently made up of three partners: Iche laboratory on the coast, another one in the Amazon - canopy bridge lab in Archidona - and a third laboratory high up in the Andes, Urku Mikuna, in a town called Salinas de Guaranda. The idea is that what we are discovering here should not remain just in this territory, but to share knowledge and to be able to work with the diversity and biodiversity that exists in each of these three territories. By working in a network, we can share expertise, knowledge and ideas. The ambition is for the network to grow, and also have research laboratories in, for example, the south of the country, in cities like Cuenca and Quito, or on the Galapagos. Ultimately we would also love to collaborate with existing labs in other countries."
4 > Route Latitude Iche
While Iche is a physical place, as a school-restaurant-lab-in-one, it is more than that. With Latitude Iche, Fuegos, the foundation of Iche's founder Orazio Bellettini, is creating the first gastronomic road in Ecuador. 
The objective is to establish the first route of culinary tourism in Ecuador, helping visitors to explore the northern part of the Manabí region, through its spectacular food culture. The route is supposed to attract a growing number of national and international culinary tourists. This should help generate jobs, promote responsible consumption and sustainable production, contribute to the well-being of the local population and position Manabí as a world-renowned culinary destination.
Food Inspiration magazine
Trending articles