Festival food is becoming vegan, circular and incredibly decadent
Trend Alert - Festival Food

Written by
Maaike de Reuver
on Friday 12 August 2022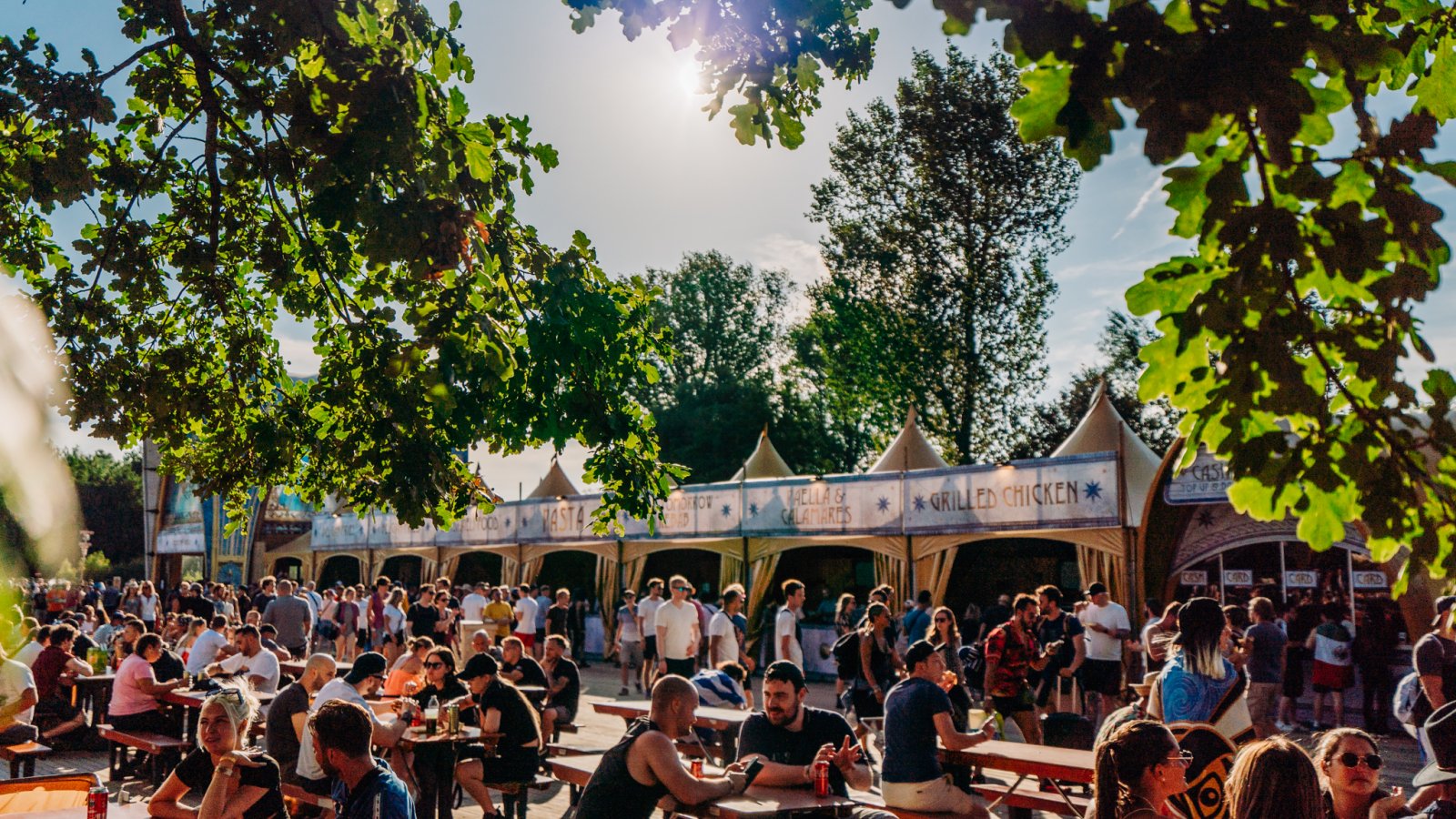 With many young people attending festivals, large-scale music events are often a good indicator of food trends and a useful testing ground for nascent food companies. What are the trends and developments we see in the world of festival food?
According to Eric van Eerdenburg, Director of the Dutch music festival Lowlands, surveys from 60,000 visitors to his music festival indicate that the year after year driver for repeat visitors is the friendly atmosphere. Attendees don't initially buy a ticket for the line-up of artists, but for the opportunity to meet like-minded people. The Belgian festival Tomorrowland also claims that for their 600,000 visitors – from more than 200 different countries – festival attendance is primarily about connection. 'Live Today, Love Tomorrow, Unite Forever,' is their slogan, and the act of eating and drinking together helps make that connection. Which qualities will festival organizers look for to be able to cater to the food desires and needs of today's and tomorrow's festival-goers?
Vegan festival food 
Younger generations generally make more conscious food choices. Young people (under 30) are twice as likely to be vegetarian or vegan than older people (over 60). This trend is also reflected at festivals, where the audience is generally relatively young. As a result, food offerings at festivals are moving more and more in a plant-based direction. In Europe, The Netherlands is a front runner when it comes to vega(n) food at festivals. DGTL Festival (Amsterdam, 45,000 visitors) was already completely vegetarian by 2016, with techno festival Awakenings (Hilvarenbeek, over 100,000 visitors) following suit in 2022, marketing its food offerings as 100% meatless.
Food at the British festival Glastonbury (over 200,000 visitors) is not entirely vegetarian, but the festival organization does want to encourage visitors to choose vegetable dishes. To do so they created a financial nudge; at 75% of its food stalls, vegetarian options are available for only $5.
Digitization to solve staff shortage
The company LOC7000, the organization behind Lowlands, were – partly due to staff shortages – forced to develop innovative systems that take over human work through robotization. In 2021, the company introduced the Raptap, a super-fast beer tap that fills 24 glasses of beer in a matter of seconds. It's faster than the typical bartender, and cheaper in the long run.
Another festival, Rock in Rio, takes place annually in Rio de Janeiro, Brazil. It attracts over a million visitors, making it one of the largest festivals in the world. To avoid queues and help staff deal with the crowds, the festival collaborated with Uber Eats this year to allow festival visitors to order ahead at one of the food stalls through the delivery app. The customer receives a notification on their phone when the order is ready, and can pick it up without having to stand in line.
Top chefs venture into festival food
Renowned chefs are also appearing more and more often in pop-up venues at temporary locations and top restaurants at festivals. At Tomorrowland, for example, there are about five restaurants on the festival grounds where people can enjoy lunch or dinner prepared by (michelin-starred) chefs. It's a top-level gastronomic experience, with a view of the main stage, or with the beats of your favorite DJ in the background. And it's not obscure chefs who sign up for the job; for many chefs it's a dream job. For example, this year the Indian star chef Gaggan Anand (known from the Netflix series Chef's Table) stood behind the stove at the Tomorrowland restaurant. The quality is top notch, but so are the prices. Cost for Arnand's full 16-courses Tomorrowland menu: 495 euros.
During the Coachella festival (California, 200,000 visitors), perhaps the most famous music festival in the world, various top chefs also venture into festival food. Michelin star chef Chris Yang, for example, developed a Taiwanese street food concept especially for the festival. The concept is so popular that it even has its own Instagram account, with a couple thousand followers. And for guests who want to go really high end, there is a speakeasy sushi bar. Here, visitors receive a 17-course sushi menu, freshly prepared and personally served by LA's renowned chef Philip Frankland Lee. The experience lasts two hours and costs: $375, excluding drinks and a 10% tax.
Circular alternatives to plastic
It's a thorn in the side of many festival organizations and visitors - the sea of plastic cups that end up on the grounds after one-time use. But there is a solution; a circular cup system with recyclable soft cups. The system was recently introduced during the festivities at the 4Days Marches – a multi day long distance walking event – in Nijmegen, the largest freely accessible event in the Netherlands with over 1.5 million visitors. The Hungarian festival Sziget (360,000 visitors) works with a similar system. It is expected that within a year – pushed by stricter government regulations – almost all festivals will transition to a circular system and all cups will be reused.
Sziget took it even one step further by eliminating all single use plastics at their festival this year. All catering partners were required to work with paper or eco-friendly disposables, and the use of plastic trays, bags and cutlery was prohibited.
recommendedForYou
Food Inspiration magazine
Trending articles