Chef Rasmus Munk's holistic cuisine at Alchemist restaurant in Copenhagen
Where gastronomy, theater, art, science and technology intersect

Written by
Lisa Appels
on Wednesday 6 July 2022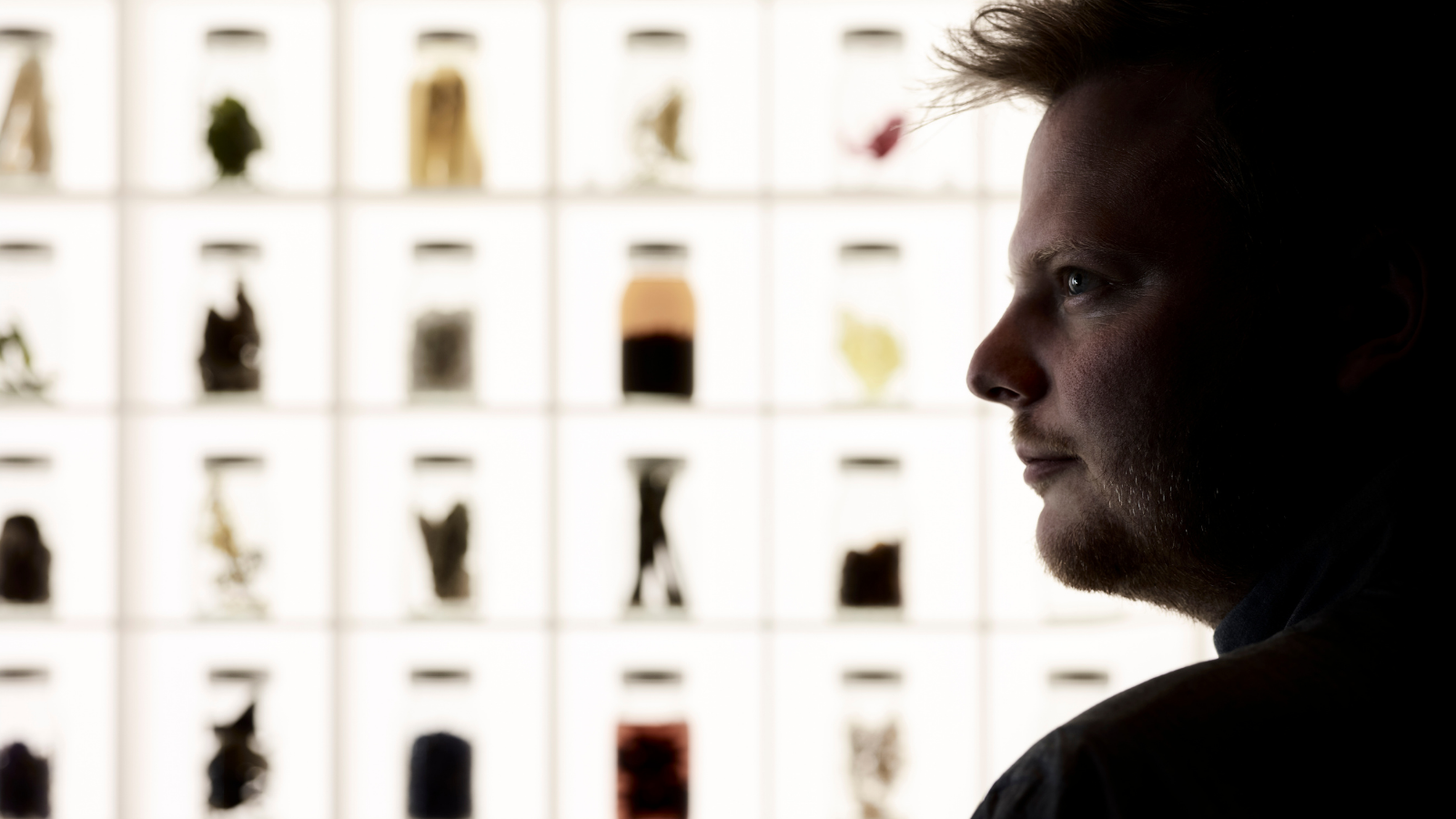 On paper, it may seem like a fancy version of a theme park for gastronomy geeks. In reality, visiting Alchemist, a two star Michelin restaurant in Copenhagen, is an all encompassing, mind blowing - one may even say life changing - dining experience. 
Before we dive into the details about our tour at Rasmus Munk's restaurant in Denmark's capital, it's important to mention that this article may contain spoilers! For anyone planning to visit Alchemist, the next few paragraphs will cover the overall experience and describe some of the dishes that are served during the 50 course meal. 
Some may wonder what makes the dining experience at Alchemist so different from other restaurants. The answer is both simple and complicated. The Executive Chef and mastermind behind Alchemist is Rasmus Munk. Munk's cuisine is difficult to categorize within any existing culinary movement, as his style contains elements from both molecular cooking and Nordic cuisine. Not wanting to limit himself, Munk has created a new culinary approach, which he calls 'Holistic Cuisine'.
Impressions instead of courses
Munk's goal is to redefine our understanding of the concept of dining by offering an experience that extends beyond the plate. According to the 31-year-old chef, dining is a multi-layered experience. It draws upon elements from the world of gastronomy, theater and art, as well as science, technology and design. At Alchemist, courses are called "impressions;" most of the dishes are edible, while some contain just a smell or a musical experience. Many of the impressions at Alchemist are a commentary on political, societal and environmental issues, like food waste, plastic pollution and blood donor shortages. Others deliver humoristic nods to artists from Andy Warhol to Barry White. 
It's not surprising then that guests who make a reservation – which should be done months in advance – are in for an evening filled program. The experience at Alchemist lasts three to five hours; the only prerequisites are curiosity and a presence of mind. The restaurant is located in a huge warehouse where The Royal Danish Theater previously built and stored their backdrops. Upon arrival, guests are welcomed through massive bronze doors (8 ft wide and 13 ft tall) that depict symbols from Nordic folklore tales. Guests arrive one party at a time and during their dinner they pass through five different restaurant areas. Each room offers its own unique sensory experience.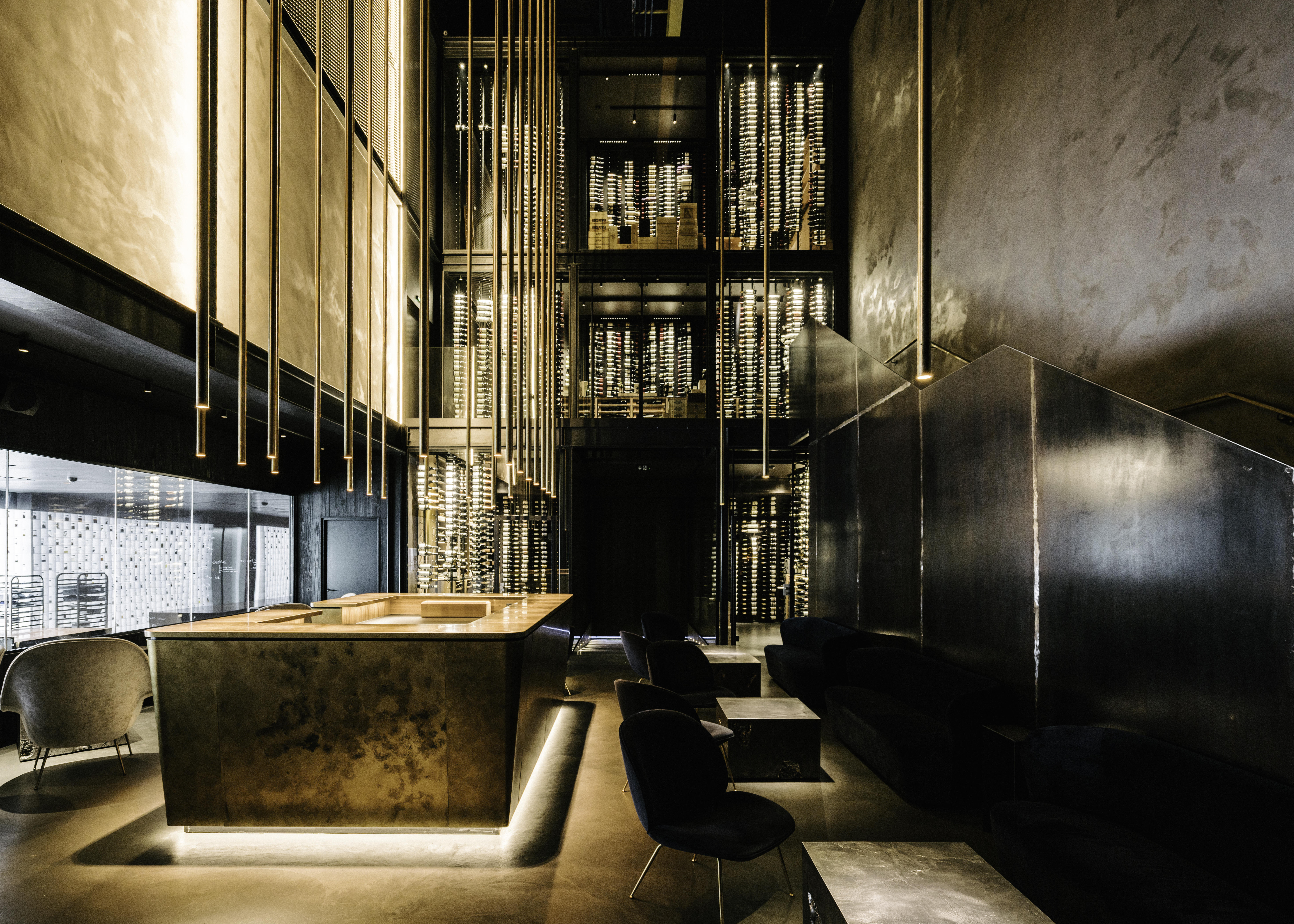 Act I: Dining as if in a theater
So what can someone expect after entering the massive bronze doors? Once inside, guests are first led into a completely dark room, which according to Communications Manager, Lena Ilkjaer, is to cleanse the palette from the outside world. After a couple of minutes in the dark, Act I begins – yes, the evening is divided into five different acts just like a play. Suddenly 'Lulu' appears, a character played by a solo violinist from the Copenhagen Philharmonics. After Lulu finishes playing the Swedish song "Vi sålde våra hemman" ("We sold our farms"), which was originally sung by Swedish immigrants, a big horizontal garage-like door opens, leading guests to Act II. As the door opens, it feels like entering a secret warehouse from a James Bond movie. The space is jaw droppingly impressive; from the lounge area with low comfortable seats, guests look out on a skyhigh wine cabinet with thousands of bottles stacked up to the ceiling. 
Act II: Dining in a movie set
While looking out on the gigantic wine tower, guests are served their first culinary impressions. One dish is called 'The Perfect Omelet,' which is Munk's attempt at creating the perfect egg dish. After years of culinary school trying to create a perfect cigar-shaped egg dish, and eating hundreds of disappointing omelets during his travels, he set his mind to creating the perfect rendition. Munk's The Perfect Omelet is made by making a membrane from egg yolk that is then filled with more egg yolk and French Comté cheese.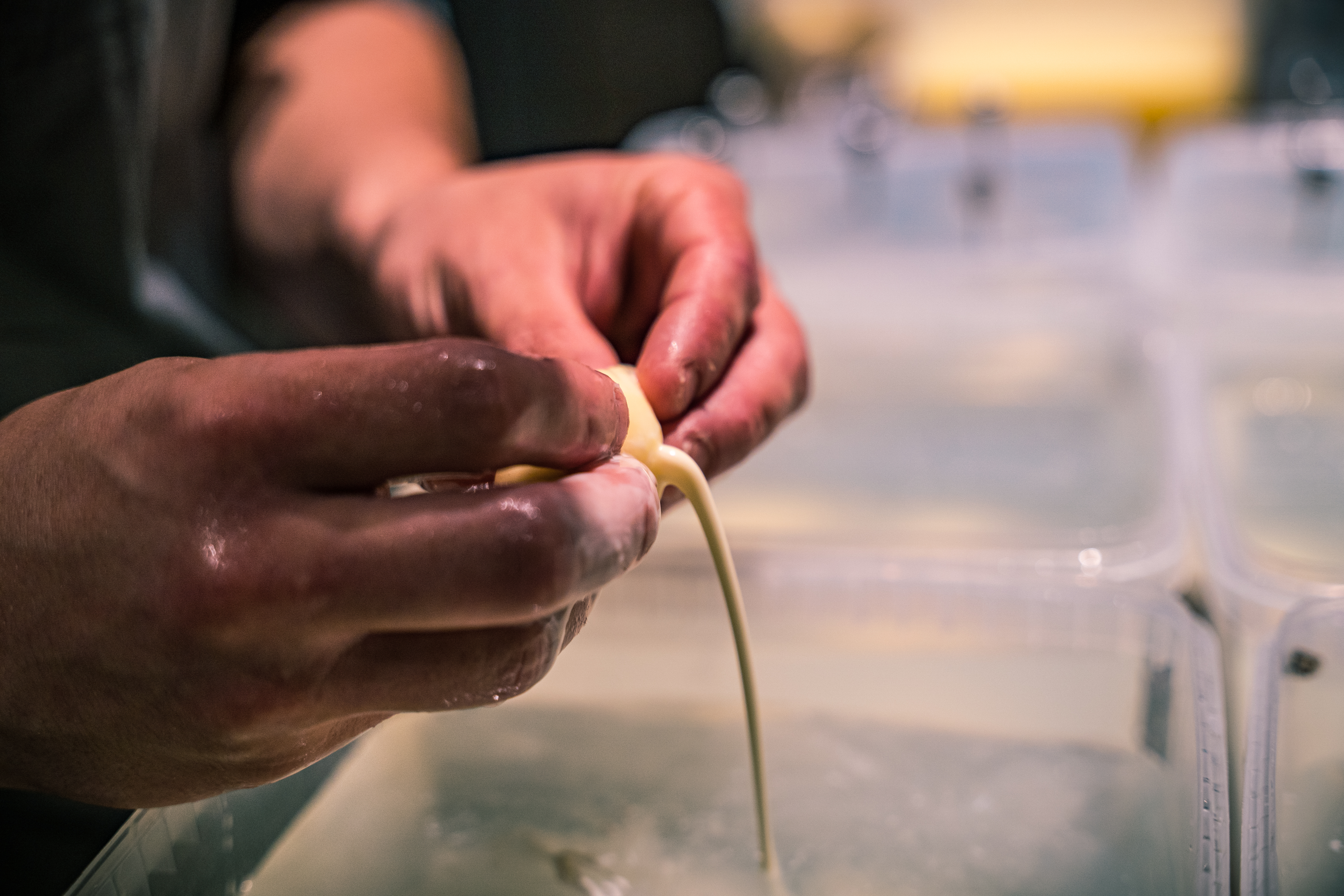 Another dish that is served during Act II is perhaps a little more conceptual, and is created to remind guests of a typical human behavior. Titled 'Greed,' the dish is best described as 'frozen air' with aromas of woodruff and lemon balm made with a cryo freezing technique (-90 degrees Celsius). While trying to eat the dish, it melts under the influence of your own body temperature before it even reaches your mouth – like trying to catch snowflakes. Ilkjaer explained, "The more you try to eat and touch the dish, the faster it disappears."
Some might wonder how a restaurant is able to create dishes at minus 90 degrees. Sitting in the lounge, the answer is quickly apparent. If the wine tower wasn't impressive enough, the lounge also has a window that allows diners an almost cinematic view of the research and development kitchen. In contrast to the dark lounge, the R&D kitchen is completely lit, showcasing a back wall with different small departments that are filled with lab flasks and pots that resembles a scene from a Wes Anderson movie.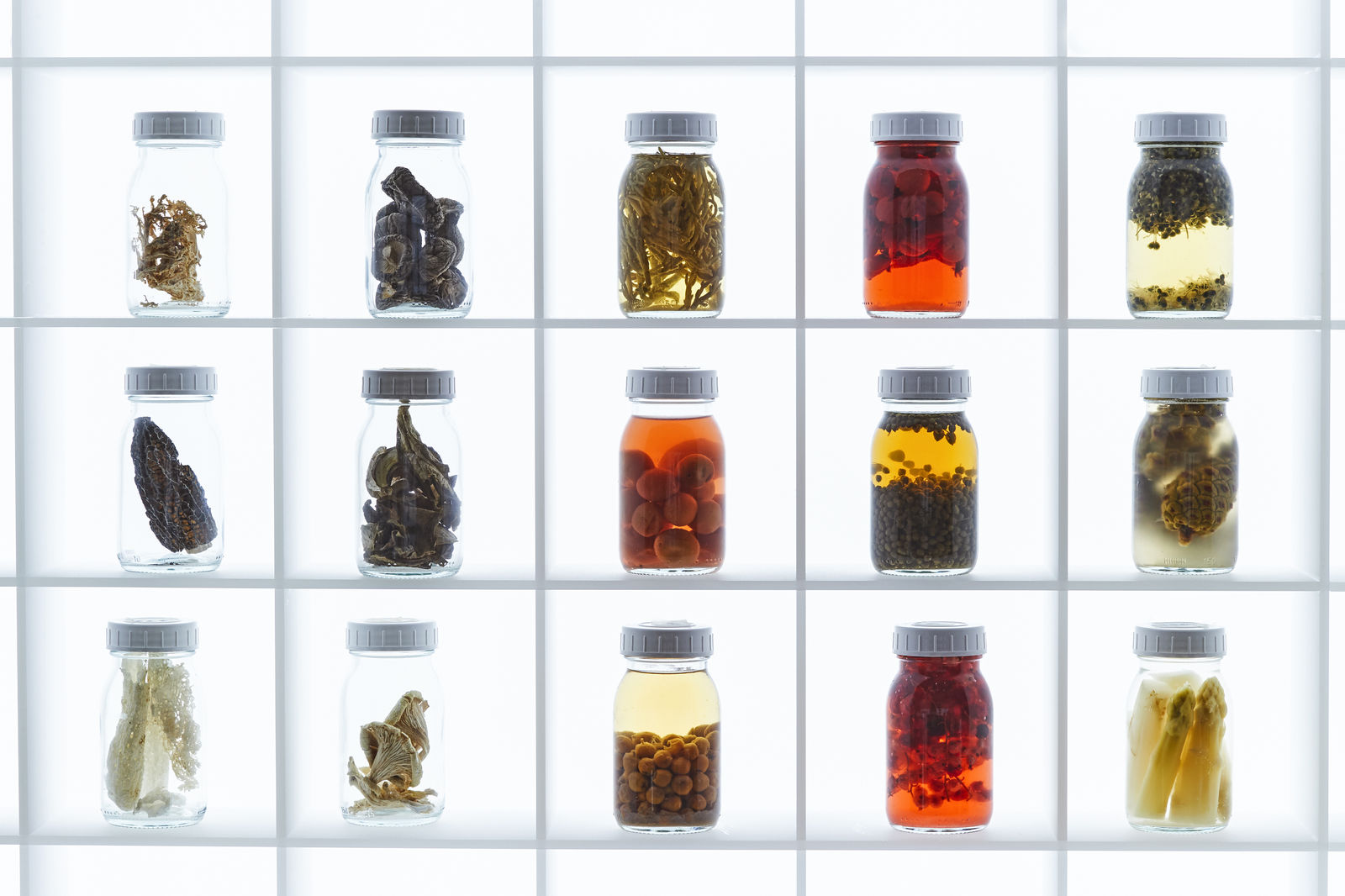 Research & Development at Alchemist
Research and Development is an important component of Alchemist. Aside from the 30 chefs that run the kitchen during service, Alchemist also employs chefs and scientists to focus solely on research and development. Diego Prado is the Head of R&D at Alchemist Explore, the research and development branch of Alchemist. He focuses on creating groundbreaking new dishes and conducting scientific research on products and techniques that create future building blocks for gastronomy and the food sector as a whole. Prado explains, "Some of the research we do is exclusively for the dishes served in our restaurant, whereas other ingredients we develop may also be interesting to use for more general products for a much broader audience."
To provide an example, Prado mentions how the R&D lab has been experimenting with creating 'chocolate' without the use of cacao. "Instead, our chocolate is made using spent grains from breweries. We ferment and roast the grains and mill them very finely – then they are mixed with shea butter and mango butter. Besides using the chocolate in our dishes, this new chocolate may also find its way to a more general consumer market", said Prado. 
Far more experimental is the gel of mushroom broth that is inoculated with oyster mushroom mycelium and served in a petri dish. Over the last few years, mycelium – the vast network of threads, called hyphae, from which mushrooms grow underground – has become a more commonly used ingredient in plant based meat. However, the goal for the R&D kitchen at Alchemist was to create a dish where mycelium wasn't just used as an ingredient, but as a "beautiful product on its own," says Prado. "What makes it extra special is that the mycelium dish isn't cooked but grown in our kitchen." The R&D kitchen at Alchemist isn't just any small test kitchen for chefs who want to experiment. Prado: "The equipment we have here is more elaborate than the stuff I used to work with while I was teaching at university."
Act III: Messaging through food
After the lounge room, guests are taken upstairs while walking over a footbridge through the wine tower. The next room consists of a gigantic planetarium dome with a 57 foot diameter and constitutes the main dining area at the heart of the restaurant. During Act III, courses (experiences) are served in four different shifts, all accompanied by different sets of visuals that are displayed in the dome. Many of the courses served in the dome contain subtle and less subtle messages that aim to create awareness around political and environmental issues.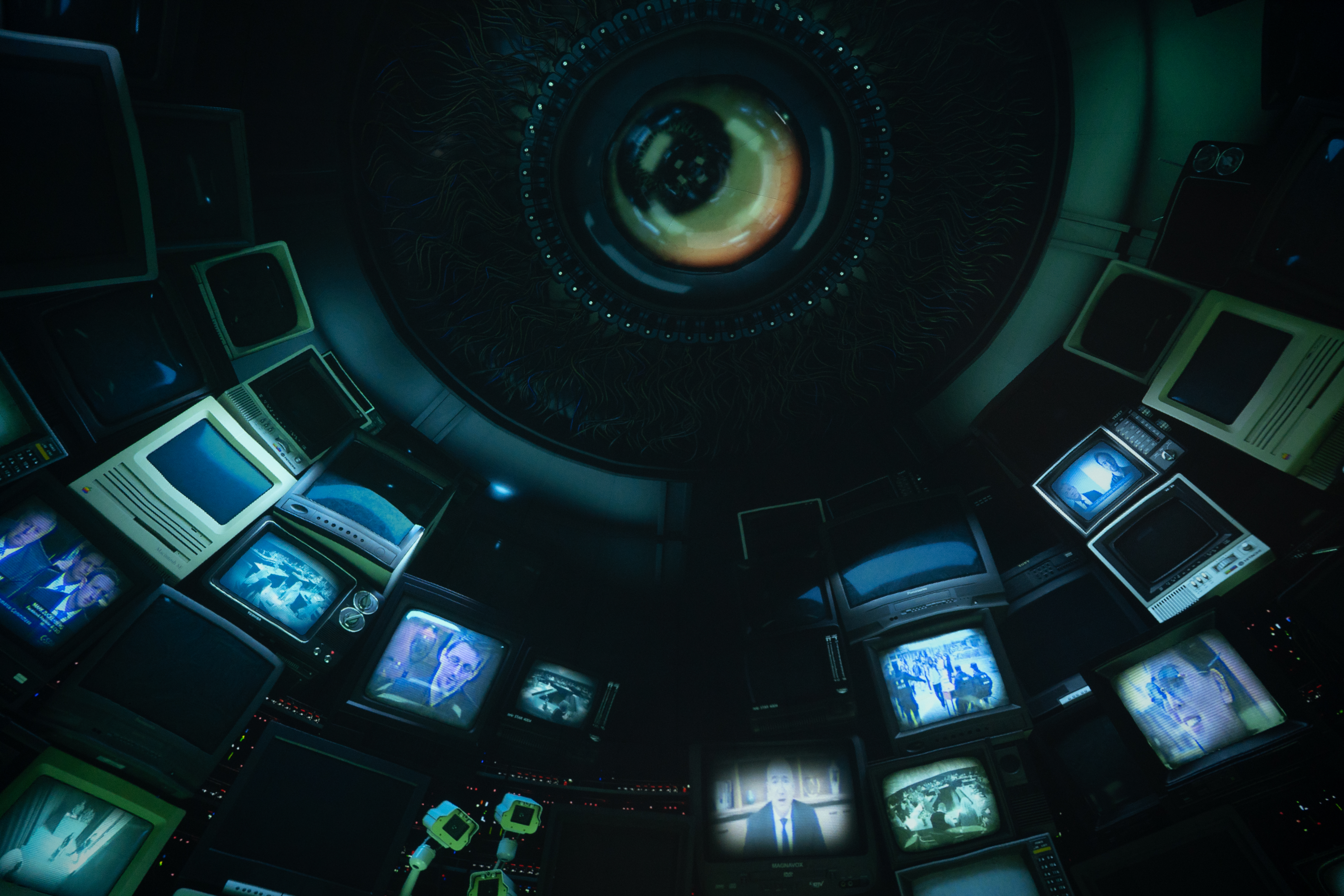 Perhaps one of the most striking examples is the dish named 1984. The course is inspired by the dystopian novel 1984 by George Orwell. In this book, first published in 1949, citizens are controlled and watched by an all-knowing presence: Big Brother. Reading the book in the last few years, Munk noticed some striking and somewhat scary parallels with current society, mainly with reference to big tech companies harvesting personal information through the use of social media. The dish is served on a plate that resembles an eyeball made by a special effects studio that usually makes props and costumes for cinema. The pupil of the eye is filled with new Danish potatoes and fresh peas with lovage, toasted marcona almonds and a chef's selection of caviar. The dish is topped off with a gel of razor clams and cod eyes. While eating the inside of the eyeball, the visuals in the dome slowly break out into a rainbow-coloured television test card screen, followed by a green rain of code that bears a resemblance to the movie The Matrix. 
Another course served during Act III with an activist undertone was 'Plastic Fantastic'. The dish is a commentary on the plastic found in up to one-third of all cod caught in Northern Europe. For the dish, cod jaw is brushed with smoked bone marrow and then grilled and topped with a cream of French Comté cheese. The edible "fantastic plastic" that tops this course is made from dehydrated cod skin bouillon. The plate the dish is served on is made by molding plastic trash gathered along the West Coast of the Danish countryside, and then covered in epoxy. Enough plastic was gathered in one week to create sixty plates.
But perhaps the most activist course at Alchemist, which nudges guests to take initiative, is the one named 'Lifeline.' It was created to raise awareness about the importance of blood donations. The dish takes the shape of a blood drop and is made of an ice cream shell where pig's blood replaces eggs and acts as an emulsifier. The dish is filled with wild blueberry jam and a "ganache" made of pig's blood, deer blood garum, and juniper oil. It's all served on a plate with a QR-code leading to the official page to sign up as a blood donor in Denmark.
Act IV: Was it all a dream?
After a few hours of being fully immersed in auditory, visual and culinary experiences with a message, guests move to a "lighter" part of the evening. Act IV takes place in the pink room, which like the name suggests, is decorated in a bright magenta color. After being instructed by a stern hostess in a pink costume, a disco ball appears from the lampshade, Can't Get Enough of Your Love by Barry White starts playing, and guests are served the course 'Pinky,' a foam made from Calamansi jam, pink grapefruit marshmallow fluff, and coconut cream. It's all served at 37 degrees, the exact temperature of the human body.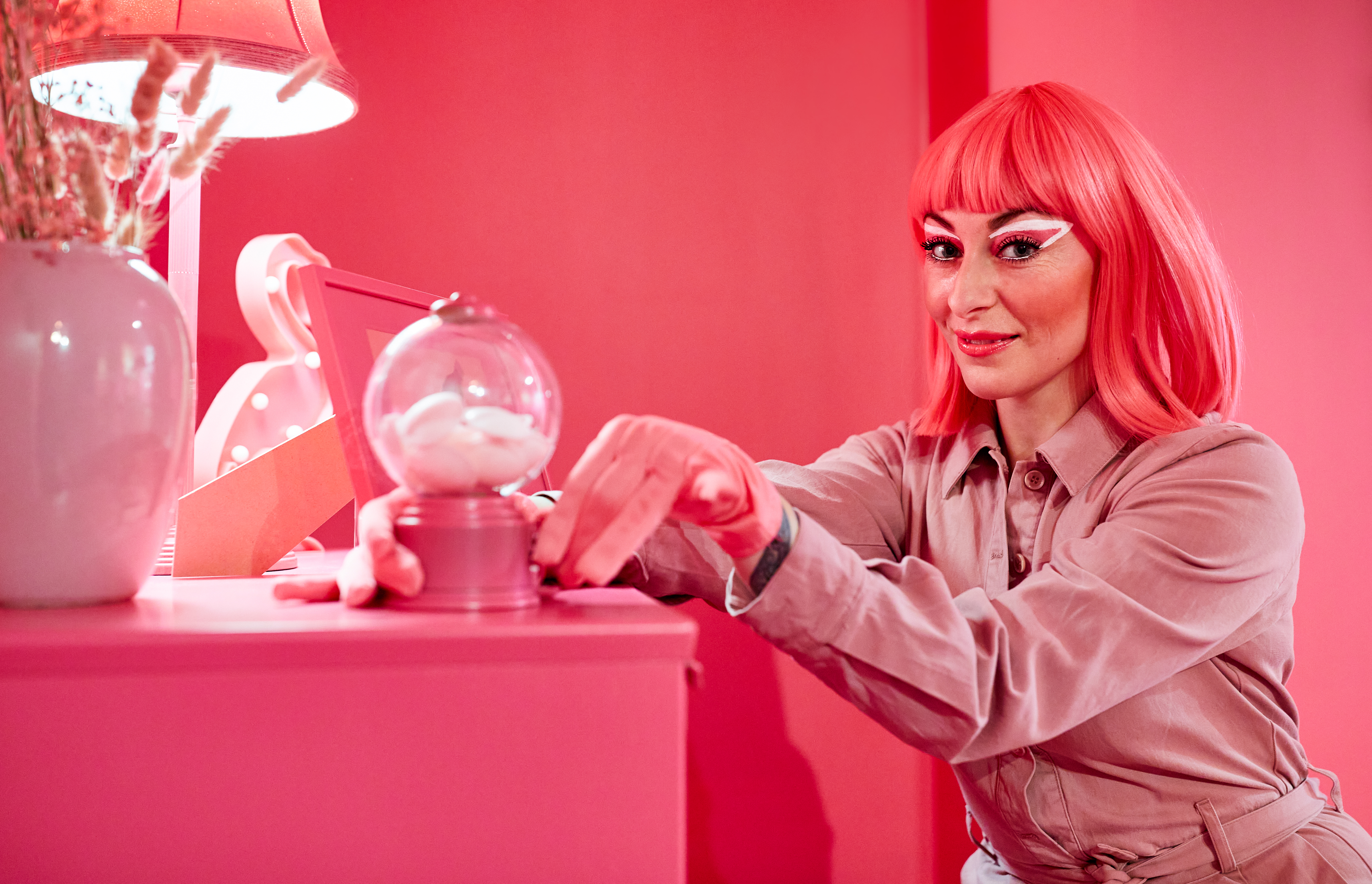 Act V: Process & reflect
After the comic relief of the pink room, the dining experience at Alchemist almost comes to an end. However, instead of leaving guests completely baffled and with their minds blown, time is provided to process and reflect. During the final act of the evening, guests are seated on a balcony that overlooks the top of the dome. While looking back on our tour, we feel the same sense you get during the film Inception. Was it all a dream? Or was it all real? In any case, my view on dining has changed forever, and that's exactly what Rasmus Munk set out to accomplish.
Food Inspiration magazine
Trending articles