Aruban hotelier Ewald Biemans proves that luxury travel & sustainability can go hand in hand
"Our sustainability efforts are a way of self preservation"

Written by
Moniek de Jongh
on Tuesday 30 August 2022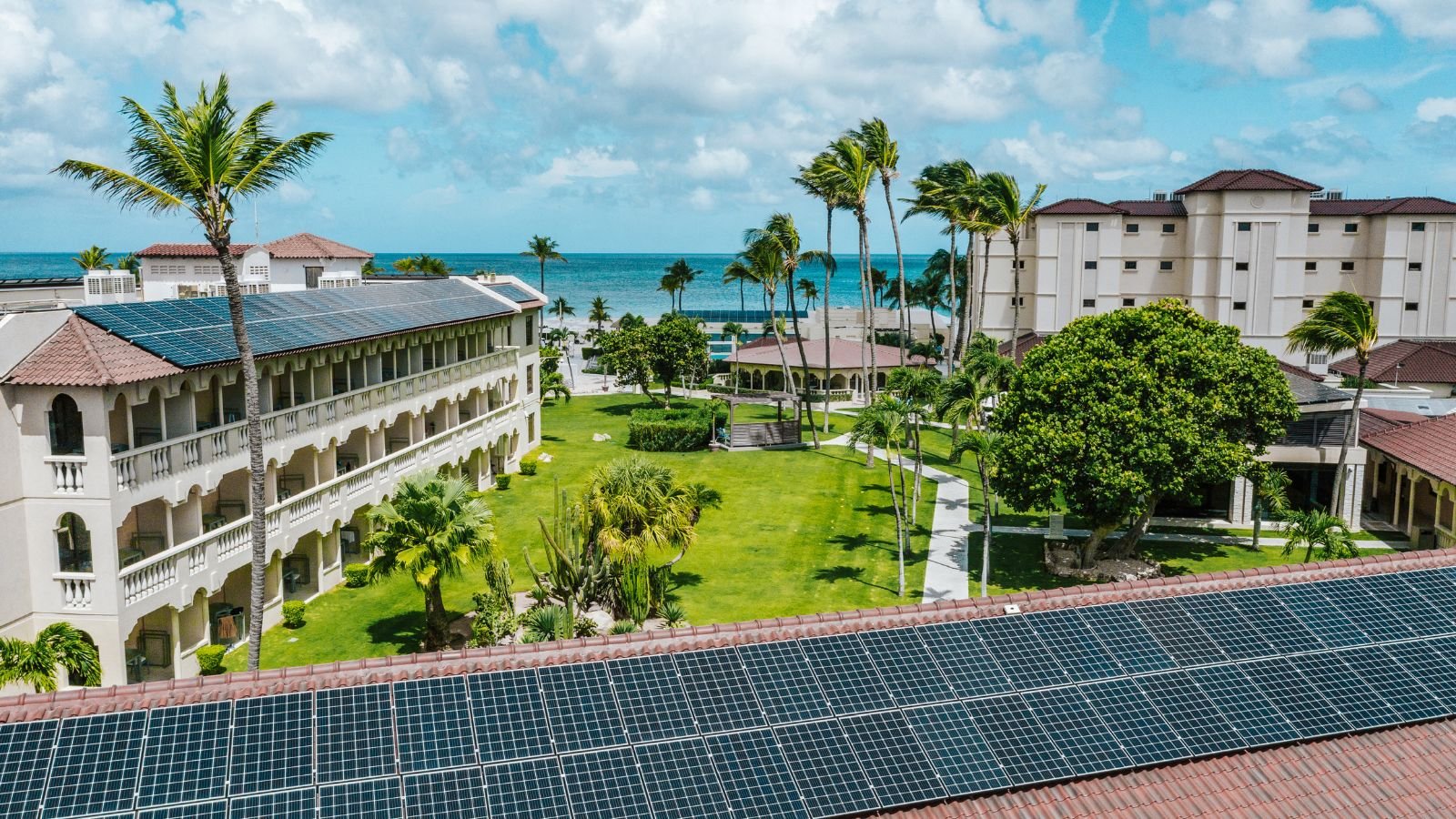 Environmentalist & hotelier Ewald Biemans created the first certified eco-friendly carbon neutral resort on the Caribbean, and now aims to move towards becoming carbon negative. Sustainability has always been a core principle at Bucuti & Tara Beach Resort, and for the last 35 years Biemans has been a true frontrunner in developing and promoting eco-friendly tourism practices. We spoke to this eco-pioneer about his legacy, his drive, and his hope for the future.
In 1965, at the age 20, Austria-born Ewald Biemans (1945) visited Aruba for the first time. As a child of the Alps and the son of farmers, Ewald grew up with a healthy respect for nature. On his first visit to Aruba, he simply fell in love with the pristine beauty of the island. In 1970 he made the decision to permanently move to the island. After working in the hotel and restaurant business in Europe, the US and the Caribbean for several years, he founded Bucuti & Tara Beach Resort in 1987, on the white sandy shores of Aruba's Eagle Beach.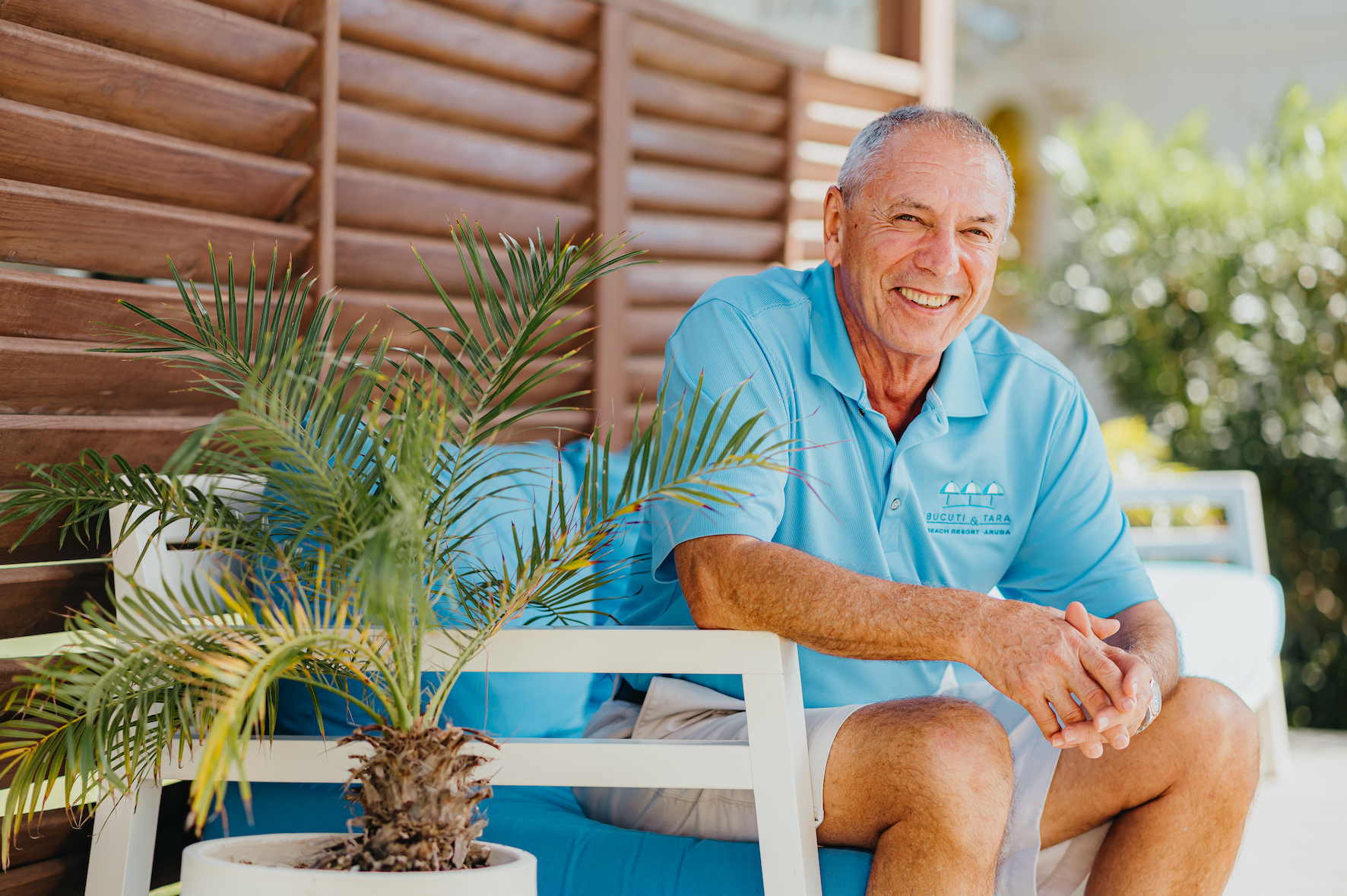 At what moment did you get on the path of sustainable hospitality?
"I was always into nature, it's in my DNA. At Bucuti we have been taking lots of small environmentally-friendly actions, right from when we started in 1987. Not just out of respect to nature, but also from an economical point of view. Things really gained momentum after the Rio de Janeiro Earth Summit (The United Nations Conference on Environment and Development (UNCED)), in June 1992. After that conference people around the globe became aware of the threat of global warming."
"I was triggered by the alarming message of pressing climate change, and was reading every publication that I could find about it. As a result of the Rio conference, a group of scientists formed Green Globe. Green Globe is an auditing company that certifies hotels, travel destinations and other convention businesses in terms of sustainability. They provided us with the first so-called road map on how to become a sustainable business and get certified. It was around 1994 when I first heard of it, and I immediately became a member of the platform. After our first audit, we started building our sustainability program further. We have consecutively been Green Globe certified ever since."
Why is it that sustainability is so important to you?
"I first came to Aruba when it was a pristine clean sparkling jewel. My first visit was in the 1960s, and then I moved here permanently in the 1970s. The first year I was here, there were a total of maybe 15,000 tourists that arrived mainly on small cruise ships of about 300 to 400 passengers. But as prosperity increased globally and tourism grew, that industry exploded in Aruba during the 1980s and 1990s. Aruba was booming. And that quickly became a problem."
"Many new hotels and resorts were being built everywhere around the island, and beautiful beaches and forest areas had to make space. The tourism industry has put an immense strain on our island. Over the years more and more tourists came to visit (about 2 million in pre-Covid 2019). Many of them just come for leisure purposes, and don't care too much about nature. Over the past 35 years, we have also imported over about 30 to 40 thousand foreign workers to serve the hotels that were under construction. Many of those workers come from countries where sustainability was a non-existing topic. As I witnessed the deterioration taking place, I decided to at least preserve my little slice of paradise here on Eagle Beach."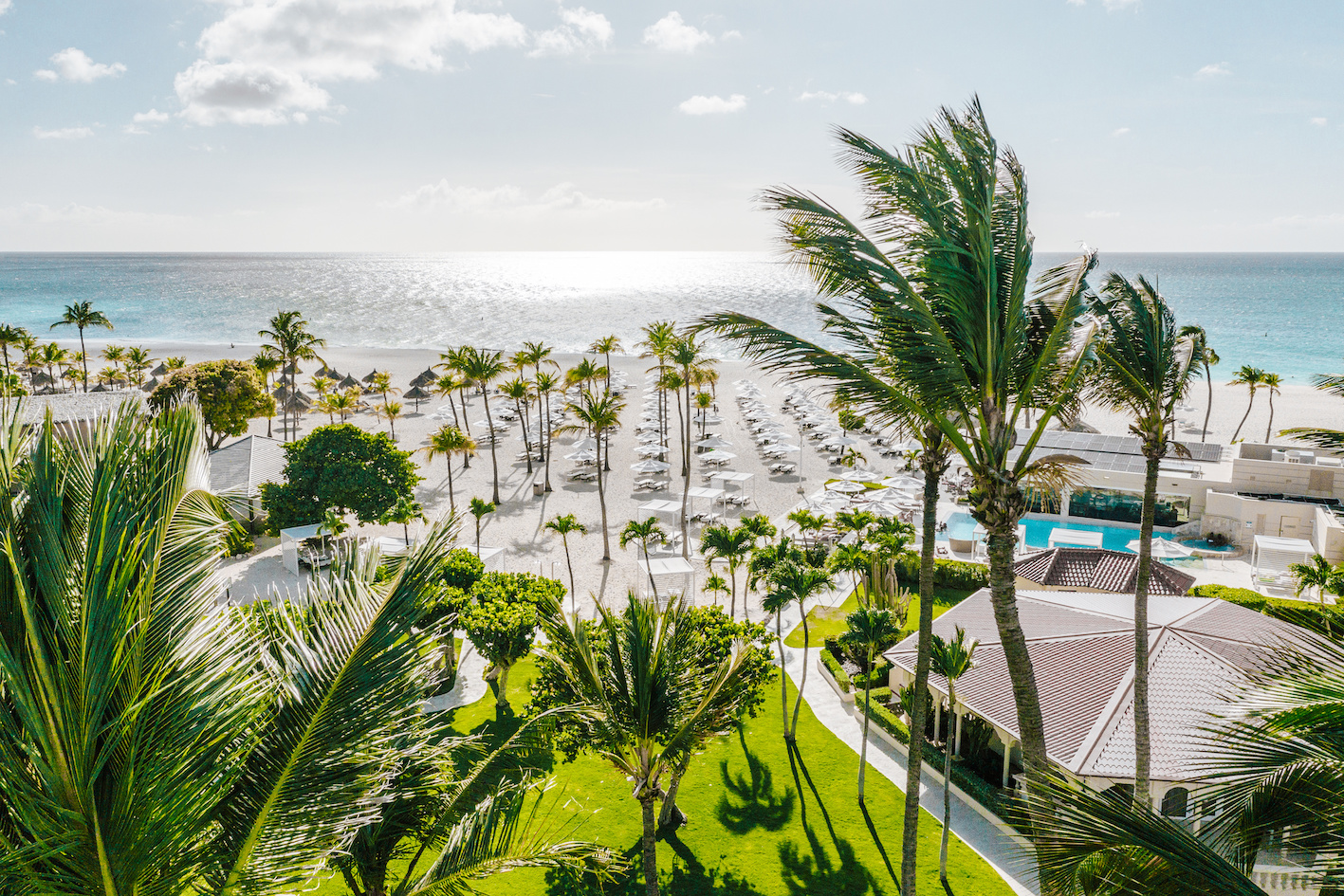 Can you give some examples of how you took on sustainability early on?
"Energy in Aruba is very expensive. So at first we began to install a lot of little measures to save energy. Necessity is the mother of invention, and I had the first solar panels installed for water heating on the island. In the 1980s and 1990s, and even in the 2000s, we had several oil crises. These oil crises dramatically raised the cost of electricity and water. You can either pass this cost on to your customers, or you can look for ways to save as much energy as possible. In the years prior to the oil crisis of the 1990s we were able to decrease our dependence on fossil fuels and increase the amount of renewable energy. In fact, many hotels on the island had to add an energy surcharge, but because we had so many energy savings already built in, we didn't. So it's not only the preservation of nature that drove us towards sustainability, but economic challenges that also led us to take certain steps."
"Later on, some customers made us aware about the use of plastic. We have already eliminated all disposable plastic about 30 years ago, long before it became subject to regulations. We never took the easy way out; we became pioneers, doing many things first. We replaced windows, insulated buildings, bought energy efficient equipment, switched to LED and CFL bulbs. We had to do a lot of the research ourselves. When I talked to the local electricity store and said I'm looking for LED bulbs, they had no idea what I was talking about. In fact, in the early 2000s I founded a company called All Environmental Solutions, because I needed to bring in some energy efficient equipment that I knew was around, but wasn't able to find or buy here."
What were the decisive steps towards becoming carbon neutral?
"In the end it's not one thing, but a million small steps that add up to a grand total. There are, however, a few main focus areas when trying to become a more sustainable company; first, energy use, then, water use and lastly, waste management."
"The main thing we did was reduce our energy consumption. Between the 1980s and 2020 we reduced our energy consumption by about 50%. In addition, we produce about 15%* of our own energy needs through our solar panel installation (* 20% is the maximum amount of self-raised energy, that currently is allowed by the government.). We also buy another 25% of renewable island-sourced energy that is produced by government owned wind turbines and solar panels; Bucuti runs on 40% clean energy. The goal is to continue to increase this by continuing to support the green energy development locally, and potentially locating more solar panels at the resort."
Three examples include:
Sustainable cooling system: An initial assessment of Bucuti's energy consumption discovered air conditioning comprised 60% of total consumption. A newly introduced energy-saving technology now allows for changes in temperature in different parts of the buildings at various times of a day and is installed in every room and office. The minimum temperature is also controlled in those areas. Both motion and door sensors in guestrooms monitor when guests are not in-room so the temperature increases.

Energy-efficient equipment: Only energy-efficient equipment is considered and installed.

LED lighting: All lighting is 100% LED throughout the resort, and all our lights work on timers or motion sensors.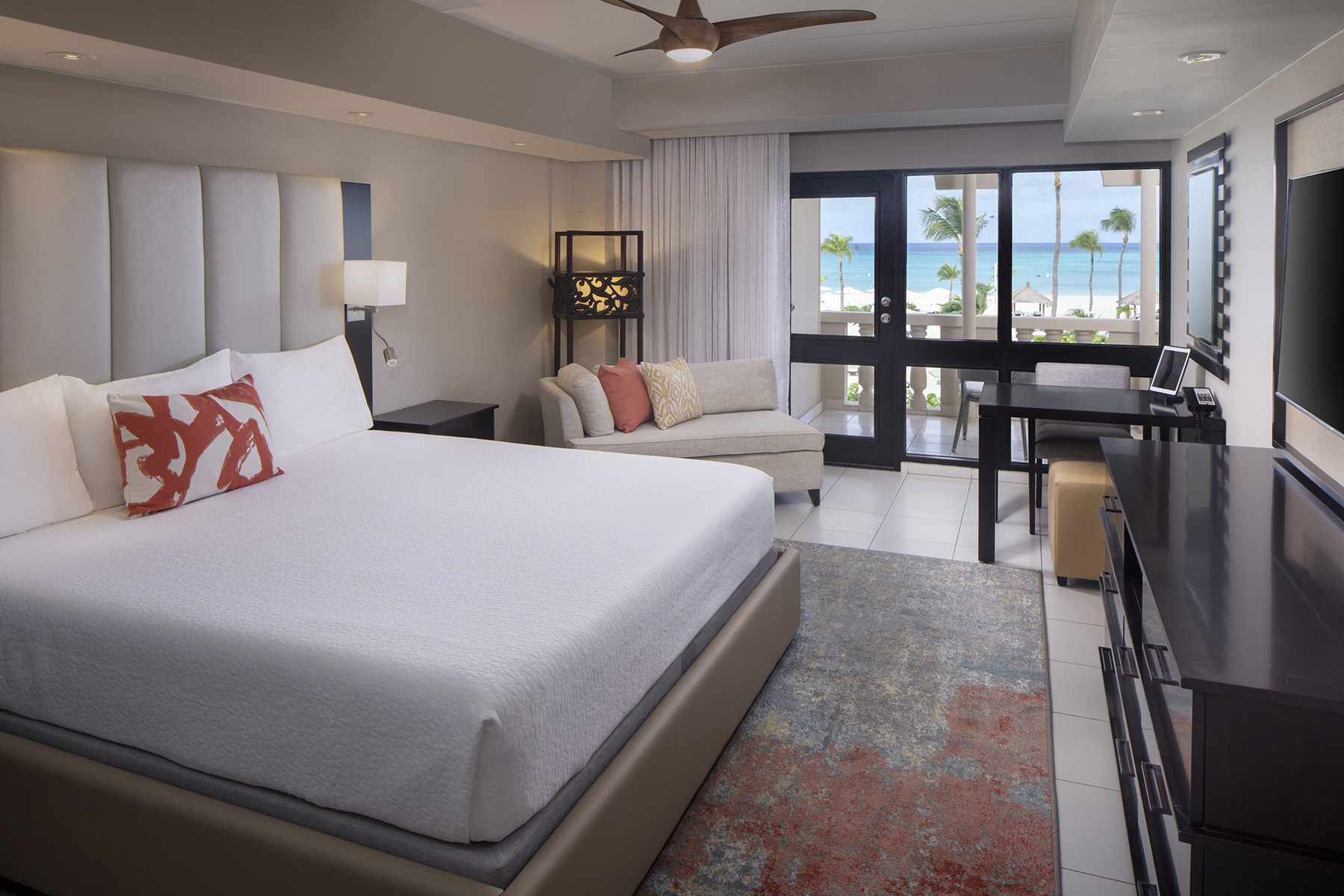 "While water on Aruba is among the best in the world, it takes inordinate amounts of fossil fuels to distill and desalinate the sea water. Bucuti's water use-related initiatives lessen the resort's draw on the national desalination water plant. As a result, the resort has achieved a 20% reduction in water usage since 2005, even with a growing occupancy."
Three examples include:
Gray water: All shower, laundry and sink water is recycled and reused to irrigate the gardens. Everything that is green is irrigated by recycled water. Using only indigenous plants in landscaping also helps use less water.

Energy-smart water use: Aerators, low-flow showerheads and toilets help reduce water consumption.

Laundry: New ozone-based laundry equipment was installed in 2015. The washers now require shorter cycles to effectively wash, and require less water and less hot water per wash. The new equipment also saves a lot of energy and reduces the use of detergents.
"We cut our waste by two thirds. Our hotel was delivering 100% to the landfill, and now that has come down to only 32% of the initial volume. That's a major accomplishment. On a small island, a landfill is even more damaging than on the mainland. It contaminates the underground water and the ocean. Everything that can be recycled now is recycled, like aluminum, paper, oils and grease. Things that are not recyclable we try to eliminate. We reuse, reduce, recycle and upcycle as much as we can."
Four examples include:
Repurpose: Retired towels and bedding are repurposed for cleaning rags and towels in the fitness center.

Bulk: Disposables and miniature toiletries made from plastic are banned. Guest supplies are bought in bulk, in large 50 gallons or in 10 gallon containers, and these gallon containers are reused.

Refillable water bottles: Every guest is gifted with a reusable water bottle for use throughout their stay. Annually, this initiative prevents more than 290,000 single-use drink bottles from ever being procured.

Food waste: Since 30% of plated meal components came back uneaten, the resort revised portion sizes, notably meat proteins, to more sensibly sized, healthier portions in 2016. In 2017, it partnered with the World Wildlife Fund to reduce food waste by another 30%. Any food scraps or food waste that still occurs today is picked up by a local farmer that feeds it to his livestock.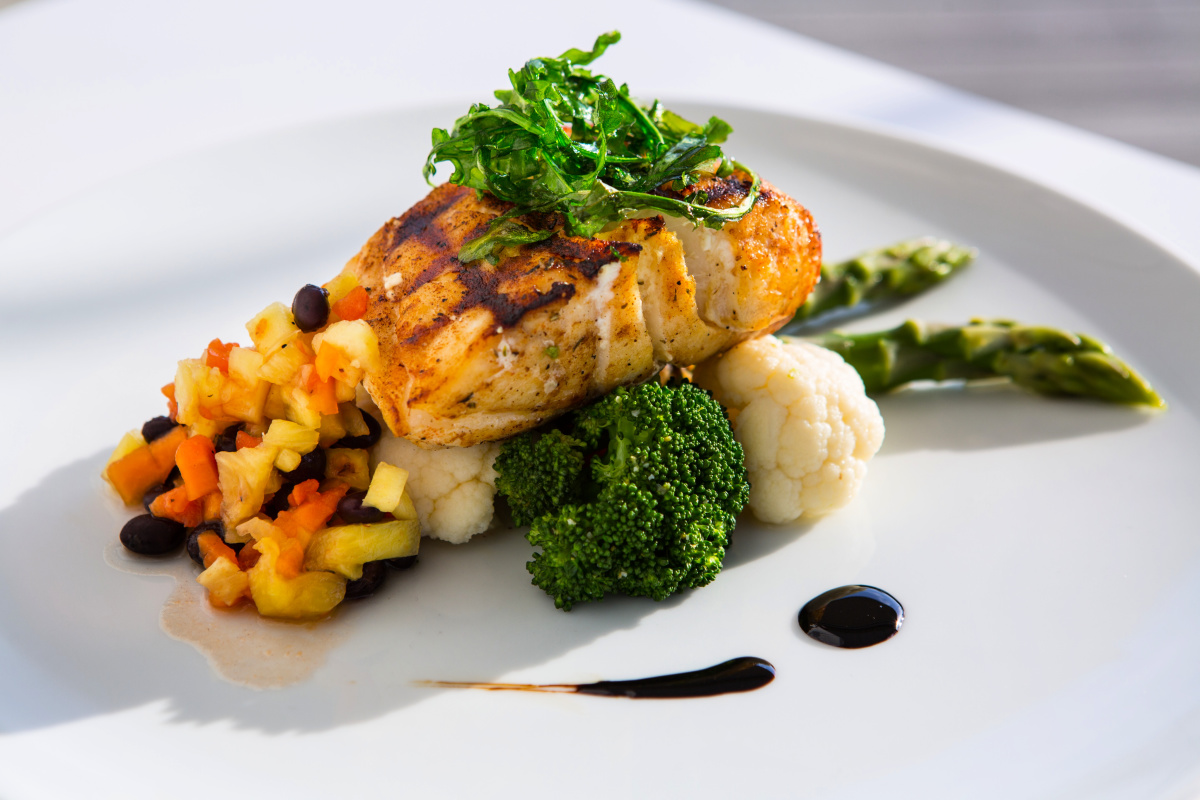 When a guest turns on their television, they automatically see a 6 minute video that outlines highlights of Bucuti's environmental program. Watch the video here »
Do you feel that your sustainability focus has given you a competitive advantage?
"Thanks to all the awards and accolades we receive for our pioneering work, we got a lot of publicity. And publicity of course, creates business. So our focus on sustainability has done wonders for us in many different ways. It has saved us money. It earned us money in terms of consistent high occupancy rates. And over the years it improved the environment around us."
"But we are working towards an even bigger picture. We're trying to encourage as many people as possible to do what we do. In 2019 we received the prestigious Climate Action Award from the World Travel & Tourism Council for becoming the first carbon neutral resort, which was a major accomplishment. And I believe our willingness to share our knowledge is also one of the main reasons why we received the Global United Nations 2020 Climate Neutral Now Award. We are seen as an example in the hospitality industry, because our approach is replicable and scalable. We also do a lot of teaching. We have groups visiting here almost every week. We show them the full program of what we do and they can pick whatever they like."
At the Climate Conference in Glasgow (COP26) in 2021, you were among the first to sign The Glasgow Declaration on Climate Action in Tourism. Can you tell us more about that?
"During the Glasgow climate conference I was invited to present our sustainability program as an example for the hotel industry. But it was also a call to action for all players active in our industry to join the Climate Change Conference Declaration. The conference was a call to the hospitality industry to join the efforts of the United Nations towards a cleaner, better environment. And we were invited as a launch signatory, and therefore the first hotel that signed the declaration."
"Signing the declaration is not without obligation. Action is required. As a signatory you have to periodically submit the progress that you make. So you set ambitious goals and these goals are measured. Everyone active in this declaration is committed to move forward. Compared to many other signatories, we are far advanced. But you can always do better, and there are ways to improve. So our goal now is to go from 'carbon neutral' to 'carbon negative'. Currently we still offset about 5% of our energy, but we want to eliminate these completely."
Becoming carbon negative
Bucuti & Tara Beach Resort became certified carbon neutral on August 28, 2018. The very next day, it began its quest to become carbon negative, which is on track to be achieved by the end of 2022, making it the Caribbean's first carbon-negative hotel. Additional initiatives Bucuti & Tara is doing to reach carbon negative status include:
Paperless: The resort is 95% of the way to becoming 100% paperless.

Charging stations: Guests and staff have complimentary use of the resort's electric charging stations for vehicles and bicycles.

Microgrid: Administrative offices are being removed from the resort's overall grid and placed on a self-sufficient microgrid of photovoltaic solar panels and battery back-up, which will reduce electricity use up to 15%.

Red meat: Beef items are being reduced on guest menus, and will be 100% reduced in employee meal offerings.

Stove tops: Kitchen stoves will soon be 100% induction burners (currently 75%), which is the most energy-efficient way of cooking.

Insulating paint: Interiors and exteriors are almost completely repainted with state-of-the-art insulating paint that draws up to 25% less of current energy consumption.

Indigenous gardens: Only indigenous trees, shrubs and plants are being added to the resort's landscape. As they are already accustomed to Aruba's arid climate, they do not require excess resources and they help provide shade.  

Next to your own premises, you also invest heavily - with both money and time - in the local and global environment and community. What's the main driver behind that?
"As we see it, our outreach to the local community is an integral part of a sustainability program. It's a form of self preservation. I always say: 'we are not in the tourism business, we're in the nature business'. We need to preserve nature, because without it we lose our livelihoods. We depend on tourism. Global warming and climate change are a major threat to the Caribbean and to the East Coast of the United States and many other parts of the world. If the ocean rises half a meter in Aruba, our beaches are gone. That will destroy our tourism industry."
"So we try to do as much as we can globally. We hope that as more and more people join our sustainable efforts, we can preserve not just the little paradise we have created here, but that we save what's left for our future generations. I have grandchildren, and one of them is joining our business. I worry about what her grandchildren are going to do here, if tourism is dead in Aruba. There is no other industry on the island that can provide a decent lifestyle. Everybody will have to emigrate because global warming and climate change will massively move people from coastal areas inland. Today, there are about 120,000 Arubans that could become climate refugees. And our goal is to try to prevent this by any means."
Local community efforts
Bucati & Tara Beach Resort has initiated and supported many initiatives that foster the local community and environment. Biemans is proud to name a few:
We foster local talent and commit to local sourcing. We hire local people wherever we can. We serve local food and host a weekly local arts and craft show.

The beach clean-up is a treasured monthly tradition, where for 25 years staff and interested guests join hands in removing 500 - 1,000 lbs annually of debris to keep Bucuti's stretch of Eagle Beach clean and safe for wildlife.

We have a program called pack for a purpose that encourages guests to bring school supplies, games and books for Bucuti's support of a local children's home.

Nature is our business and so we are part of the Sea Turtle Preservation Program. Bucuti's stretch of beach is home to leatherback sea turtles. We are also supporting the Aruba Donkey Sanctuary and have established a program to spay and neuter stray dogs and cats on Aruba. We pay 50% of every sterilization. Recently we reached the milestone of 30,000 animals. 

We provide hotel employees with cheap loans, almost interest free, to buy electric vehicles – bicycles, cars – and even solar panels for their homes so that they can also take advantage of our sustainability programs in an affordable way. 
How do you combine luxury travel and high quality standards with sustainability?
"On TripAdvisor we are ranked the #1 hotel for romance in the Caribbean, and #5 in the world. We're in the top 25 best ranked resorts in the world for TripAdvisor for 2022. Guests are choosing us for very special occasions, like their honeymoon, milestone anniversaries, and birthdays. They come to celebrate. We've not overbuilt our premises unlike many hotels around us, and especially post-covid, guests value the space we offer. We only have 104 rooms and suites on a wide expanse of beach. We're just as proud of our quality & hospitality awards, as of accolades we get for sustainability. What's significant about what we have accomplished at Bucuti & Tara is that we're really the first hotel to prove you can be fully sustainable, you can be certified carbon neutral and you can also be wonderfully profitable while excelling in quality."
"From our guest satisfaction reviews we know that about 10% to 15% of our customers really have chosen us for our sustainability approach. And we see that this number is increasing. For many, it may not be their first priority, or they may even be totally unaware of it when they arrive. But when guests leave, we see that our sustainability efforts have been noticed and that it suddenly becomes more important to them. We say luxury and sustainability are not mutually exclusive. They go hand in hand and we have proven that fact."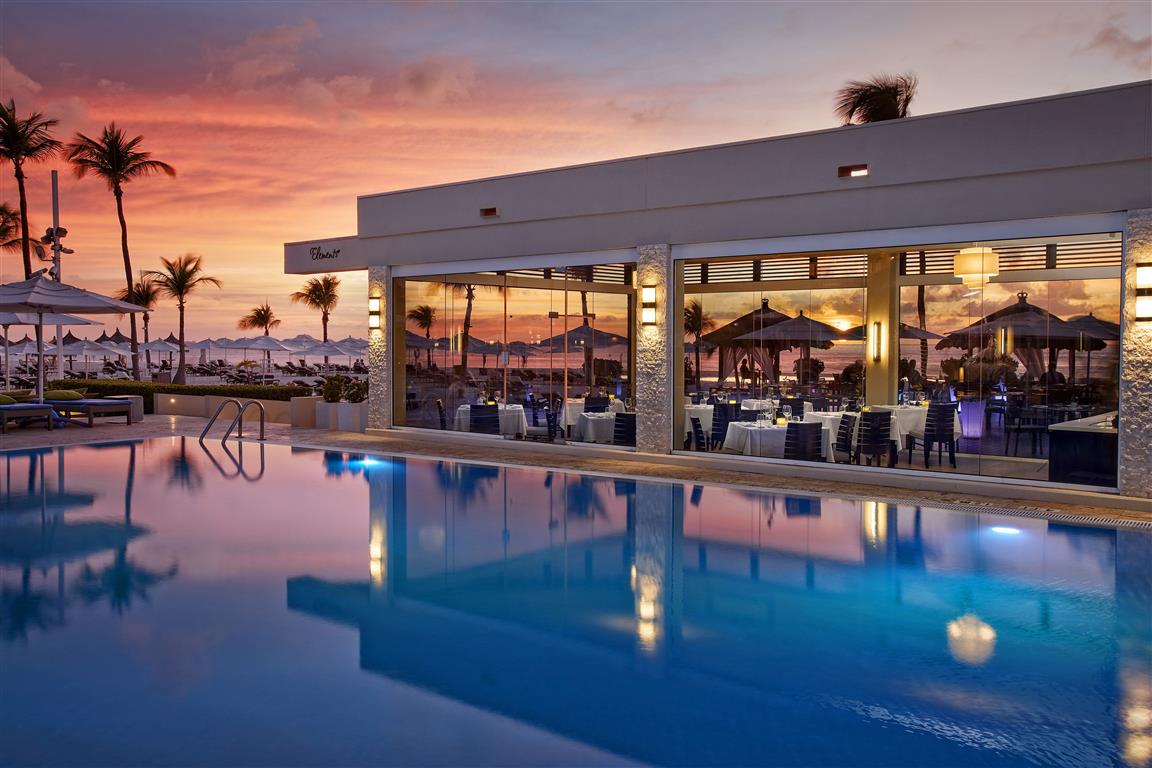 Some might argue that luxury travel and sustainable consumption do not go well together. What's your view on that?
"Some indeed might argue that if you want a sustainable vacation you should not fly, as it is very damaging to the climate. Instead you should travel by train or car and preferably pick a destination on a shorter distance. Or even better, stay at home. But the reality is that people are traveling and flying at record numbers. You just have to look at the airports all over Europe to see that. The desire for travel to beautiful and exotic destinations is proving to be a priority for many. Aruba's very existence depends upon tourism, and we try to bring that together. We have worked a lifetime to find a way to fulfill this desire for travel and to do it sustainably, so that it causes no harm to the environment and the island and its flora and fauna is preserved for future generations."
"It's important that people look at the whole picture. We manage to offer a positive contribution to climate change for travelers right now, since they are traveling. We offer an option to dramatically reduce the environmental impact of their travel in our sustainably managed hotel. Our concierge assistance will help them book transport by electric vehicles to and from the airport, calculate the offset for their flight and whole trip if they please, organize sustainable activities outside the resort, and so on. We believe we are the first resort to think through the entire travel experience, thereby protecting our people, economy, and environment while preserving the public's desire for travel."
What advice would you give your fellow hotelier and restaurateurs in the Netherlands?
"My advice would be straightforward. Get certified. There are a lot of different possibilities to get certified, whether it's ISO 14001, Green Globe, LEED or any other internationally acknowledged framework. It will help you setup a sustainability program that you can follow and that inspires you to make progress. You need a roadmap. If you don't get organized, you'll never get there. You have to embed it in your management structure, so that the entire company is involved."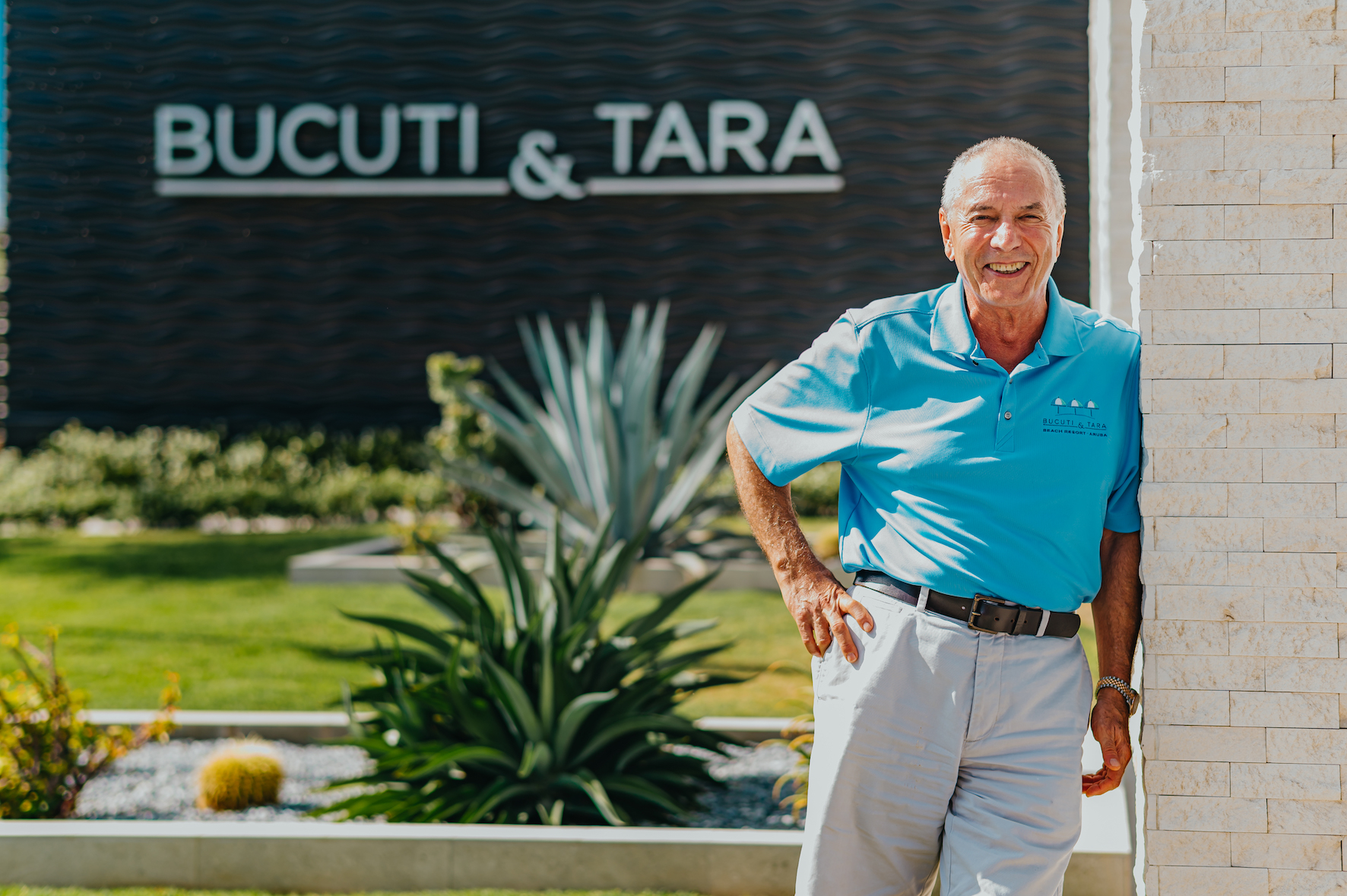 "Our program is available to anyone who is interested. We send them a complete program step by step of what we do in our hotel, and they can pick and choose what they want to implement. We often have hoteliers coming over and say, 'how do I get started'? A lot of them have a sense that becoming carbon neutral is very expensive, and that the return is not going to be sufficient for either their shareholders or themselves. We help them understand that, especially right now, the recovery of their investment is quicker than ever, in addition to being advantageous to the environment."
"As for us, we strive towards carbon negativity with a very selfish purpose. We hope that everybody joins us in our efforts so that we can move from generation to generation without having to pay the consequences of our mistakes today."
Bucuti has become a global leader in sustainable tourism and currently holds LEED Gold, Green Globe Platinum, ISO 14001 and Travelife Gold eco-certificates and was named the world's most sustainable hotel/resort in 2016 by Green Globe.
Food Inspiration magazine
Trending articles