A revolution in farmed salmon, thanks to a more sustainable and healthier fish feed
Norwegian fish farm Kvarøy Arctic sets a new standard in salmon farming

Written by
Moniek de Jongh
on Friday 30 June 2023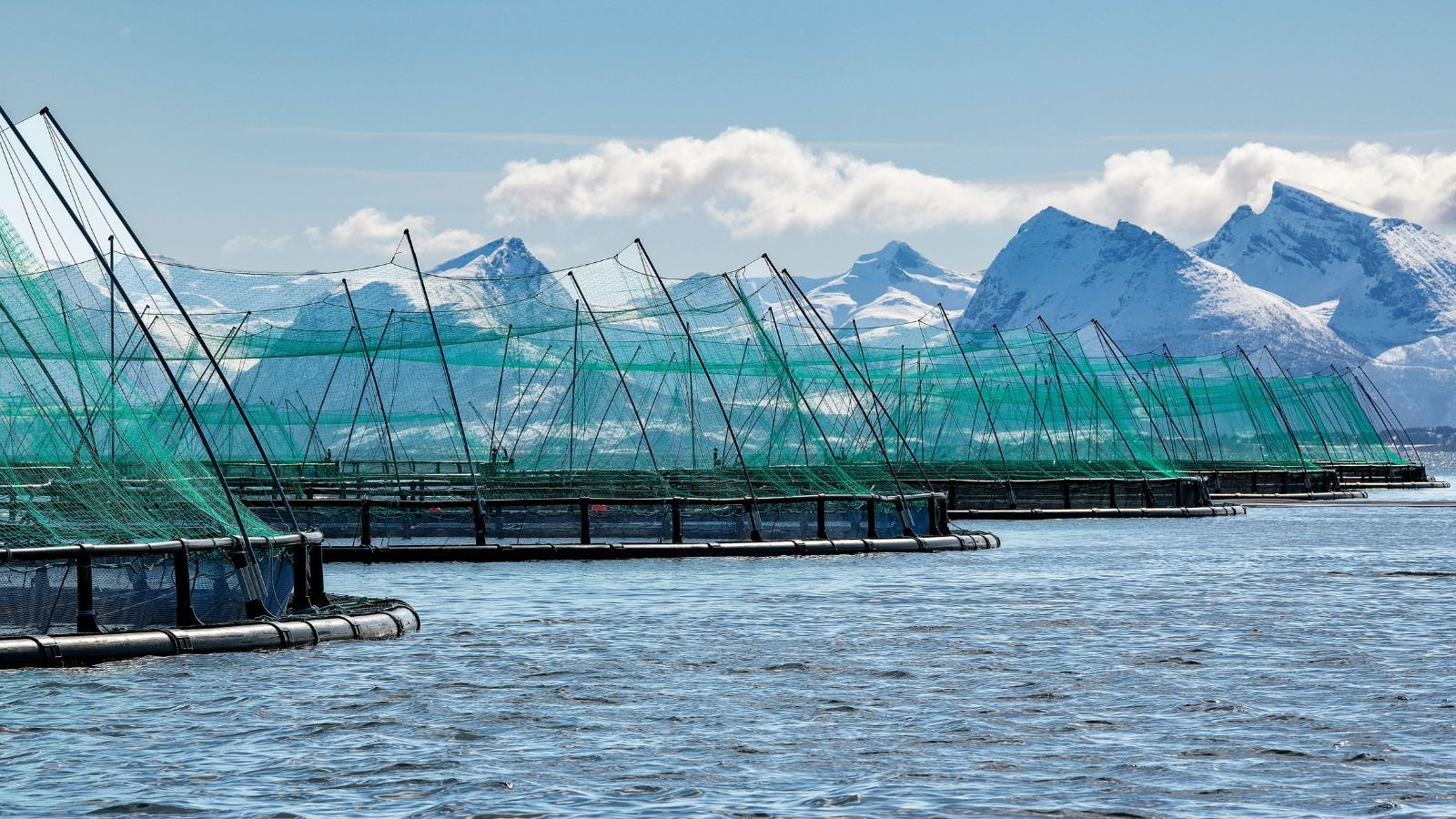 Since 1976, family-owned fish farm Kvarøy Arctic has been going to great lengths to farm salmon in the most sustainable way possible. Recently – after years of research and experiments – Kvarøy has reached a breakthrough by revolutionizing the diet of its fish. In order to be able to grow fish, you need to feed it with fish. By optimizing their feed, they can now produce 1 kilogram of farmed salmon with only half a kilo of 'input-fish,' making Kvarøy a net producer of fish protein. And that is groundbreaking.
This May, sustainable fish label Fish Tales introduced the sustainable farmed Kvarøy salmon in European and U.S. markets (in the U.S. under the brand name Sea Tales). Kvarøy Arctic is a family-owned fish farm, located on a tiny island off the coast of Norway, approximately 500 kilometers north of Trondheim. This area is home to the best fishing waters in Norway. "Everyone wants to farm salmon here," says salmon farmer and CEO Alf-Goran Knutsen during a phone interview. "The permits are the most expensive in the whole country." The reason? The temperature and conditions for salmon farming are perfect. The ideal temperature for salmon farming ranges between 8 and 12 degrees Celsius, and the waters maintain those temperatures for eight months of the year. There are also no polluting industries in the surrounding area, which ensures clear and pristine water.
As early as 1976, founder – and now Alf-Goran's father-in-law – Alf Olson began salmon farming in the most sustainable way he could imagine at the time. In the years that followed, the farming process gradually became more sustainable through advancing knowledge and science. Now in 2023, Innovation remains the driving force behind the company, with the family's third generation now actively involved. We asked the current CEO, Alf Knutsen, about their approach, the exceptional product, and the future.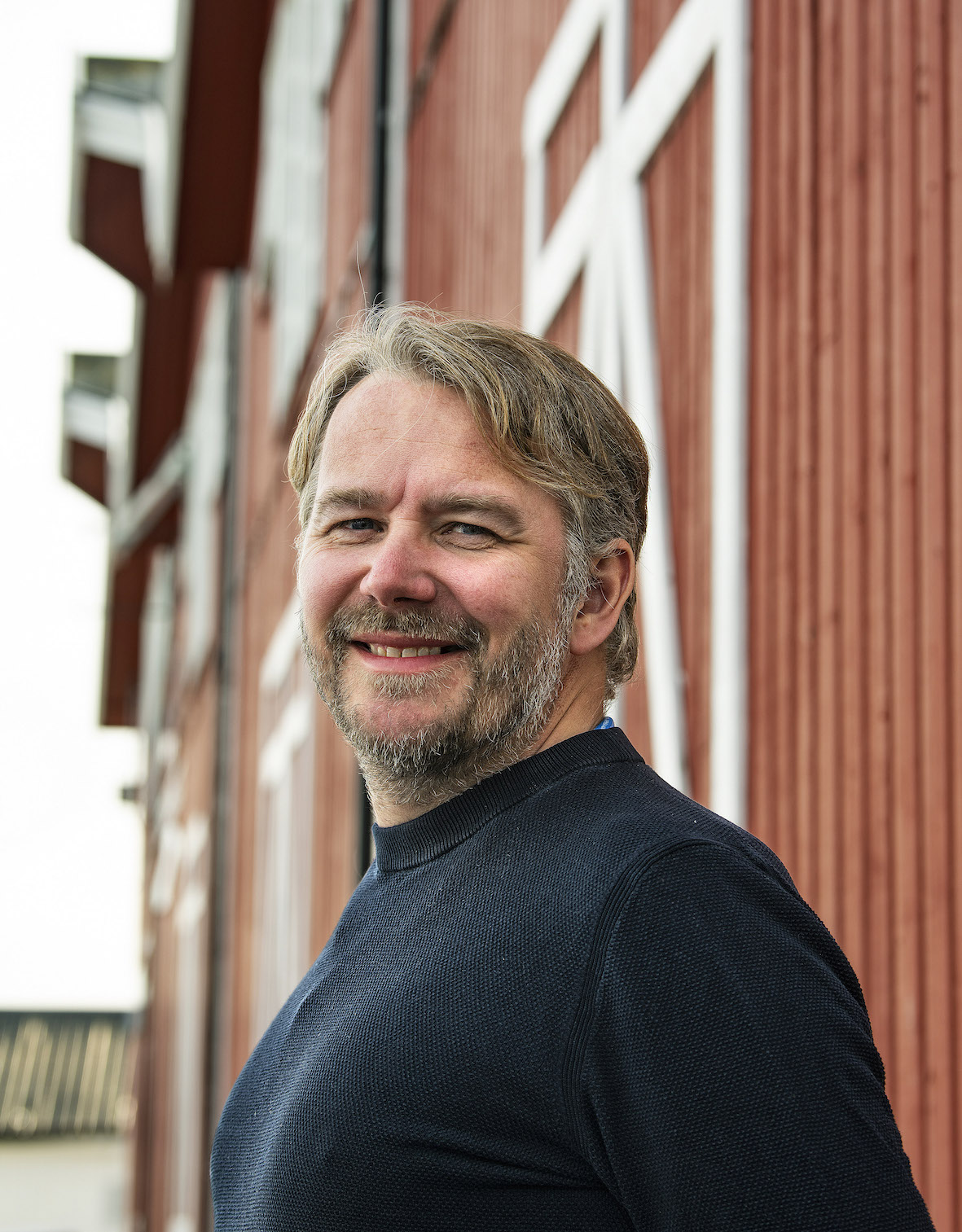 What makes this recently introduced farmed salmon so revolutionary?
"The revolution lies in the fish feed," says Knutsen. "We have been working closely with  BioMar, a fish feed company, for many years and together we have succeeded in developing a highly efficient, healthy, and sustainable fish feed. The more sustainable the feed, the more sustainable the fish. Their feed consists of 75% plant-based ingredients and 25% marine ingredients, like fishmeal and fish oil. The feed is made from by-products, and contains only natural ingredients. Experts describe the taste profile of the farmed salmon as pure and clean. You can taste more of the healthy fats, which give the fish flavor, texture, and a pleasant mouthfeel."
Aspects that make this fish feed more sustainable include:
Plant-forward: The feed consists of 75% plant-based ingredients and 25% marine ingredients, such as fishmeal and fish oil.

By-products: All marine ingredients are made from by-products, such as trimmings, from the North Atlantic fishing industry.

Natural coloring: Natural ingredients, specifically astaxanthin, are used as coloring agents, instead of chemical substances. 

Clean: The fish used as input for the feed – processed into fish oil and fishmeal – is carefully purified to remove harmful substances like PCBs (polychlorinated biphenyls) and dioxins, commonly found in (marine) fish. As a result, the farmed salmon contains only a fraction of these substances.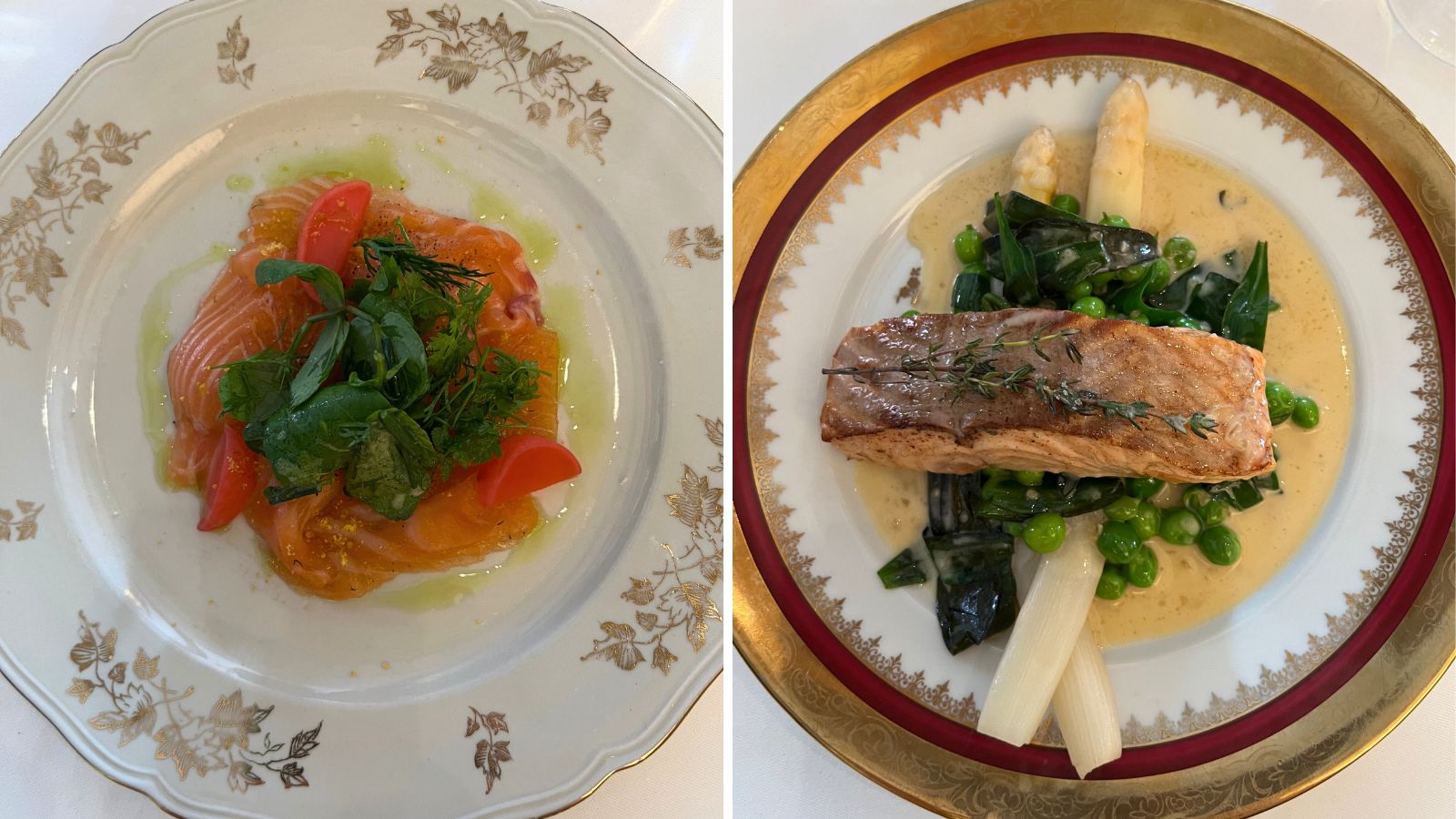 With your farmed salmon, you have become a "net producer" of fish protein. Can you explain that?
"To farm fish, you need fish as feed. This is expressed as a 'fish-in/fish-out ratio.' This ratio indicates how many kilograms of fish are required as feed (processed in the form of fish oil and fishmeal) to produce one kilogram of farmed salmon. A ratio of less than 1:1 means that the output is greater than the input. With all the changes and optimizations in our feed, our fish-in/fish-out ratio is now 0.48:1. This means that for every kilogram of fish protein we use as feed, we produce two kilograms of Kvarøy Arctic salmon. This makes us a net producer of fish protein."
| A nett producer of (fish)protein |   |
| --- | --- |
| Product | Ratio |
| Kvarøy Arctic | <0,5 : 1 |
| Farmed salmon (overall) | 1,5 : 1 |
| Organic salmon | 2-4 : 1 |
| Wild salmon | >10 : 1 |
The total amount of forage fish needed to produce one kilo of farmed fish.
A ratio below 1:1 indicates net fish production.
Data courtesy of BioMar Group & Kvarøy Arctic
Are there still opportunities to further improve sustainability practices after all the innovations?
"Yes, absolutely! Otherwise, I wouldn't have the drive to continue every day. When I started in this business, I was confronted with the challenges our industry had to deal with: diseases, parasites, escapes, antibiotic resistance, water pollution, to name a few. But I also saw that these were solvable problems with the right means and the will to change. Of course, our way of working costs more money; the feed is more expensive, our production methods are more expensive, and we produce less fish on a larger surface area. But still, since we can make a good living as salmon farmers, we want to invest in making a difference."
"I believe that the adjustments in our feed are just the beginning of future improvements. The same applies to improving production methods. I expect open-net farms to become the most popular way of salmon farming in Norway. However, land-based and offshore farms will also play a role in the future. There are still many areas where improvements are possible. Currently, we source the ingredients for our feed from all over the world. Over time, it should be possible to source ingredients closer to Norway, or even produce them locally."
What is needed to further improve the sustainability of the farmed fish market?
"What the industry needs is a push from customers to adopt better methods of fish farming, as environmental awareness grows among the general public. Consumers are increasingly concerned about how we manage our planet. I am convinced that our sustainable approach to salmon farming is a future-proof way to manage the precious resources of our planet while producing nutritious protein for our growing world population. However, there are also global counter forces against any form of farmed fish. In certain areas of Canada, salmon farms are no longer allowed. So, our 'license to operate' is constantly under pressure."
"As an industry, we have an important task to educate consumers and professionals about sustainable aquaculture. Many people still think that the problems that characterized the industry 20 years ago still exist today, as if we haven't evolved at all. We partly have ourselves to blame for this perception. The industry has been too quiet. As fish farmers, we don't communicate enough, we don't go out to tell our story. I see explaining what I do as one of my most important tasks: what is going well, what can be improved, and how we plan to solve those issues. We have no secrets. We don't claim patents on the innovations we introduce to the market. It's all open-source. Anyone can purchase the feed we have co-developed, because I believe that by sharing information and technology, we can grow as an industry together."
Previous sustainable choices
No copper in nets: Using copper in fishing nets can release small particles harmful to marine life. Kvarøy stopped using copper in nets 20 years ago. 

No antibiotics: Kvarøy is against the use of antibiotics. They also avoid using chemicals, pesticides, and hormones.

Extended fallowing: After harvesting fish from a pen, that section of seawater is left undisturbed for 6 to 8 months to allow for recovery. This is up to three times longer than required. 

More space: Fish have twice as much space in their pens than the industry standard.

Blockchain: Through blockchain technology, the traceability of each product is guaranteed from source to plate, providing full transparency about the production process. 

Laser-based sea lice prevention: Sea lice are one of the most significant threats to salmon farming. Instead of antibiotics, Kvarøy, in partnership with Stingray Marine Solutions, uses laser technology for control and monitoring. This method has zero impact on the salmon and the ecosystem.

Land and sea farming: Starting in 2024, Kvarøy will also farm salmon using an innovative hydro-powered flow-through system on land.
About Kvarøy Arctic
Kvarøy Arctic is a relatively small player with a wide reach. Its production is around 8,500 metric tons per year, accounting for 0.6% of the total Norwegian farmed salmon production. 90% of the production is exported to the United States, with Whole Foods Market being the largest customer by far. The remaining portion is sold through exporters and small labels like Fish Tales.
About Fish Tales
The Dutch sustainable fish label Fish Tales started in 2014 and set out to change the world of fish for the better. Its mission is to enable people to source sustainable fish in order to turn the tide and save our oceans and protect the livelihoods of the millions of people around the world who depend on the fishing industry. North America is one of the company's focus markets. In 2020, Sea Tales (Fish Tales' brand name in the US) made its first entry into the United States. Since then, the brand experienced strong growth among sustainability-driven key accounts, like Whole Foods Market. Starting this fall, the products will also be available at Walmart.
Food Inspiration magazine
Trending articles